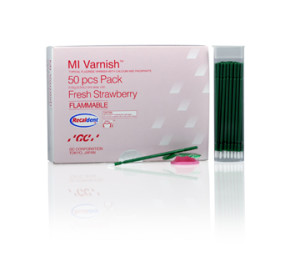 There are many different fluoride varnishes on the market, making it difficult to choose. For MI Varnish, the difference is in the RECALDENT™ (CPP-ACP), which makes MI Varnish a natural and unique choice for your patients.
Casein phosphopeptides (CPP) naturally occur in milk. In the oral cavity, CPP binds to surfaces, such as teeth, dentin, oral mucosa and biofilm. Calcium and phosphate ions are the building blocks for healthy teeth, and MI Varnish delivers bioavailable calcium and phosphate ions into the saliva. Amorphous Calcium Phosphate (ACP) is a source of calcium and phosphate. MI Varnish is the choice fluoride treatment when compared to other varnishes. MI Varnish with RECALDENT™ (CPP-ACP) enhances enamel acid resistance and boosts salivary fluoride levels. MI Varnish remains on the teeth longer than other fluoride varnishes with higher levels of fluoride and calcium released in the oral cavity.
MI Varnish is ideal for all your at-risk patients. Fluoride is an important component and MI Varnish with RECALDENT™ (CPP-ACP) helps make fluoride more bio-available to gain that extra boost of protection from the calcium and phosphate. Your patients will love MI Varnish™ for the following reasons:
Patient friendly fresh Strawberry and Mint flavors.
Smooth, creamy texture upon application.
No color change when applied to the tooth.
Film thickness comfortable to the patient, even with multiple applications.
It isn't tacky or sticky.
Additional benefits of MI Varnish™ include:
Higher fluoride, calcium and phosphate ions released due to the RECALDENT™ (CPP-ACP) technology.
Reduces sensitivity by sealing and penetrating dentinal tubules, effectively blocking out external stimuli.
Flows easily into interproximal areas due to its low viscosity.
Non-clumping, white, natural translucent shade.
Excellent retention: stays on longer than the leading varnishes
Unique unit dose, easy-to-open, easy-to-access varnish.
Generous volume-per-unit dose; enough for a full adult dentition.
Does not immediately clump upon exposure to saliva, allowing ease of use and longer working time.
Greater fluoride contact time and increased calcium and phosphate bioavailability than gels, foams and other varnishes.
Stands out on tray, easy to identify and comes in brightly colored unit dose.
Editor's note: Sponsored by GC America