Mary Pham has built her group practice from the ground up by tackling tough clinical cases and a saturated marketplace.
Mary Pham's entrepreneurial spirit began at a young age. "Business is in my blood a little bit."
Her parents were entrepreneurs. While growing up in Mobile, Alabama, Pham's mom started her own nail salon. She would open five locations before eventually selling the business. Pham saw the everyday sacrifices her parents made to balance business and family responsibilities. When Pham turned 12, she started working at one of the locations. "I really loved working with different customers and just getting to know different types of people," she said. "And I think that that really helped me learn how to build relationships."
As she got more experience, Pham would help with payroll and making sure that everyone was taken care of. Pham's mom would always try to help employees if they were struggling or in need of financial assistance for a car loan, house loan, healthcare bills, etc. "'Who else is going to help them?' Pham said her mother would tell her. "'They do so much for me every day.'"
Those were just a few of the lessons Pham carried over into her own entrepreneurial venture, Lollipop Pediatric Dentistry, a three-location dental group practice in communities in and near Orange County, California.
A winning combination
Pham opened Lollipop Pediatric Dentistry as a start-up in 2011, right out of her University of Illinois at Chicago residency. It was hard to find a practice that would accept her as a full-time associate in Orange County because the market was so saturated. Instead, she worked in more rural areas initially.
While she built up her business, Pham's husband, an orthodontist, ran a practice that depended heavily on referrals from general dentists. They came up with the idea to add pediatric dentistry into his practice, so their business model became ortho-pedo at two locations. They opened another location five-minutes away from Pham's home in 2020, and have three more locations slated to open in 2021.
Pham said opportunities have opened up in prime real estate areas because some companies have gone out of business or local dentists are retiring. "Some retail areas, because of what's happened, they're having these spots open in areas that are very visible and with pretty good deals. The bank approved us for financing for the locations, so we were like, 'Let's just do it.'"
Pham said they've had a lot of interest from local associate teams to partner. "They love our culture. They love our leadership team. They want to be a part of something that they really love already without having to open on their own."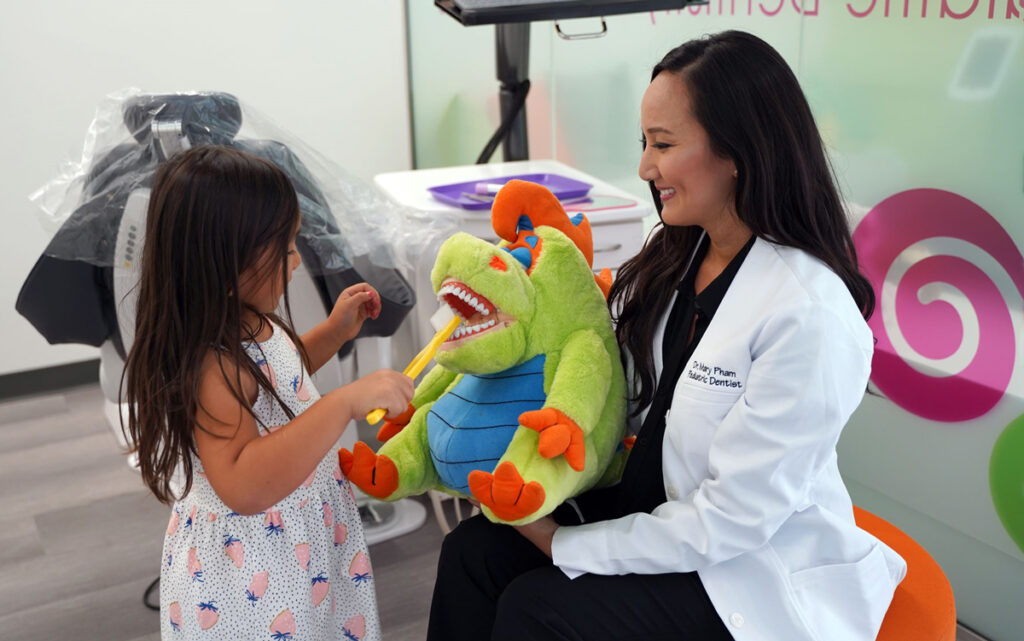 Belief from the core
Pham said the challenge going from one practice to multiple locations is making sure that the team still feels cared about and a part of the organization the same way they did when the group practice was smaller. It's also important that the core leadership team believes in the vision, values and message so it trickles down to every member of the team, "and, in turn, trickles down to the patient experience," she said. Lollipop Pediatric Dentistry's leadership team includes:
Leslie Ramirez, operations manager
Vanessa Mueller, clinic manager
Dominique Cavallo, administrative manager
"They play an essential role in making sure that everyone is onboarded the same, is being trained the same, and learning and making sure that they're competent in our systems and processes. We want to make sure every patient is getting the same experience and level of customer service every time."
That continuity among the leadership team has Lollipop Pediatric Dentistry poised for a banner year in 2021. Even amid the pandemic, Lollipop hit the $10 million revenue mark in this past year, with no signs of slowing down. Lollipop team members were proactive with patients, communicating via newsletter, social media and videos to demonstrate the protocols and screening measures in place to make them feel safe. "We kept in touch with all of our patients throughout the pandemic so that they knew that if they needed something, that we were there and that we were going to take precautions seriously."
Despite the success, Pham said her goal is to continue to grow and develop as a leader.
"Any opportunity that I can to improve, I take it," she said. "I'm always open to change. Any programs, vendors or consultants that I think align with who we are and what we stand for as a company, I will look at. It's not a strategy as much as it is organic – I'm always trying to be better, not only for myself but for my company and all the patients and team members that depend on me every day!"