By Emmet Scott, President, Association of Dental Support Organizations
Exciting times are ahead for the ADSO and the dental industry at large. As ADSO continues to grow its membership of dental support organizations and the dental industry, our association has also been hard at work designing membership options to meet the needs of emerging and DSOs of all sizes. We are continuing our successful monthly membership calls, where DSO leaders provide valuable insights, and introducing new ways for members to learn and network with peers in an online environment.
One of our signature learning and networking events, Boldly Evolving Dentistry, will be held March 24 and 25 with hundreds in attendance. This virtual event will bring together group practice executives, division leaders, and industry partners from around the country. Boldly Evolving Dentistry will feature multiple event tracks and breakout networking sessions tailored to members from all levels and roles of their organization, including HR, IT, Compliance, Advocacy, Clinical, and Leadership.
Additionally, for the first time ever, I will share the (virtual) stage with my counterparts from other leading dental associations in the country: the American Dental Association, American Dental Hygienists Association, and National Dental Hygienists Association. It cannot be overstated how this new alignment of the associations is a watershed moment for the dental industry. Too often in the past, not being able to come together has left the dental industry overlooked as essential health care. We saw this firsthand in 2020 when thousands of dental offices were shut down despite proven track records to effectively stopping the spread of infectious diseases. My mother always told me that "if you don't like being walked on then get up." Well, this is the dental industry getting up together.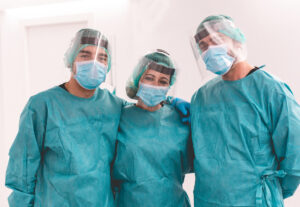 It is with that spirit in mind that ADSO joined the "COVID-19 Public-Private Partner Dental Coordination Group" spearheaded by Rear Admiral Timothy Ricks, DMD, MPH, FICD, Chief Dental Officer of the Commissioned Corps of the U.S. Public Health Service and the U.S. Department of Health and Human Services (HHS). This forum has proved critical in urging the U.S. Centers for Disease Control and Prevention to update and clarify the guidance of treating patients during the COVID-19 pandemic. ADSO has diligently worked with RADM Ricks to help ADSO member dentists secure the HHS funds they are entitled to through the CARES Act. ADSO is actively advocating for dental professionals and organizations through this group of peer national dental organizations and key stakeholders. We are continuing to work with RADM Ricks, HHS, and state leaders to ensure that dental professionals are supporting the country during this pandemic through vaccination administration and by keeping oral health at the forefront of public health.
We are almost halfway into 2021 – so stay tuned for even more exciting updates and our upcoming events in the next issue of Efficiency in Group Practice. Until next time, keep smiling!