Increased case acceptance, consistency in patient care, and confidence in comprehensive diagnostics are three key areas where dental groups benefit from AI.
By Overjet
When it comes to using artificial intelligence to improve dental care, the possibilities are nearly endless. AI enables transformational clinical and operational improvements, enhanced patient care, automated administrative tasks, comprehensive clinical audits, and so much more.
Robert Kolts, DDS, MBA, is the Clinical Director for Overjet, an FDA-cleared AI platform that analyzes and annotates patient X-rays in real-time. He said there are three areas that resonate most with clinicians who incorporate AI into their practices: improved case acceptance, greater consistency in patient care, and a higher level of confidence in comprehensive diagnostics.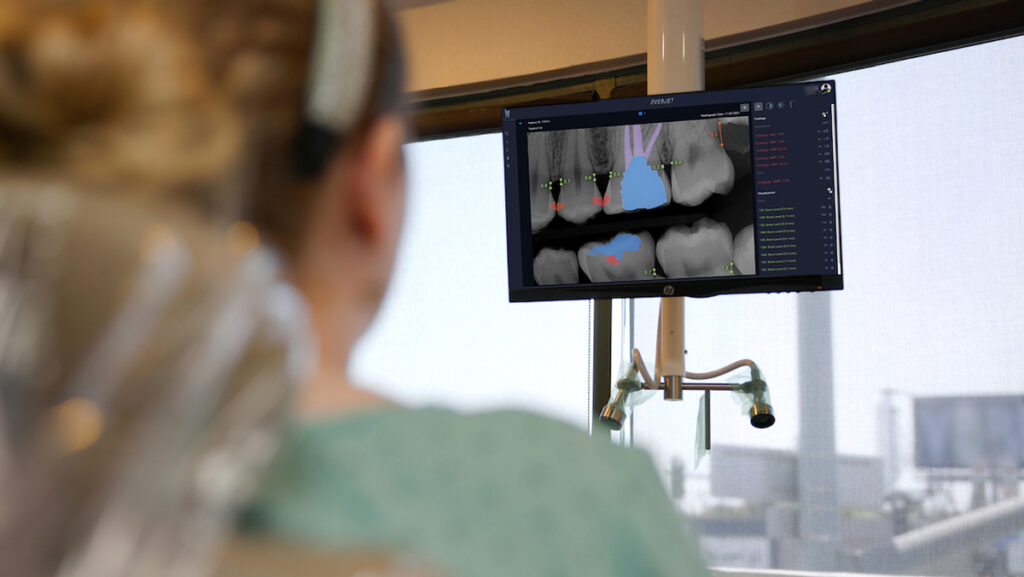 Improving case acceptance with AI
On average, new patients have a case acceptance rate of only 30%. One reason is that patients may not trust the clinician's diagnosis, or want to wait to get a second opinion.
But with AI, patients recognize the technology serves as an unbiased third party. Patients can see right on the X-ray where decay is outlined and bone loss is quantified, down to a tenth of a millimeter.
"Overjet helps overcome the lack of trust that some patients have," said Dr. Kolts. "With Overjet, we see patients accepting treatment 18-22% more often than patients who aren't shown the AI-annotated X-rays during the treatment planning and case presentation process."
Dr. Ankoo Raina, Chief Dental Officer of Jefferson Dental & Orthodontics, said, "The biggest benefit has been integrating Overjet's technology into our patient experience, building even more trust with our patients. It also gives our providers the ability to streamline diagnostic workflows, enhance communication with patients, and improve patient outcomes."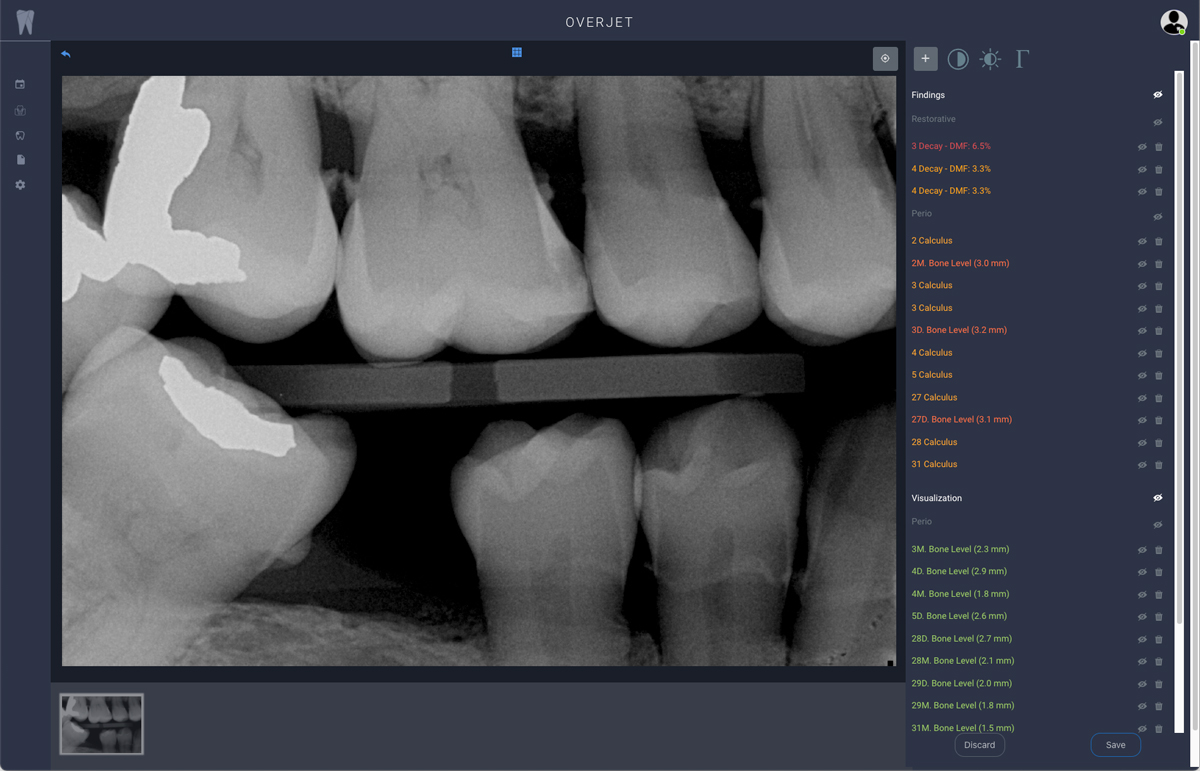 Enhancing consistent, comprehensive care
AI also enhances comprehensive care and the confidence level of both providers and patients.
"Overjet's technology helps us prevent missed diagnoses, integrate providers, follow higher standards for quality care, and also make sure our providers are giving excellent oral health solutions, ensuring our patients get to keep their natural teeth for life," said Dr. Raina.
Nationwide, more than 30% of restorative procedures go undiagnosed, and about two-thirds of periodontal disease is undiagnosed. Overjet's technology is a decision support tool, drawing the eye to potential oral health problems.
Data shows that doctors who use artificial intelligence will diagnose on average 28% more restorative procedures per exam than doctors who don't. Dr. Kolts said it's not about diagnosing more, but about diagnosing more accurately.
"Patients whose caries are diagnosed earlier, for example, have a better chance of minimally-invasive caries remineralization procedures being successful," said Dr. Kolts.
"All of our providers, including hygiene and ortho, use the technology to take a team approach to treatment planning, improving the comprehensive experience for our patients," said Dr. Raina.
AI-generated insights help dental groups set consistent standards of care across multiple providers and practices. That helps eliminate friction and create a better work environment.
Adam Arnette, the Chief Marketing Officer at Jefferson Dental & Orthodontics, said Overjet's simplicity, the ability to streamline diagnostic workflows, and improved patient outcomes are a few of the reasons why he recommends the platform to other DSOs. "The deciding factor in JDO partnering with Overjet was their shared commitment to exceptional patient care."
To learn more about how Overjet can make your practices and teams more effective and efficient throughout the continuum of care, visit overjet.com.