By Laura Thill
Hiring and retaining staff is a universal challenge for dental practices, regardless of their size or model.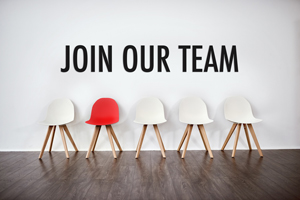 Happy patients are key to a successful dental practice. But what does it take for practice owners to ensure that when their patients say goodbye, it's only until their next visit? Investing in new technology and services certainly is crucial to patient retention. Yet, even the most tech-savvy patients won't return to a practice if they aren't comfortable with the dental team. Indeed, a team that doesn't click – and employees who don't enjoy working at their practice – can be a turnoff to patients. Which is why it's so important for owners to hire and retain awesome employees. That, however, may be easier said than done.
Solo vs. group
All practices, from solo offices to large dental service organizations, are bound to encounter challenges around hiring and staff retention. In some geographic areas, for instance, there is a shortage of qualified dental professionals available for hire. Depending on the practice culture or the compensation offered, employees may feel underappreciated. At the same time, each dental model inevitably has a lot to offer new employees. Larger practices and DSOs often can offer employees more working hours. In addition, DSOs usually have the means to provide employees with better compensation packages. On the other hand, clinicians and staff at smaller practices may feel in greater control of their treatment plans, making it attractive to stay for the long-term.
"It's all about creating the right environment and a sense of unity by making employees feel like they are part of a winning team, says Steve Desautel, vice president, sales and marketing, Dental Health Products, Inc. (DHPI). "Dental offices that typically have the greatest turnover issues are those where the owner is not overly staff centric, can't clearly communicate performance targets and goals, makes unrealistic demands and is hard to please."
For both solo and group dental practices, knowing where to find qualified potential dental hires, and then properly vetting them to ensure their skills and talents match the needs of the office(s), requires research and planning. Desautel and his DHPI team offer the following guidelines for identifying potential employees who will be a great fit for the practice:
Conduct a working interview. Employers should pay potential employees to work at the office, experience the culture and see firsthand what the job entails. The dental team, in turn, can see the candidates' responses within their work environment, including their listening skills and ability to follow through.
Evaluate candidates' qualifications. What value do they bring to the practice? Past certifications and training are important, but don't discount their future potential.
Identify candidates who have similar treatment philosophies and are proficient in procedures that tend to be referred out.
Collect references.
Personality counts.
Hire slow, fire fast!
In spite of the many technological advances the dental industry has experienced in recent years, word of mouth continues to be a tried-and-true marketing tool both for dentists seeking new recruits and dental professionals looking for a new position, notes Desautel.
Avoid making mistakes
Why do some dental practices make hiring and retaining staff look so easy, while others face constant turnover? Although practice owners are likely to make a bad hiring decision at some point in their career, there are ways to avoid doing so. Providing candidates with clear job descriptions up front, carefully vetting them to ensure they are qualified to fill a position, and then making them feel valued once they join the practice, go a long way toward fostering a happy, productive culture. "Employees leave organizations that lack vision, or because they don't have the tools to perform their duties and/or feel unappreciated," says Desautel.
One of the worst mistakes a practice can make is to hire a new employee simply to fill a spot, rather than holding out for the right candidate, according to Desautel. "In many instances, practices become desperate to find help and they don't take the time to identify the right candidate," he says. At the same time, it could be a mistake to overlook a candidate who lacks some skills, but appears to be a great match in other areas. "Inexperienced candidates can be further trained and educated once they join the practice," he says. "Office managers should be constantly interviewing candidates and building a team of prospective hires. And it's important to remember that candidates who lack certain skills, but appear to be a great fit, can be trained moving forward. There is never an off-season for identifying talent."
Without a clearly defined job description, dental practices will have a difficult time finding qualified team members, according to Desautel. Similarly, without proper training, new employees can't carry out their responsibilities to the best of their ability. "Whether an experienced individual or an industry rookie, anyone starting a new position requires proper training and education," he says. In addition, all organizations need good systems in place to support a company vision, direction and intercommunication between leadership and employees, he explains. "Weekly staff meetings can help eliminate any issues."
Finally, it never pays to underpay! "Offering employees a competitive salary is a must," says Desautel. When clinicians and staff are not compensated for the value they contribute to the practice, they tend to feel unappreciated and eventually leave the practice, he notes, especially in the dental industry, where it's easy to network and find a new position.
All this said, even the most diligent employees need – and want – to have some fun from time to time. "While a clear company vision and competitive compensation are a must, fun days, such as potlucks, barbecues in the parking lot, team events and charitable events have a profound effect on company morale and go a long way toward retaining employees," says Desautel.
Attracting talent
Marketing through social media and networking are key to attracting new talent. "Many younger professionals rely on dental social media portals," says Desautel. But, whether the practice connects to potential candidates through social media or word of mouth, it's important to portray a strong vision and culture to candidates. Dental groups often recruit talented individuals from other organizations, notes Desautel. "When building a brand, communication and trust of leadership are essential." When employees have a good experience at their practice, they are more likely to refer new candidates, he adds.
---
Attracting – and retaining – talented clinicians and staff.

Clinicians and dental staff look for a work environment that is supportive and affirming. As such, dental practices must offer their employees:
A clearly communicated vision, where employees know the goals and expectations.
A positive culture, where others can express opinions and empower others to act on those ideas.
Competitive salaries.
Benefits, such as a 401(k) program, health insurance.
The potential to grow skills and receive increased compensation.
Flexible hours.
It may sound like common sense, but dental practices that make their employees feel like a valued part of the team are more likely to retain talented individuals and succeed.