By Laura Thill
It's important to find the right person to fill a position – and then convince them to stay.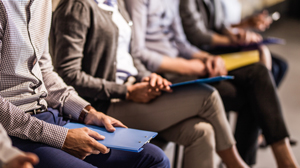 The national unemployment rate is low – a good thing for most people. For dental service organizations (DSOs) looking to hire and retain employees, however, it's becoming increasingly competitive to attract dental professionals. There's a definite supply-and-demand problem, according to Jacqueline Guinn and Rupinder Kaur, both doctor recruiters with Mortenson Dental Partners.
In addition, whereas years ago, women traditionally pursued careers as hygienists, rather than as dentists, that's no longer the case. "As more women elect to go to dental school, rather than hygiene school, it's becoming more challenging nationwide to attract and retain hygienists," says Sherri Toohey-Taylor, director of human resources, Mortenson Dental Partners. Together, Guinn, Kaur and Toohey-Taylor help Mortenson on-board talented individuals, despite obstacles such as these.
Avoiding pitfalls
In a competitive market, organizations must offer attractive packages, including a substantial benefits and salary package, according to Guinn and Kaur. When the organization asks a dental professional to relocate, "people generally are more willing to accept the offer if a relocation allowance is provided," they point out. "During the initial site visit, if we know a candidate plans to relocate, we connect them with a relocation specialist in that area." Candidates will also be more likely to join – and remain at – a dental practice that offers:
Sign-on bonus.
Clinical autonomy.
Opportunities for internal or external CEs.
Mentorship and mentoring opportunities.
Work-life balance.
Flexible work schedule.
Vacation days and holidays.
That said, without a clear mission and a thorough understanding of the patient base, it can be difficult to target new employees who will be a good fit for the organization. "In an existing practice, the best place to start is with your current patient base and clinical team," say Guinn and Kaur. "Patient demographics and expectations should influence the clinical skill sets targeted by the practice. If the patients are expecting advanced services, such as sedation or implants, the practice may be looking for a provider who can meet those needs." It's also advisable that potential candidates offer skill sets that are complementary to those of the current team, they add.
Indeed, it's very important to get to know new candidates well enough to ensure they are a cultural fit, according to Toohey-Taylor, Guinn and Kaur. And, as soon as it becomes apparent that a new employee is not a strong performer, organization leaders must step in, notes Toohey-Taylor. "When leaders do not address poor performers, it's the strong performers who turn over," says Toohey-Taylor.
Employees need clear job expectations, along with the resources to carry out their responsibilities, Toohey-Taylor continues. "When expectations are not clear, neither party is satisfied," he says.
---
Interviewing guidelines
Job candidates must do their research ahead of time to ensure the interview process is successful. So, too, must employers, note Jacqueline Guinn and Rupinder Kaur, both doctor recruiters with Mortenson Dental Partners. "Employers should study a candidate's resume ahead of the interview," they point out. In addition, during the interview, employers should:
Make the candidate comfortable.
Allow the candidate to ask questions.
Provide the candidate with next steps.
Don't rush the interview, be respectful of the candidate's time.
Provide some background on the organization.
Clearly and realistically portray the opportunity.
Discuss both the candidate's and DSO's view of success.
Learn about the candidate's long-term and personal goals.
---
Building your brand, marketing your organization
Industry conferences and school career fairs are great opportunities to network and meet new people, according to Jacqueline Guinn and Rupinder Kaur, both doctor recruiters with Mortenson Dental Partners. "Utilizing digital marketing tools, like social media, emails and web/display advertising, can also be helpful for targeting potential candidates," they point out. "It's also important to have a strong webpage, where candidates can go to find information about the benefits of working for a DSO. General brand awareness efforts with visible signage, public relations efforts and advertising can help boost public perception and attract more candidates to the DSO."