EGP New Products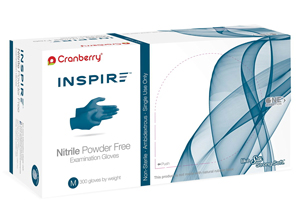 Dental professionals shouldn't settle for just any gloves. A high-quality glove offers protection from blood-borne diseases, and the right fit can determine how efficiently dentists and their team can do their job. Cranberry U.S.A. offers a full range of nitrile gloves, including their recently introduced Inspire™ – the fittest and lightest nitrile glove yet!
Inspire™ Nitrile gloves are the first gloves weighing as little as 2.5 grams to be launched in the dental market, ensuring less constraint, more control and enhanced fingertip texture for superior tactile sensitivity. The glove's light weight facilitates better extension and flexion throughout the clinical procedure, while the InSoft™ formulation provides greater comfort and performance by minimizing hand fatigue and enhancing superior grip under all conditions.
Inspire™ is packed in a box of 300, requiring limited storage space and creating less packaging waste. One Direction packaging permits each glove to be dispensed by the cuff, minimizing direct skin contact with the finger and palm surfaces of the glove. This innovative packaging technology helps reduce the risk of cross contamination.
Dentists should ask themselves the following when considering Inspire™ Nitrile gloves:
"What are my priorities when it comes to glove selection?"
"How important are flexibility, tactile sensitivity, cost, etc. to my choice of glove?"
Some dentists may find it confusing that different gloves are packaged in different quantities, ranging from 100 to 200 – or even 300 – gloves per box. Their sales rep can help calculate a standard unit of cost across the board. That said, while it's important to make economical choices, it never pays to save money at the expense of staff and patient safety.
Cranberry's new One Direction packaging
Inappropriate techniques for donning and removing may result in cross contamination and bacterial transmission. Through its unique packaging, One Direction significantly improves hygiene and efficiency.
One Direction packaging:
Packs our gloves in one direction.
Allows easy dispensing – both by the cuff and individually.
Ensures that glove fingers and the palm surface do not have direct skin contact during donning stage.
Editor's note: Sponsored by Cranberry.