How the patient experience is central to Renken Dentistry's success.
By Pete Mercer
Dr. Joshua Renken opened his first practice in 2003. Since then, Renken Dentistry has grown into a multi-state operation focused on providing the very best patient care possible. Starting out, Renken wanted to create a model that reflected a shift that he saw coming in how dentistry was practiced and how the patient experience was evolving.
Over the years, Renken Dentistry has continued to provide that "dread-free" patient experience. Renken's approach to leadership, professional development and inclusivity makes the journey of Renken Dentistry worth watching.
What makes Renken Dentistry different
Renken Dentistry works to provide patient-centered experience that utilizes the entire team, from the front office to the doctors. The idea is that if the entire chain of operations is built to streamline that patient experience, then there are no weak links. Renken said, "We hope that the experience we offer is a smoother, more comfortable, and more tailored support model to getting to health and staying there."
The shift that Dr. Renken perceived had a lot to do with how the patients connected to the team. Is the front office greeting people with the kindness that they expect from the Renken brand? Is the hygienist practicing with the level of care that protects the patient? Is the dentist on the same page as everyone else in the continuity of care? These are the sort of ideas that Renken was hoping to address with his model.
He said, "The thing with dentistry is, in a lot of ways, the model for the way we welcome and engage our patients and support them over time hasn't changed a whole lot. In the old days, it was just one dentist and maybe one person who sat on the other side of the wall to welcome people in the reception area. We've taken that about as far as we can take it."
The Renken brand became associated with the sort of patient care outlined in the Patient Partnering Promise, which is a set of 10 organizational guarantees that put the patient first. These 10 ideals, listed fully on their website, outline a sort of mission statement that not only sets the standard for any of the work done in the chair, but promises to contribute to and invest in the community as well.
This ideology is so engrained into the DNA of the culture that the walls of each practice are adorned with the Renken Path to Health, a six-step ethos that align the mindsets of everyone in the organization, whether they operate in the same building or not.
Renken explained, "No matter which doctor, hygienist, assistant, patient, or even which state they are in, they are all commonly observing that path. It's what keeps us centered as the focal point of our mission."
Creating an inclusive work environment
Renken has a daughter with a rare genetic abnormality. While she's 20 years of age, she has a lower level of cognitive ability. Renken remembers hoping that, despite her disability, she would be able to find employment somewhere.
Since the beginning, Renken Dentistry has strived to create an accessible and inclusive work environment for individuals of all abilities, backgrounds, ethnicities, perspectives, and ages. They partnered with the Hope School Vocational Program in 2013 to help pilot the development of a vocational opportunity for people with developmental differences to work in the dental practices in Springfield.
"What we do vocationally gives us esteem and self-worth," Renken said. "It makes us a part of the community. People see us and we see them. When it comes to people with disabilities, a lot of times they aren't seen, and they aren't represented in our day-to-day lives."
Renken's desire for his daughter to be seen and represented in her community inspired the partnership with the Hope School. He wanted to provide a space for those that are developmentally different to meaningfully participate at their own level.
He explained, "We were a pilot program for their vocational transition. The Hope School supplied a job coach, and we organized our work environment in a way that someone who couldn't even read or write could meaningfully support a lot of work on the backend."
His team developed a shape and color system to represent the procedural organization, so that someone could help build out trays for procedures with this system. They also developed a container system that is universal to all their procedures. By implementing these systems and an unconventional workforce, Renken Dentistry created a significant amount of efficiency within the care delivery model that helps the dentists provide better care to the patients.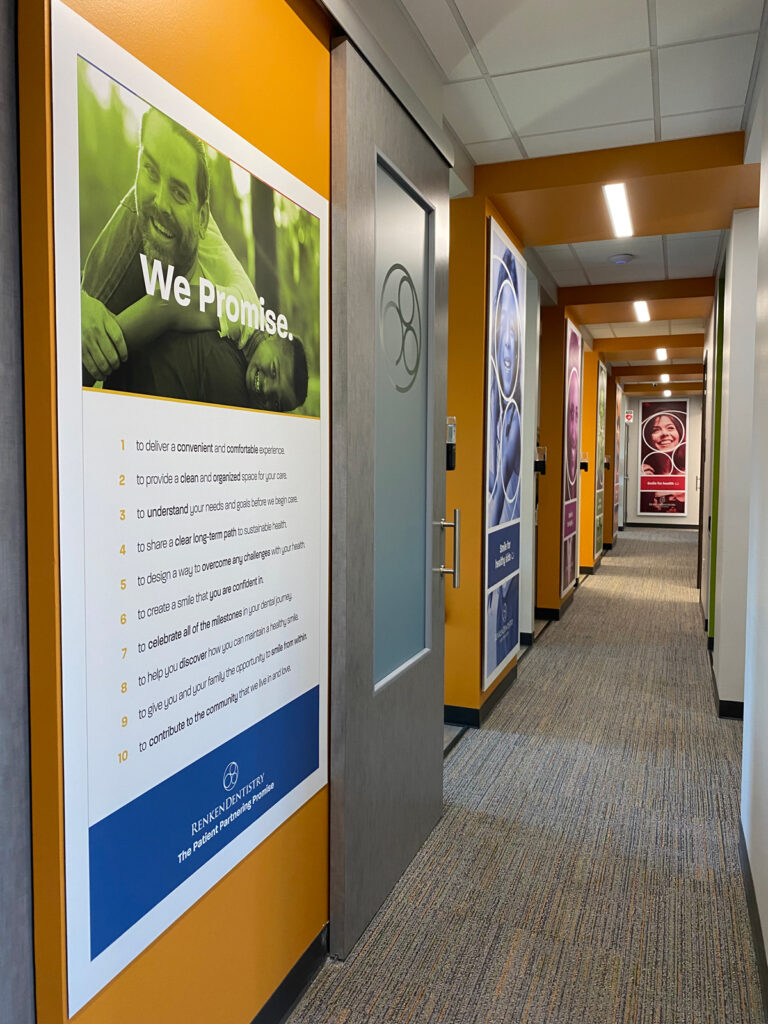 A unique work culture
When he started Renken Dental, Renken noticed that cosmetic dentistry had become immensely popular, and many of the general practices were pushing towards cosmetic procedures. He decided to forge a different path. He said, "I wanted people to smile because they felt good, confident and healthy, and had felt supported by our organization."
Instead of adopting the "hero dentist" model, Renken's focus was to provide the kind of care that the entire organization can be a part of. One of the things that Renken is most proud of is that a lot of the online reviews of his organization specifically praise the entire team, "from the doctor to the assistant, to the hygienist."
His team developed the Smile From Within Way, a value system used to empower the team, measure their impact, provide better care, and encourage them to become servants and leaders in the community.
"We have a level-by-level development program where people can learn to express our values in more advanced, mature, and effective ways as they grow in their professional development with our organization. We have really tried to embed all the kinds of intentions of that idea that I had 20 years ago into a real deployable, transferable methodology."
Investing in professional development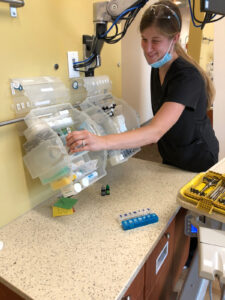 After Renken graduated from the University of Illinois at Chicago, he quickly learned what his limitations were. Once you hit a period of success, you start to realize you can only go so far before you burn out.
"Your own personal development and your own personal success only goes so far," he said. "Ultimately, you have to flip that mindset and find ways to help other people find success."
Developing the six stages of health was a huge turning point for his team. Because the patients need to go through the six stages of health in their journey with Renken Dentistry, the team members need to understand how to care for people in a way that leads them through those stages.
He said, "What I found is that no one really can grow unless part of the growth process is turning around and helping the next person come along. That's where we are right now in our organization. If we want to help our patients move towards health, we need to better understand the journey ourselves."