How Floss Bar partners with employers to provide better dental care for employees without losing productivity.
By Pete Mercer
Mobile dentistry is one of the newest innovative practices in the dental industry. By providing the same level of patient care, but with the added convenience of bringing that care to the patient, mobile dentistry companies are set to be significant disruptors in how the dental industry operates.
Eva Sadej started Floss Bar because she saw the inherent limitations of operating a brick-and-mortar dental practice. She was working at a hedge fund, an environment that made it difficult to leave her desk for a three-hour period to visit the dentist. Sadej said, "My preventative care was dragging, and I was frankly starting to suffer. I cared about that and saw a market opportunity to start a business."
Floss Bar is a USl management service organization taking a dental-first approach to healthcare. What makes Floss Bar's approach unique is that it is not a dental company or a dental practice. They work with local dental practices to provide care opportunities for employers by offering pop up locations, equipping dentists with outfitted vehicles, or establishing a more permanent on-site option at an employer.
Enabling the dental industry
While Floss Bar works to disrupt how the dental industry operates, Sadej is not interested in taking business away from dental practices. Her vision is to work hand-in-hand with the dental community by providing more opportunities to treat patients outside of the practice.
Sadej said, "We generate these dental teams from the ground up, which is more scalable, so we end up being able to service employers everywhere. But we also want to be friendlier to the dental community. When you are shaping change, you cannot just be a complete rebel and rub everyone the wrong way. You need to have an approach that is palatable to people."
Even though this approach is essentially creating partnerships with dentists and local businesses, there have been plenty of skeptics along the way. Dr. Ryan Lee, a practicing dentist from the northeast, was one of the many vocal skeptics of Floss Bar.
Dr. Lee said, "I was one of the many echoes that were verbally attacking Eva as she was trying to share the concept of Floss Bar when it was in its initial stages. I was attacking Floss Bar with the notion that you cannot do mobile dentistry without compromising the standard of care."
Eventually, Sadej was able to convince Dr. Lee of the opportunity that Floss Bar presented to employers and dentists alike. Dr. Lee says he realized that there is an incredible growth opportunity for himself, as an owner of four practices, as well as a large DSO or any practicing dentist. Recently, Dr. Lee won awards for his own mobile dentistry efforts.
"We want to enable people to go to the dentist, so we enlist the local experts," Sadej explained about Floss Bar's process. Floss Bar uses local dentists and hygienists for dental appointments, keeping the routine preventative care appointments and the treatment appointments on separate days. This is designed to maintain the standard of care at every patient interaction, while giving the patients the breathing room to discuss treatment options with the clinician.
When the appointments are scheduled, Floss Bar provides the "dental trucks" for the mobile visits, or they equip the facility with the onsite technology they will need to conduct the appointments, whether it is in a pre-existing clinic or conference room. Floss Bar works with the needs of employers, adapting their approach based on what the company requires.
Partnering with employers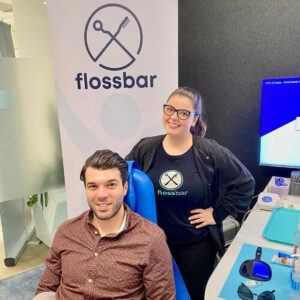 While many mobile dentistry startups are focusing on the patient convenience model, Floss Bar is working to partner with employers to provide better dental care for their employees without losing productivity.
Sadej says that the American Dental Association does an excellent job of telling patients that they should visit the dentist twice a year for cleanings and preventative care. Even when patients are surveyed, there is an overall understanding of the importance of dentist visits. So why aren't they going?
Dr. Lee noticed the disparity between the statistics that say the general public understand the importance of dentist visits and those that actually go to the dentist. Dr. Lee says "59% are stating that the reason for not visiting the dentist with more frequency is because of cost, 22% are afraid of the dentist, and 19% find it inconvenient in terms of location or time. It can be difficult to take a day off just to get your checkup and cleaning, let alone your treatment."
Aside from general hygiene, it is no secret that oral health plays a significant role in the overall health of an individual. Sadej found that the solution to getting more people to make appointments to visit the dentist is to partner with the employer. By providing dental services as a pop-up event or mobile service, employees can get the dental care they need without worrying about the appointment taking such a substantial chunk of time in the middle of the workday.
According to Dr. Lee, it takes everyone to fix the crisis. Employers obviously need their employees to take care of themselves, and employees realize the overall health benefits of visiting the dentist. In order for something like Floss Bar to truly work, it needs the cooperation of everyone involved.
Sadej said, "Employers are suffering. Employers are the new ally because the price to provide dental coverage is rising, as well as the risk levels of various diseases. There's a huge surge for new talent in the workplace, and employers are having to weigh the cost of salary and great benefits to attract and retain the right people for the company. So, they are naturally looking at health services that are offered onsite as a key way to provide employees work-life balance, to be able to bring their families into the office, to see it as a care center for those employees."
Sadej is eager to speak with anyone who needs regarding the practical obstacles and solutions to starting and running a mobile dental practice – from logistics, operations, sales, marketing and more – as well as those who would like to collaborate on the general supervision of hygienists and on orthodontic treatment plans.