Aspen Founder & CEO on building a consumer health care platform that empowers both providers and patients across health care industries.
When it comes to delivering world-class customer experiences, Bob Fontana believes health care has traditionally lagged other industries. "Consumer expectations continue to change at an increasingly rapid pace. Because of this dynamic, the gap continues to widen between health care and most other customer-centric industries," said Fontana Founder & CEO of Aspen Dental, and chairman and CEO of TAG – The Aspen Group.
But with the right focus – this can be changed, said Fontana.
"We're proving that every day with our various businesses."
In an interview with The DEO, Fontana shared his thoughts on what it took to build his company from a single location to more than 1,000, building strong cultures, Aspen's entry into different healthcare verticals, and more.
The DEO: You've grown Aspen Dental from a single location to nearly 1,000 independently-owned Aspen Dental branded locations. As the organization has expanded, what key tenants have you worked to instill a sense of continuity between that single location team and now your 3,800+ provider workforce?
Bob Fontana: To us, it's critically important that doctors and owners feel empowered to do what they need to do to meet the unique needs in their communities and understanding their needs has been critical to our success from day one. But, understanding patients' needs and focusing on delivering truly differentiated customer experiences is equally important.
When I started Aspen Dental nearly 25 years ago, I knew I wanted to focus on solving customer pain points in the health care space. And that has been my driving mission ever since. Today, we've built what I see as the only consumer health care platform that empowers both providers and patients across a growing number of health care industries. Each of the businesses within the Aspen Dental, ClearChoice Dental Implant Centers, Chapter Aesthetic Studio, and WellNow Urgent Care obsessively looking at their business through the lens of both practitioner and patient as customers and providing best-in-class experiences for both of those audiences.
For customers, we use data science and predictive analytics to build better outcomes; we have a comprehensive product and digital roadmap based on what we have modeled as the ideal customer journey; and technology and making investments in technology is central to our core. We pressure test this every day and strive to get better.
We take the same approach to serving the practitioners. We've built best-in-class functional capabilities
to support practitioners so they can focus on delivering for their patients, but our support doesn't stop there. We're hyper focused on understanding and delivering on our practitioners' needs. From building comprehensive learning and development opportunities at our new corporate offices in Chicago to building deeper relationships and camaraderie between clinical teams. We know that practicing dentistry can be a lonely business. We've heard that loud and clear. So we've listened to our clinical teams and built solutions based on that feedback.
We also believe in the power of brands and continue to invest in not just marketing those brands, but putting an emphasis on what it means to represent one of our health care brands. For example, while each Aspen Dental office is independently owned by a state-licensed dentist – our mantra is AspenOne – which brings the culture of the organization to the forefront, and allows providers to have, arguably, the most extensive network of peer-to-peer and professional support in the dental industry.
We're intentional about reminding the doctors and teams who we support and why we do what we do. Through annual events like Aspen Dental's Day of Service for veterans, and the Overseas Outreach Program, we make a point to invest time and resources in giving back and bringing care to underserved populations.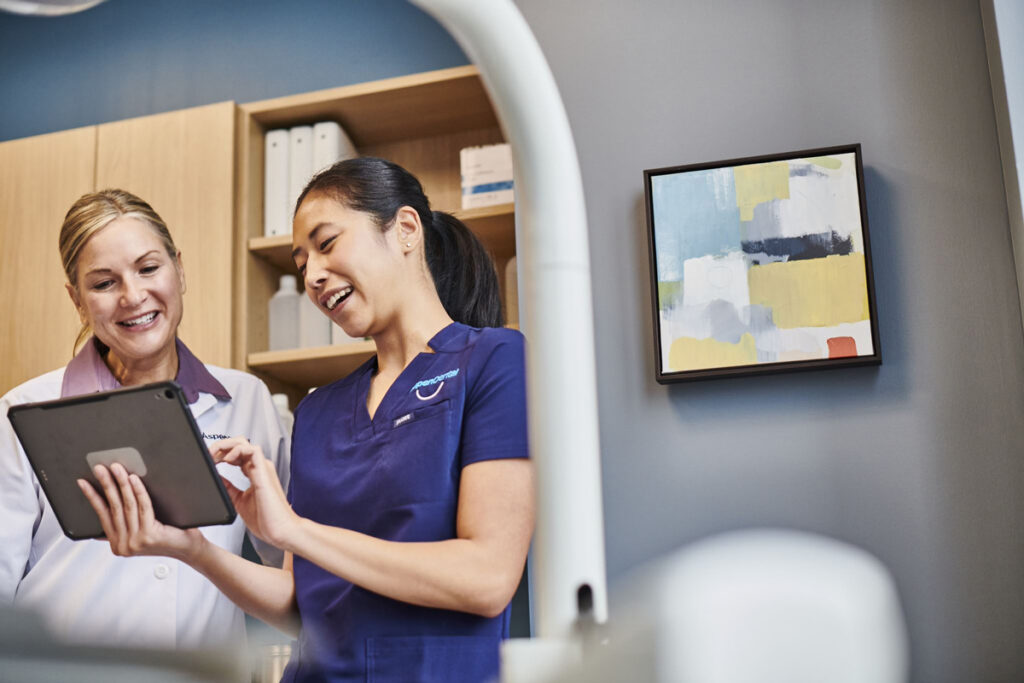 The DEO: In today's increasingly chaotic marketplace, how do you build a strong culture? How do you maintain that culture amid an era of The Great Resignation?
Fontana: As an entrepreneur, I'm passionate about fueling the creativity and success of other entrepreneurs. That's why TAG – The Aspen Group was built: to take all that we have learned and built organically in the dental industry throughout the past quarter of a century – and turn that into a consumer health care platform to support independently owned practices across multiple healthcare verticals. We're committed to making providers feel supported at every phase and through every opportunity and challenge – from hiring and talent acquisition, to finance and operations, to education and professional development, to technological innovation and training.
By creating a value proposition that clearly defines our purpose – we can further serve the intrinsic motivations of current and prospective employees. And by investing in our employees – our purpose, values and core beliefs can be brought to life.
Earlier this year, we announced the upcoming grand opening of the TAG Oral Care Center for Excellence – a center that truly brings our purpose to life – bringing value to patients and providers. The new state-of-the-art facility is designed to facilitate world-class training for doctors and dental care teams within the TAG network across the country, while also providing comprehensive dental care at no cost to approximately 2,500 underserved Illinois residents every year. The TAG Oral Care Center is a true sense of pride for all of us, and it brings to life our mission – delivering better care to more people.
We start from square one, building relationships and showcasing our culture before we even make a hire. For example, we host an annual VIBE event where we bring hundreds of dental students together to meet our leadership team, engage with other doctors and practice owners, to learn more about the Aspen model and approach. At the heart of everything we do is making care more accessible and affordable – that's what inspires doctors to join our team, and that's what keeps them here.
Just this year, we also moved into a new corporate headquarters designed to facilitate a culture of collaboration and learning, empowering every member of the team to embrace ownership in the business and their own personal growth.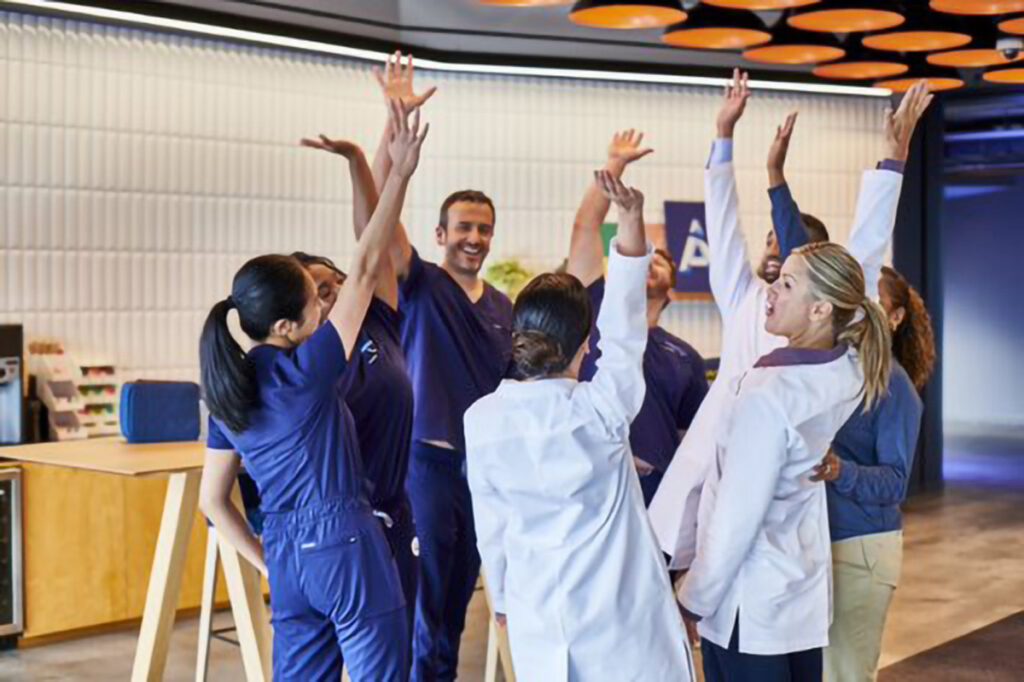 The DEO: Can you talk a little bit about the healthcare verticals you are taking Aspen's business model into? Specifically, what spaces are they? Why those spaces? And why do you believe Aspen's model will be successful?
Fontana: When I started Aspen Dental nearly 25 years ago, I really set out to try and take a more 'customer-
centric' approach to dentistry. Over the years, we have really learned a lot and fine-tuned that approach. I say we've created a consumer health care platform because we really have built expertise in so many ways that serve the needs of both practitioners and customers that we feel like we can apply to almost any adjacent and new health care verticals. We've really proven it already and continue to look at other businesses where we can leverage the platform for growth.
The DEO: As we are two years past the initial disruptions caused by COVID, what innovations do you think occurred to the market that may otherwise not have?
Fontana: COVID woke people up to the importance of preventative care. Because of COVID, people are now thinking about their health status on a daily basis. At the same time, COVID has changed the marketplace –
schedules are more flexible than ever, people are more empowered to ask for the accommodations they need for themselves and their families, and there's a greater demand for digital health care. These changes are pressing providers to prioritize transparency, digitization and accessibility. Technology is a part of that, but so much of it comes back to your culture, training and patient communication.
The DEO: How will the dentist office of the future (5, 10 years from now) differ from what we see in the marketplace today?
Fontana: The future of dentistry and health care – for those who want to succeed – will be obsessively customer-centric, with a deep understanding of customer's needs. I mentioned before how rapidly changing consumer needs are today. That's not going to change.
We're seeing a greater shift to support models in general. I don't see that changing either. There is a real advantage in scale, whether that's in procurement or any other sort of support like training, technological support, administrative back-up, and access to experts and resources so that the doctors and their teams on the ground can focus on the patients in front of them. Personally, I'm excited about this trend because I think The Aspen Group is really differentiated here as mentioned before.
The need for true digital advancements will also continue to grow. This year, we announced that we will be working closely with all Aspen Dental practice owners to convert to digital operations by 2023, and you're going to see more of that with respect to digital products, AI, telehealth and more – not just now, but continually as we move into the future.