Introducing DEO's Growth Secrets For Dental Organizations Facebook Group (Formerly Known as DSO Secrets).
By Laura Bowles, DEO
DEO's Facebook group has gotten a makeover! DSO Secrets is now DEO's Growth Secrets for Dental Organizations Facebook Group!
DEO determined it was time for a name change because DEO serves more than DSOs (and has for a long time) so had outgrown the name. DEO is dedicated to helping dental leaders build thriving dental organizations and have more profit, time, and impact; and helping practices become businesses and businesses become organizations. Working with companies of all sizes from large individual dental practices to small dental groups with multiple locations to DSOs, DEO serves leaders and organizations seeking to create a thriving company with robust systems, happy associates, and teams.
The Facebook Group needed a makeover to better reflect the broad impact DEO seeks to make by leveling up dental leaders and organizations to thrive and grow, best serving their teams, and organizations, and providing top-quality patient care. DEO'S Growth Secrets for Dental Organizations Facebook Group is a place for dental industry leaders to make connections with a community of dental entrepreneurs, group dentistry professionals, practice owners, DSO executives, subject matter experts, and more — really any dentist or professional striving to run or serve a successful dental company is welcome to join!
This exclusive private Facebook Group offers a place to get burning questions answered right away on topics like leadership; hiring; onboarding; training; retention; associates; technology; profitability; KPIs; operations; compensation and equity structures; deNovos and acquisitions; finding funding; getting out of the chair; the current economic climate; dental industry trends; marketing; insurance; reimbursement; patient care; centralization; supplier recommendations; revenue cycle management; "quiet quitting"; and much, much more.
Group members get access to free valuable resources and exclusive content for help running a successful dental company, as well as special discounts and more that are only available to group members!
Get to know the DEO Partners in the DEO Growth Secrets Facebook Group
DEO Partners regularly share expert tips and real-time advice culled from their combined 60+ years of experience in the dental industry. Join to connect with Jacob Puhl, Partner & CEO of the DEO; Darin Acopan, DEO Partner & EVP of Sales; Dr. Eric J. Roman, DEO Partner; Josey Sewell, RDH, DEO Partner & Head of Implementation & Coaching; Emmet Scott, co-founder of Community Dental Partners (CDP) & DEO Partner; and Ken Kaufman, President/CFO of Nuvia Dental Implant Centers & DEO Partner.
Click here to Join DEO Growth Secrets Facebook Group
---
Perks of Joining the DEO's Growth Secrets Facebook Group!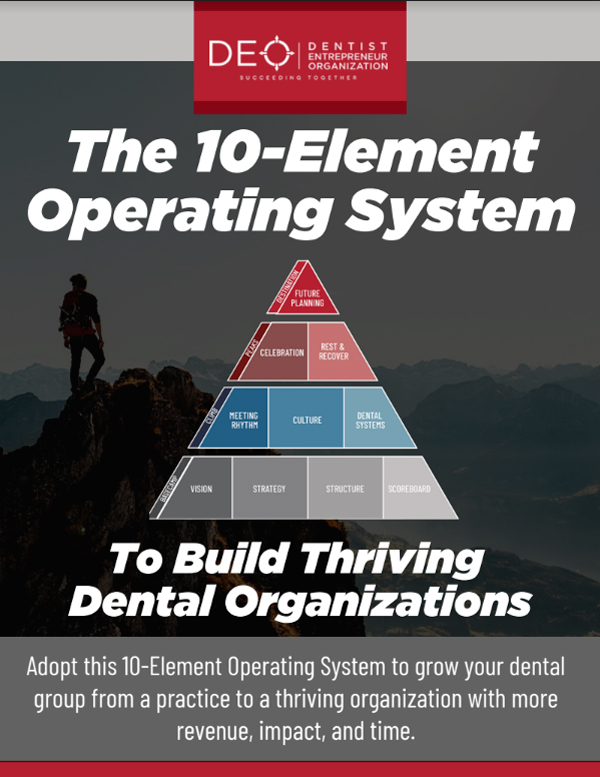 Access to complimentary bonus resources for group members only: Exclusive Bundle – 4 Resources To Help Your Dental Organization Thrive With More Profit, Time & Impact
Connect with 7,000 of the country's most successful dental leaders
Get burning questions answered right away and expert insight to help you run a successful dental business
Special coupon code for steep Summit savings
Watch Facebook live events with DEO Partners sharing timely and valuable content
Download free curated topical resources for dental company success
"Hear it first" exciting news and announcements about upcoming DEO events and offerings
And much more!