An emphasis on personal and professional development has led to financial and interpersonal "wins" at Potomac Dental Centre
By Graham Garrison
About six years ago, Dr. Everett Eklund met a fellow dentist, Tony Feck, who invited him to be a part of a peer group called Sunrise Dental Solutions. While Dr. Eklund was excited about the group, he had no idea at the time how transformative it would be for both his career and dental practice, Maryland-based Potomac Dental Centre.
The first book Dr. Eklund read with his team was called "Everybody Matters", co-written by Bob Chapman, a venture capitalist who purchased blue collar businesses like welding manufacturers and transformed them into successful enterprises using, of all things, culture. "Over a 20-year period, his companies outperformed Warren Buffet and Berkshire," Dr. Eklund said. "And he did it by changing culture and transforming lives. That really struck a nerve with me."
Dr. Eklund decided to deploy the same strategy at Potomac. He and his team would read books together and then talk about it. Dr. Eklund said he could see a change happening. Both he and Potomac's team members were more open and vulnerable in their conversations. Some of the team members even approached Dr. Eklund to tell him that he had changed, that he was "hardly the same boss" as he was before.
While those changes might have been subtle, there were some tangible benefits that arose. Revenue started to take off. Potomac went from a single doctor practice with deposits of about $1 million, to in a few years being a 2-doctor practice (Dr. Eklund brought on an associate) with deposits of $4 million. "When we hit the $4 million mark, my team put a big Congratulations sign on my chair in my office," Dr. Eklund said. "They were celebrating it more than me."
Personal and professional growth
Dr. Eklund said being vulnerable with his team, and being interested in their growth as human beings, are what led to their financial success. Potomac Dental Centre uses a ladder system in which each department has steps team members can take for their personal growth, "and we provide the training opportunities so that the team members can take those steps," Dr. Eklund said. At each monthly meeting when an employee goes from one level to the next, Potomac makes a big deal out of it. "We really celebrate it." Party hats, kazoos, everyone clapping and cheering – it shows the team members a lot of support.
The ladder system is also way to provide transparency for team members on what Potomac as an organization can offer. Each level on the ladder has salary ranges. "So someone who comes here can see that they can take steps to not only have an enriching career in dentistry, but they'll understand how it can put them on a path that will enable their financial goals, like buying a house. We want them to feel that financially they're in the right place."
In the spring of 2021, Potomac tried some typical ways of filling positions via job listing websites, but didn't get a response. Dr. Eklund said an ad on Facebook from The DEO about its upcoming Fall Summit attracted his attention. "I could see that their focus was on culture, building not just stronger businesses in dentistry, but having happier lives of all the people that are part of it," he said. Dr. Eklund signed he and his daughter up for the Summit. His daughter lives in California while working on a master's degree, but also helps Potomac's marketing efforts.
Dr. Eklund said The DEO's Fall Summit was tremendously helpful in learning best practices in connecting and recruiting. When he returned to the office, he began implementing what he learned. "We took our core values, and made that a part of our recruitment pitch," he said. "We basically said that if these values are important to you, come work with us. If these things aren't important to you, find another place to work. We did it in fun, but it was real, direct." They also ran ads in Zip Recruiter and leveraged social media. "In less than 30 days, we had over 90 applicants for hygiene, front office, and dental assisting."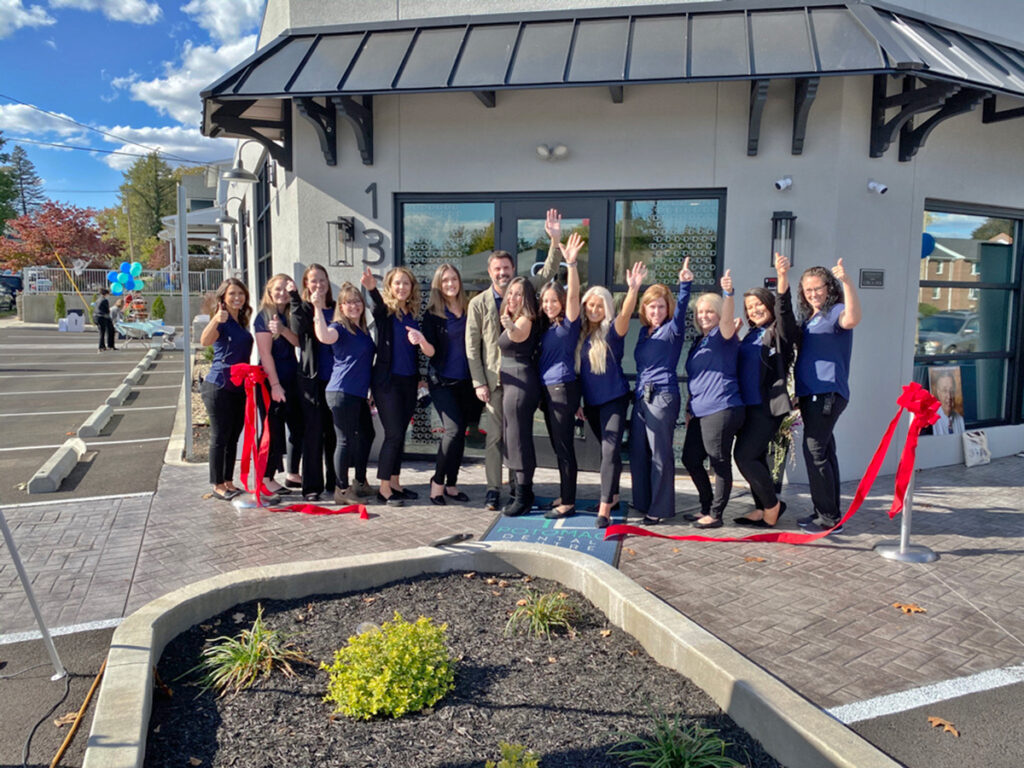 Using your gifts
Culture extends to how Potomac treats its patients. Before any cleanings, X-rays or examinations are done, the staff – as well as Dr. Eklund – sit down with each patient. "We just try to connect with them like a human being," he said. "We'll find out things in their life. Not everyone's open enough to share those things, but a lot of people are, and we'll see what areas of their life that they have deficiencies in regarding their ability to eat or their smile."
For instance, a grandmother told Potomac team members about the time one of her grandkids asked why her teeth looked "that way," while another patient recounted how he feels too embarrassed to eat in a social setting. Dr. Eklund said he and his team might spend a combined hour with the patient in the chair before they get to the examination. "Once we find the holes in their life, we can fix the holes in their smile."
Patients come to Potomac because they feel like there's something "different about us," Dr. Eklund said. He and his team aren't driven by revenue. They want to make an impact in their community. The Potomac team wants to win and it shows with the increased revenue, and how many more lives have been changed.
Dr. Eklund said he wants to give even more opportunities for those stories to grow, as well as his team members to grow, in 2022, but having one office has limited that. So, he is looking to branch out into another location.
"I have a deal with my staff," he said. "I told them I want to develop them professionally. They're too good for me. There's no reason why they should be working at my office because they're too skilled. So the other side of the coin is it's up to me to find opportunities to use and fulfill their gifts. That's driving me to prepare to open another practice, and hopefully this will lead to a string of practices – not so that I can work harder, but so I can give opportunities to my team members to express those gifts that are growing in them."