EGP New Products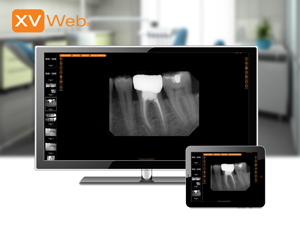 XVWeb by Apteryx Imaging utilizes Microsoft Azure cloud technology to deliver state-of-the-art clinical image storage, optimization and analysis as a cost-effective subscription service. Perfect for large-scale, multi-location organizations, XVWeb is a turnkey solution to network any dental practice via the cloud, while providing enhanced security and offsite backup of clinical data.
XVWeb has been designed to be more workflow efficient and budget-friendly for large dental organizations and group practices by making data more readily available, improving imaging device compatibility and reducing IT expenses. With 24/7 access to patient data, XVWeb users can retrieve, view, optimize and save their patient images from anywhere with web access, including via compatible smartphone and tablets. If a patient has an emergency and clinical data is needed for reference after-hours, XVWeb allows clinicians to easily log into their database and retrieve the patient's images. XVWeb can also serve as a secure image portal for sharing patient data with insurance providers and referring doctors online.
XVWeb also embraces open-architecture, integrating with most imaging devices on the market today while allowing dental images to be read by any DICOM capable software. Major brands of digital sensors, intraoral and extraoral cameras and pan/ceph systems will seamlessly integrate with XVWeb, enabling dentists to choose the combination of imaging devices and brands that work best for their business. And, due to XVWeb's utilization of the DICOM imaging standard, users are never locked into XVWeb by proprietary data formats.
XVWeb practices often see considerable reduction in IT related expenses, saving users significant cost with regard to onsite server hardware and maintenance. XVWeb is always updated and includes enhanced security with off-site data backup, so there are no additional expenses related to software upgrades or data protection.
XVWeb is constantly adding new modules and features, including XVWeb 3D, which adds support for accessing, viewing and securely sharing cone beam computed tomography (CBCT) datasets via any compatible web browser in real time. Requiring no downloading of data for image manipulation or enhancement, XVWeb 3D allows practices to access their CBCT data 24 hours per day, seven days per week, from compatible web-connected devices with the added security of off-site storage and back-up. All 3D image interactions can be performed via the web, utilizing a full suite of online image enhancement and annotation tools, in addition to an implant planning module.
For more information, please visit www.apteryx.com/xvweb or call 877.APTERYX.
Editor's note: Sponsored by Apteryx Imaging.