Aspen Dental's VIBE events offer a venue for practice owners and fourth years to make plans.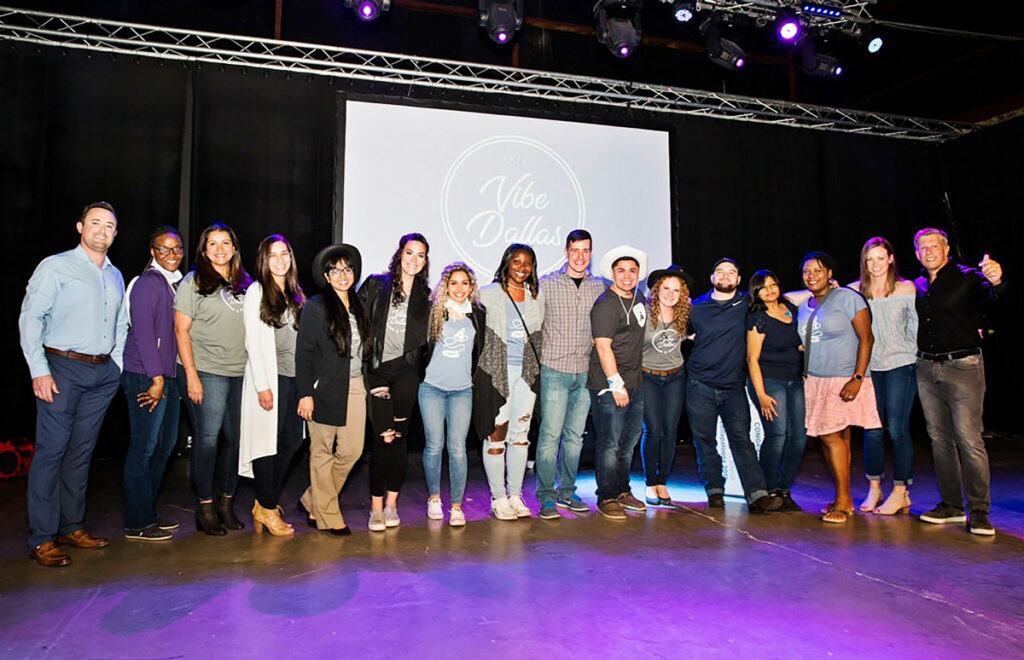 In February 2017, Ryan Evans was just a few months away from receiving his DDS from the UCLA School of Dentistry. Not surprisingly, thoughts about his future weighed on him.
"The hardest part of my job search was the saturation of dentists in Southern California, which led to a lack of opportunities for young doctors," says Evans, who joined Aspen Dental in July 2017. "Many associate jobs were only one day a week at below-market daily rates, meaning I would be traveling in all different directions, fighting Los Angeles traffic to fill my schedule and not helping patients in the way I wanted to. Considering limited offers and the cost of living in Los Angeles, I knew I had to find other opportunities."
An Aspen Dental recruiter invited Evans to attend one of the company's "VIBE" events in Atlanta.
"I honestly had no specific expectations of the event other than having a good time," says Evans, who has opened four Aspen practices in the past couple of years, including his new home office in Palm Desert, Calif. "The event exceeded my expectations in terms of the amount of fun I thought I'd have." That included lectures, workshops, even a NASCAR race. (Aspen was the primary sponsor of driver Danica Patrick's car.) "It opened my eyes to the vast network that is Aspen Dental. There were so many amazing people, including clinicians and non-clinicians, at the event, and it really piqued my interest in the company."
Connect and learn
Held quarterly since 2015, the Aspen Dental VIBE is geared towards fourth-year dental students and residents who want to connect and learn from Aspen Dental practice owners, career guides and executives from Aspen Dental Management, Inc. (ADMI), explains John Murphy, vice president of talent acquisition. "The purpose of the weekend is to immerse guests in Aspen's unique culture, understand their goals and career aspirations, and make the message clear that dentists who join Aspen Dental are supported by mentors and an organization that will stop at nothing to enable their success."
All Aspen Dental practice owners are invited to attend VIBE, but the events are of special interest to those looking to hire associates for their practices, says Murphy. "The Aspen Dental network is comprised of over 200 practice owners, and with over 50 of them in attendance at VIBE, students and residents have the opportunity to meet many practice owners from all over the country and explore a number of career options, all in one weekend."
VIBE fills an important role for Aspen Dental owners as they seek to recruit dentists to offices in federally designated dental health professional shortage areas (DHSPAs), where most Aspen Dental offices are located, he continues. "This is a primary reason that practice owners attend VIBE – to recruit graduating students and residents who are far more likely to consider these locations, where the students can run and own highly lucrative practices."
DHSPAs represent opportunity, including pent-up patient demand and limited competition, he says. Overhead costs, such as rent and utilities, tend to be lower. "Meanwhile, you're helping people who have typically lacked access get back on the road to optimal oral health."
What's more, "New dentists desire mentorship, and the owners in the Aspen Dental network can provide it in these locations."
Motivating factors
"Some of the big recruiting challenges facing practice owners are affording an associate, identifying and meeting the factors that motivate new graduates, and finding doctors who are willing to relocate," says Katie Heald, DDS, who owns four Aspen Dental practices in North Carolina.
"The ability of a young dentist to buy or start an office right out of school is difficult today given the mountain of debt from dental school," she says. "Few want to jump right into ownership. Meanwhile, practice owners have to be more aggressive with compensation and therefore more thoughtful if the business can support an additional doctor."
The factors that motivate young doctors are also changing, she continues. "They want more mentorship, guidance and work-life balance. So, practice owners must think of ways to appeal to and keep associates engaged and satisfied from a financial, personal and professional perspective."
Finding a new doctor who is willing to relocate can also be a challenge, says Heald, who has recruited at two VIBE events. "Many doctors want to be in a more metropolitan setting, but many communities in need of great dentists also offer a great quality of life. That's one of the benefits of Aspen Dental. With 800 offices across the country, and more opening every week, new doctors can find the fit that's right for them and relocate within the network should they want to do so.
"The most important thing is for new doctors to find someone willing to mentor them and help them grow clinically and professionally."
VIBE has offered Heald the opportunity to tell dental students the benefits of Aspen Dental and how it has changed her life and career, she says. "It's a great place to talk openly and honestly about Aspen and to dispel the DSO rumors. We are able to show students outside of a school setting how Aspen is solving the access-to-care problem and giving doctors great financial, personal and clinical freedom at the same time."
'Loads of clinical experience'
Ryan Evans sees it that way, too. In fact, a year after attending his first VIBE as a graduating student, he returned as a mentor for prospective new grads.
"Something of great importance for me, especially in the short term while searching for a job, was gaining clinical experience and growing as a clinician," he says. "For the long term, I was looking for somewhere I could become a multi-practice owner. Aspen Dental provided me with both.
"One of the ways Aspen stood out to me was the compensation model," he continues. "Not only was there a daily guarantee, but the ability to receive a bonus based on the office's success, which meant that all doctors, hygienists and specialists contribute to the same goal. This was awesome as a new grad, because it meant that I had the opportunity to work on some complex cases." That isn't always the case at other practices, he adds. "This allowed me to gain loads of clinical experience early on."
Evans also found himself drawn to Aspen's culture. "There is a close-knit family feel throughout the company, even though it has over 800 offices in 40-plus states. And the patient experience is the most important focus of an Aspen practice. I've found that the systems in place to put patients first are unmatched."