By Heidi Arndt
How to maximize the tremendous value your hygiene team brings to the group practice
Did you realize that 83% of the patient experience is with the hygienist? Or that 74% of the doctor's revenue is treatment planned in the hygiene chair?
Did you know that the average annual revenue of a full-time hygienist is $250,000/year? Although, the hygiene team is responsible for 30% of the DSO's revenue, they provide tremendous value beyond the 30% revenue you have been monitoring for years.
With training, development and support, your dental hygiene team provides your biggest growth opportunity, and can accelerate same-store growth immediately in your practices.
There are many dental practices and dental groups that do not take the time to invest in the training and development of their hygiene teams as they still see hygiene as a loss leader, or have had limited success in the past with hygiene-focused initiatives.
After years of training, coaching and mentoring dental hygiene teams, I can attest that this can be a hard needle to move. However, with focused and dedicated attention, you can experience huge — and sustainable — gains.
Where are groups achieving these gains? Here are two big opportunities that exist in almost every dental group I have analyzed in the past 5 years.
Focus on same-day treatment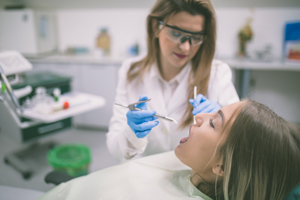 One of the most frequent questions I hear in the industry is: "How do you deal with schedule fall out?"  With the average schedule utilization running between 70% to 75%, each practice has an opportunity to create same-day treatment opportunities for their patients. By creating same-day treatment opportunities you're turning down time into productive time, and your patients appreciate the convenience.
Same-day treatment has brought amazing results to several DSOs. In hygiene only, I've seen a group increase their same-day hygiene revenue by 1331%. Yes, you read that correctly. This same-day treatment fueled a 72% increase in their product per visit, and a 92% increase in hygiene revenue.
In order for same-day treatment to work in your group, the team must agree to be flexible, strong communicators and team focused throughout the day. They must also embrace the phrase, "we can start today."
The hygienist as true treatment advocates
When you realize that 74% of the doctor's treatment revenue is developed in the hygiene chair, you'll see why it's imperative to have your hygiene team focused on comprehensive treatment planning skills. Yes, the dental hygienist cannot diagnose or treatment plan but they can move the patient toward ideal treatment when they understand and support their doctor's treatment philosophy. Remember, your hygienist spends more time with the patient than any other person in your practice. The hygienist has an incredible influence on the patient.
The doctor exam in the hygiene room usually takes 5 to 8 minutes. If the hygienist is not teeing up treatment for the doctor, it will be a very difficult for the doctor to adequately diagnose, provide a treatment plan and "sell" the patient on the treatment. The doctor and hygienist must work as a team to support the patient, and to optimize the practice.
Don't allow your hygiene team to work in a silo. The partnership between the hygiene and doctor team is crucial to the success of your group, and supports quality patient care.
It is time to expand your groups horizons by looking beyond the 30% your hygiene team brings to your group revenue. Their value can be recognized in every level of your group; but only when you take the time to invest in them.