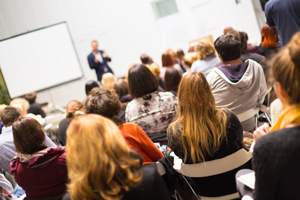 DSOs have year-round educational and networking opportunities
The professional culture and daily goings-on within a group practice have a huge impact on patient care. What happens outside of the practice often matters just as much.
Indeed, staying informed about the industry, educated about new technology and connected to one's peers can give dental professionals the perspective they need to provide patients with optimal care and a great experience – a true measure of success for the practice. Following is a sample of industry meetings and conferences that take place throughout the year to help dental clinicians, executives and managers expand their professional horizon.
---
American Academy of Dental Group Practice (AADGP)
The AADGP Expo 2019 took place January 30-February 2, 2019, at Planet Hollywood, Las Vegas, Nevada. In addition, AADGP celebrated its 45th anniversary.
This year's speakers featured a number of industry standouts, including:
AJ Peak, CEO and founder of Peak Dental Services. Under AJ Peak's leadership, Peak Dental Services has developed 27 locations since 2008. Peak shared his strategic leadership skills to help attendees rapidly and effectively grow their group, as well as tactics designed to improve productivity, key success factors to launching de novo practices, and much more.
Benjamin Dyches, DDS, JD. After 13 years and six start-up practices, Dr. Benjamin Dyches recognized a need at the intersection of healthcare and law. Today, he educates healthcare providers across the country on successfully navigating the legal climate. In his presentation, Dr. Dyches empowered providers with an understanding of liability and lawsuits, and their far-reaching impact and the legal corporate structures that protect assets from being taken in a lawsuit.
Stewart Levine, founder of Resolution Works. A resolutionary mediator, trainer and author, and widely recognized for creating agreement and empowerment in the most challenging circumstances, Stewart Levine counsels and trains executives and managers to resolve workplace conflicts. He recognizes that, by doing so, they can reduce costs, improve efficiency and increase job satisfaction.
Stewart Gandolf, CEO, creative director and Co-Founder of Healthcare Success. Stewart Gandolf is a national speaker to thousands of healthcare clients across North America. He boasts over 20 years of experience in creating marketing programs for providers and corporations. Gandolf shared his expertise in healthcare advertising and marketing, educating attendees on how this can be applied to the dental industry.
Jeromy Dixon, DMD, founder and CEO of The DSO Project. Jeromy Dixon was formerly the CEO and founder of Smiles Services LLC and Smiles Dental Group PC. During this time, Smiles Dental was recognized three years in a row by INC Magazine as one of the fastest growing privately held companies in the U.S. Under his leadership, Smiles Dental roughly tripled the number of locations, revenue, EBITDA and organizational valuation. Dr. Dixon educated his audience on what private equity looks for in group practice and DSO investments.
Brian D. Tortolano, CPA, partner at Rosen & Associates, LLP. Brian Tortolano has primarily served clients within the dental and healthcare industries for over 15 years. His industry- specialized expertise ensures he understands the specific accounting, tax and business needs of dental and medical professionals and their businesses.
Genevieve Poppe, co-founder of Stepping Stone Dental Partners, an organization that facilitates practice acquisition. Genevieve Poppe's expertise is proven by years of success in all aspects of practice operations. She has built and facilitated numerous practice acquisitions, transitions and relocations. Poppe shared her approach to generate growth and create stability in order to create a thriving practice of any size.
Kip Rowland, RDH, MS, strategic account manager for Practice Analytics, a dental technology company. Kip Rowland has published research in the Journal of American Dental Hygienists Association and served on the advisory boards of various dental hygiene and assisting schools.
AADGP will be returning to Las Vegas in 2020. Dental Group Expo '20 will be held February 19th – 22, 2020 at MGM Grand. For more information visit https://www.aadgp.org/annual-expo/.
---
Henry Schein Dental
The Henry Schein DSO Education Forum took place May 17-18, 2019, at the Aria Resort & Casino, Las Vegas, Nevada.
Following last year's event, which drew over 600 attendees, from over 140 group practices & DSOs between the United States and Canada, at press time, Henry Schein was working to exceed those attendance numbers in 2019. The Forum featured two dozen speakers representing three unique tracks:
National and Emerging DSO. The National and Emerging DSO track was geared toward executives within DSOs of all sizes.
DSO Hygiene. The DSO Hygiene track was geared toward hygienists, chief hygiene officers and team members responsible for hygiene across all locations. The track focused primarily on scaling and increasing workflow and profits across locations.
Leadership Development. New in 2019, the Leadership Development track was perfect for anyone responsible for managing or leading a team, including office managers at one location, regional managers responsible for several locations, as well as CEOs and COOs looking to broaden their leadership skills. Whether attendees were new to a leadership position or a seasoned leader, the track catered to all experience levels and demonstrated best-in-class team coaching, mentoring skills and how to build team harmony within one location, or across many. The session featured interactive activities, as well as keynote lectures from world-class leadership development experts, and COOs, regional managers and executives from DSOs.
The 2019 keynote speaker was Julie Rice, an entrepreneur best known for co-founding the fitness phenomenon, SoulCycle. Rice served as co-CEO at SoulCycle from 2006-2015 before becoming the chief brand officer at WeWork in November 2017.
In addition to the three education tracks, a few panels were scheduled:
Dental Industry Titans. Dental Industry Titans was moderated by Brian Colao, director, Dykema DSO Group, and featured Stanley Bergman, chairman & CEO, Henry Schein; Marc Berendes, CEO of Kulzer GmbH; and Donald Casey, CEO of Dentsply Sirona. The panel primarily revolved around the importance of a positive team culture within an organization, and ensuring team culture is consistently on the minds of leadership.
DSO Executive Panel. A DSO executive panel was moderated by Jake Meadows, vice president of sales, Henry Schein, and included three executives from DSOs of varying sizes.
Women's Leadership Panel. A women's leadership panel was moderated by Julie Rice. Panelists included Kim Diamond, senior director, Henry Schein; Melissa Marquez, COO, DentalOne Partners; Jen Naylor, executive vice president, Hu-Friedy; and Lori Noga, CEO, Tranquility Dental. Among the topics discussed were women's leadership within the DSO Community, recruiting women into your C-Suite and more.
Steve Thorne, CEO, Pacific Dental Services, closed out the DSO Education Forum.
For more information visit https://www.henryschein.com/us-en/dental/Default.aspx?did=dental.
---
Dentist Entrepreneur Organization (DEO)
The 2019 DEO Summer Summit: The Emerging Future of Group Dentistry took place June 27-29, in Phoenix, Arizona. This year marked the organization's seventh Summit.
Nearly 400 dentists, group executives and dental professionals, as well as 38 sponsors dedicated to the group space, attended the Summit. Attendees represented small and emerging group practices, mid- level DSOs (50 to 100 practices), suppliers, vendors and capitalists. The Summit was designed to help attendees understand what's coming and how to prepare for it by discovering practical tools for a successful group practice business.
Attendees had the opportunity to network with:
Dentist-entrepreneurs with growing practice portfolios.
Equity partners investing in managed-group practices.
Upper senior executives.
Leading groups in North America.
Executives growing groups outside of North America.
Regional managers for group practices and brands.
Office managers for group practices and brands.
Senior advisors leading the growth of managed groups.
Capital investors looking to expand.
Equipment suppliers to managed groups.
Consultants specializing in growing groups.
Constituents from the entire group practice supply chain.
There was also an opportunity to earn Continuing Education (CE) credits.
The 2019 DEO Summer Summit offered a wide range of presentations, including:
The Future of Evidence-Based Dentistry: 2019 and Beyond
Speaker: Dr. John C. Kois, The Kois Center
Dr. Kois addressed what treatment planning will look like in the future, and what dental professionals and entrepreneurs will need to do to meet the requirements. For instance, how will upcoming changes in tech change how dentists practice? How will it change the way they market? How will evidence-based dentistry affect their bottom line?
The Future of Emerging Groups & DSOs
Speaker: Dr. Richard Evangelista, CEO and founder of Dentalforce
With over 15 years of proven success in dental-practice management, Dr. Evangelista discussed the future for emerging group practices. He addressed such questions as: Where might multiples be going? What is the outlook for private equity in the emerging-group space? What growth strategies will win out in the near future? What can group practices do now to set up their businesses for future success? What's changed in the DSO world in the last few years? What's driving the growing number of DSOs? What trends are we seeing among DSOs?
The Future of Integrating Medical and Dental Health in Group Dentistry
Speaker: Dr. Maryam Beyramian, Founder & lead dentist, Westwind Integrated Health
Dr. Beyramian discussed how Westwind Dental is forging the future of dentistry through an integrated medical and oral health model. She addressed such questions as: What does an integrated model look like? What are the opportunities for practicing dentists and dental groups in systemic health integration? Where is the crossover exactly between medical and dental, and how can dentists today position themselves for the future?
The Future of Blockchain in Group Dentistry
Speaker: Dr. Peter Boulden, Bulletproof Dental Practice
Dr. Boulden discussed "blockchain," and how it is affecting dentistry. He addressed questions such as: How does blockchain change aspects of the dental experience? What opportunities does blockchain open for group practices? What are the potential pitfalls this new technology will create? What can group practices do now to take advantage of this inevitable wave?
The Future of Top-Line Revenue Growth in Dental Groups
Speaker: Margaret McGuckin, Co-Founder and principal, i3 Ignite
Margaret McGuckin discussed how she increased top-line revenue as COO of ClearChoice Dental Centers. She addressed questions such as: What are the most innovative ways large groups can attract and convert new patients? What are sophisticated methods to convert new patients – on the phone and in the chair? Where is the lowest-hanging fruit in most dental groups?
The Future of Teledentistry in Group Dentistry
Speakers: Richard Lee, CEO and Dr. William Jackson, COO
Virtual Dental Care
Jackson and Lee discussed how teledentistry is being utilized today and where it is headed in the future. Attendees learned how teledentistry has evolved and increased patient convenience, enhanced peer-to-peer communications, and helped the entire dental industry reach a higher level of patient care. Jackson and Lee addressed questions such as: How are dental offices utilizing teledentistry now, and how will it be used in the future? How can the average dental group leverage teledentistry and position themselves for the future?
The Future of Payments in Group Dentistry
Speakers: Matt Hall, MBA, president and COO of Wellfit
Joe Feldsien, senior vice president of professional partnerships, Pacific Dental Services
Matt Hall and Joe Feldsien addressed the current state of paying for dentistry. It hasn't changed in over five decades, and it is filled with complexity, misunderstanding and lack of transparency. As a result, it creates stress, friction and frustration, which breaks down trust between providers and patients. The introduction of new innovative financial technology (FinTech) offers solutions for building trust between providers and patients.
The Future of Dental Patients' Retail Experience in Group Dentistry
Speaker: Dr. Ryan Hungate, Orthodontist/Founder and CSO, Simplifeye
Dr. Hungate addressed how technology can be used to automate the patient experience, and how software can increase new patient flow, decrease patient check-in times, decrease insurance verification times, decrease accounts receivable, and increase payment collections. The right technology not only enhances the patient experience, but it's also preferred by patients, as they seek more Amazon Go-like customer service automation options, according to Dr. Hungate.
The Future: Bringing Dental Care to Patients – the Floss Bar Model
Speakers: Eva Sadej, founder & CEO and Farhad Attaie, CSO Floss Bar
In their presentation, Eva Sadej and Farhad Attaie explained the Floss Bar model, which offers portable dental units that come into corporations, workspaces or residential buildings to offer onsite dental care. Floss Bar, which also partners with local dentists and hygienists, has scaled quickly to more than 40 states in the past year. Striving to make dental care more accessible, Floss Bar also seeks to help change the disease model that has been at the core of dental-care delivery, causing 50 percent of Americans to avoid the dentist. People who don't seek dental care often suffer from gum disease-related conditions such as diabetes and heart disease. By providing mobile dental care, Floss Bar's aim is to help close the fundamental divide most patients feel between their body and mouth – the medical/dental connection.
Special Panel: Association of Dental Support Organizations: Associate Ownership Models: Is the 'Employee-Dentist' Model Dead?
Panelists: Ken Cooper, CEO, North American Dental Group; Tarek Aly, BDS, MBA, co-founder and COO, OrthoDent Management, LLC; Merritt Dake, chief executive officer, Rock Dental Brands.
Ken Cooper, Tarek Aly and Merritt Dake discussed their approaches to researching and creating associate ownership plans, including successes and failures, best practices, and tips and advice for group-practice owners who are exploring their options or rolling out similar models.
Special Panel: Pitfalls to Avoid When Growing a Group from 1 to 3 to 5 Locations and Beyond
Host: Dr. David Janash, president & CEO Underbite Dental Management
Dr. Janash hosted this panel and also offered his insight on the most common issues and decisions growing groups face, including: the biggest challenges getting through the first few locations; current obstacles; and future hurdles when growing a dental group.  Panelists included:

Marc Adelberg, owner, Adelberg Montalvan Pediatric Dental, PC.
Lori Noga, DMD, founder & CEO, Tranquility Dental Wellness.
Scott Guest, Co-founder and COO New Horizons Dental Practice Management.
Emmet Scott, CEO, Community Dental Partners, acted as the special guest emcee for the 2019 DEO Summer Summit.
The 2019 DEO Fall Summit will follow this November 7-9, 2019, in Orlando, Florida. For more information visit www.Deodentalgroup.com.
---
Dykema
The Dykema DSO Conference 2019 – The Definitive Conference for Dental Support Organizations – is scheduled for July 10-12, at the Omni Dallas Hotel in Dallas, Texas.
This highly anticipated conference offers opportunities to learn about current best practices in the areas of legal, regulatory, compliance, tax, consumer finance, billing, operations, M&A, financial reporting and other industry-specific issues. It is an immersive event for practice owners, executives, investors and in-house counsel. For those who are new to DSOs or would like to expand or improve their current organization, this event offers solutions for various levels of their organization.
To learn more about the Dykema DSO Conference 2019 once more information becomes available, visit www.dykemadso.com.
---
Scaling Up
The Scaling Up Group Dental Symposium 2019
The 5th annual Scaling Up Group Dental Symposium is scheduled for August 21-23, 2019. The event will be held at the Omni Hotel in downtown Louisville, KY. Last year's event hosted over 350 attendees representing 66 dental service organizations and 2,310 dental offices from 30 states.
The two-day event promises to feature great content covering a wide variety of topics important to growing DSOs. Attendees will have the opportunity to get up-close and personal with Dr. Wayne Mortenson, founder, Mortenson Dental Partners, as he hosts a Q&A breakout session. The breakout session will be in a small group setting, and the conversation will be led by attendees based on what they want to know from this formative leader in dentistry.
The event opens with a behind-the-scenes tour of the Mortenson Dental Partner Support Center. A networking reception is scheduled Thursday, August 22, 2019 at the Muhammad Ali Center, Louisville, Kentucky. Cocktails and hors d'oeuvres will be served overlooking the beautiful Ohio River and Louisville skyline. The Muhammad Ali Center will also be open for tours from that evening.
Presenters will include:
Jason Barger, author, Thermostat Cultures.
Bill Becknell, CEO, Mortenson Dental Partners, "Developing Your DSO Strategy."
Brian Colao, director of Dykema's Dental Service Organizations Industry Group.
Steven L. DeLong, CEO, Bluetree Dental.
Andrea Edelen, director of dental hygiene and clinical support, Mortenson Dental Partners, "Leveraging Hygiene to Drive Peak Performance."
William Engilman, DMD, MS, president and chief information officer, Mortenson Dental Partners, "Data Science in DSO Dentistry: Elevating Patient Care & DSO Performance."
Corby Ewing, director of business intelligence, Mortenson Dental Partners, "Data Science in DSO Dentistry: Elevating Patient Care and DSO Performance."
Nicholas Partridge, president, Five Lakes Professional Services, "Trends in Payor Relations."
Cheryl Penava, vice president practice excellence, Mortenson Dental Partners, "Leadership Session: Developing Your Executive Presence."
Cecile Schauer, president of strategic accounts, Patterson Dental.
Melissa Thomas, director of business operations, Mortenson Dental Partners, "Leveraging Hygiene to Drive Peak Performance."
Breakout Speakers will include:
Colin Carr, CEO, CARR Healthcare Realty, "Managing Your Real Estate to Maximize Practice Profitability."
Karan Garg, managing director, Houlihan Lokey Healthcare Group.
Christopher Grimm, director of information systems, Mortenson Dental Partners.
Jacqueline Guinn, doctor recruiter, Mortenson Dental Partners, "Teaching with a Twist: Doctor Recruitment."
 Bryan Hildreth, chief human resources officer, Mortenson Dental Partners.
Andrea Kartch, director, Professional Skills and Leadership Programs, Mortenson Dental Partners, "The Power of Great Coaching."
Rupinder Kaur, doctor recruiter, Mortenson Dental Partners, "Teaching with a Twist: Doctor Recruitment."
Dr. Wayne Mortenson, founder, Mortenson Dental Partners, "Q&A with Wayne Mortenson: An Intimate conversation with Mortenson Dental Partners Founder."
Cheryl Penava, vice president practice excellence, Mortenson Dental Partners, "Leadership Session: Developing Your Executive Presence."
Sherri Toohey-Taylor, director of human resources, Mortenson Dental Partners, "Tips on Finding Talent in a Tight Labor Market."
Christy Williams, director, learning & development, Mortenson Dental Partners, "Leadership Session: Developing Your Executive Presence."
Kristen Wilson, human resources business partner, Mortenson Family Dental – Specialty, "Tips on Finding Talent in a Tight Labor Market.
For more information visit https://scalingupgroupdental.com/?gclid=EAIaIQobChMIwLyP2NPk4QIVBdbACh3jqgirEAAYASAAEgIGW_D_BwE.
---
DentalForum
DentalForum USA 2019 will open September 11-12, 2019, at the Gaylord Opryland Resort in Nashville, Tennessee. The Opryland Resort features 9 ½ acres of indoor gardens and waterways. The Forum will be the organization's 4th for the U.S. market.
With time-efficiency at the forefront of the agenda, attendees can expect a personalized schedule of one-to-one speed meetings, connecting them with future partners in a personalized agenda built around their priorities. The OpenRoom team has been busy constructing a tightly-packed schedule of business content. Details are available on the DentalForum website, or you may follow them on Twitter or LinkedIn.
DentalForum 2019 will offer DSOs a number of opportunities, including:
An opportunity to network with peers and meet with new and current suppliers.
An individualized meeting program.
An opportunity to engage with the leading minds in the industry.
There are benefits to suppliers as well, including the opportunity to:
Collaborate with meeting organizers to develop a schedule that matches each DSO's priorities.
Interact with the primary decision makers from each DSO.
Engage with – and learn from – both the DSOs and other manufacturers.
Relax and meet customers on a personal level.
For more information visit https://www.openroomevents.com/dentalforum-usa-2019.php.