GEDC dentist receives public service award from Michigan Dental Association
Great Expressions Dental Centers (Southfield, MI) announced that Dr. Michael Vilag was recently recognized with the public service award from the Michigan Dental Health Association (MDA) for "his exceptional and noteworthy contributions to the dental profession as well as his community service efforts." Reaching beyond the office and into the community, Dr. Vilag also co-founded a student-run clinic in 2011 where nearly 20 doctors and students provided dental services to residents in Detroit at St. Vincent de Paul who were experiencing homelessness and physical abuse. The clinic ran for over six years and raised awareness for the imminent need of quality dental health services and care for people with limited access to such resources. Currently, Dr. Vilag runs a similar service clinic through the Malta Free Dental Clinic at St. Leo's church.
---
Ivoclar Vivadent CEO Robert Ganley receives lifetime achievement award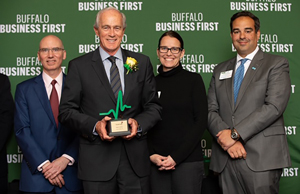 Ivoclar Vivadent (Amherst, NY) announced that its CEO Robert Ganley was recently awarded the Lifetime Achievement Evy Award by the American Academy of Cosmetic Dentistry (AACD) (Madison, WI). Ganley was presented with his award during the 35th Annual AACD Annual Scientific Session's Celebration of Excellence. The AACD honors its most accomplished and dedicated professionals with Celebration of Excellence awards(or "Evy awards"). The Lifetime Achievement Award is given to an individual who has demonstrated significant achievement in the cosmetic dentistry or restorative dentistry fields both personally and professionally. Ganley, who has been with the company for 39 years, will retire in July but remain active as a member of the company's Supervisory Board.
---
Touro Dental Health to cut opioid prescriptions by 80%
Touro Dental Health (Hawthorne, NY), an 81-chair clinic, plans to cut opioid prescriptions by 80%. The dental clinic will allow opioid prescriptions under certain circumstances, including allergies to alternate treatments, failed prior attempts to control pain with non-narcotic pills (like Tylenol and Advil), or significant oral surgery. Even then, the clinic will use a strict review of the patient's history and limit the opioid script to three days, a shift from historic trends in dentistry that sent many patients home with at least six days' worth of pills. Under the new policy, patients getting opioids at the dental clinic must also sign a contract as part of an educational consultation about addiction risks and identifying drug-seeking behavior. Touro, whose clinic handles about 40,000 patient visits per year, plans to promote the policy to other dental schools and students as well as practicing dentists. The decision to change the policy comes after insurance giant UnitedHealthcare imposed sweeping limitations on dental coverage linked to opioid pain medication, citing the heightened opioid addiction risk for teens. The study found that of the patients give opioids, 7% went on to get another opioid prescription. There was also a 5.4% increase in future opioid use disorders among the at-risk group of teens getting their first script tied to wisdom-teeth extraction, the study found. As a result, the health insurer this year capped all first-time opioid scripts written by dental health professionals for age 19 and under at three days and fewer than50 morphine milligram equivalents per day.
---
MouthWatch names James Martorelli as Director of Sales
MouthWatch, LLC, recently appointed James "Jay" Martorelli to the position of Director of Sales In this position, Martorelli will be responsible for developing key public health and private sector accounts as well as forging strategic alliances with DSOs and group practices throughout the United States. Other responsibilities include the following: Development and management of sales plans, forecasts and budgets; Conducting competitive analysis of other intraoral camera and teledentistry companies; Hiring, training and managing the MouthWatch sales team; Representing MouthWatch during dental meetings and conventions; Providing input and needs assessment regarding MouthWatch marketing efforts.
---
Results of largest endodontic study to be released this summer
Results of a comparative study that included 59 subjects and was conducted in Chile will be presented on Saturday, June 22, at 3:30 during the General Session of the International Association for Dental Research (IADR) in Vancouver, Canada.  EndoSequence® BC, (Brasseler), ProRoot® MTA (Dentsply Sirona), and Biodentine® (Septodont) were compared in terms of extent of healing. Supported with funds from the Septodont company, it is the largest endodontic study of its kind to date.
The study team was formed with faculty from the Chilean Navy, the University of Valparaiso, and the Finis Terrae University in Santiago. The principal investigator on the project was endodontist Stephen Cohen, MA, DDS, of San Francisco, California, who is the eponymous author of Pathways of the Pulp. Statistical analysis was conducted by Veerasathpurush Allareddy, BDS, MBA, MHA, MMSc, PhD, at the University of Illinois; Alicia Caro, DDS, MS, headed up the team in Valparaiso; Veeratrishul Allareddy, BDS, MS, at the University of Iowa, performed the radiological evaluation; and Gustavo Mahn, DDS, previously on faculty at Finis Terrae University, served as project coordinator.  Dr. Mahn will present the findings in Vancouver in next month (June 2019).
While the study revealed no statistical difference among the three products used to enhance remineralization after endodontic surgery, Dr. Cohen said, "We are pleased to learn that dentists and endodontists can be assured that the product they select should not impact patient outcomes, and that they may base their clinical decisions on other factors."
"This study represents a first in the endodontic field in terms of the scope and numbers of patients recruited for a single study.  As clinical dentistry moves toward rigorous evidence-based practice, more studies engaging large sample sizes must become the norm," Dr. Cohen said.