By Laura Thill
When it comes to supporting a culture of diversity, actions speak louder than words.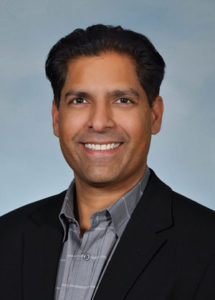 At Aspen Dental Management, Inc. (ADMI), diversity isn't driven by protocols. Rather, it's what drives the organization. "It's part of our organization's DNA," says Dr. Arwinder Judge, chief clinical officer at Aspen. From the time he joined ADMI 15 years ago, he has witnessed a broad representation of dentists and staff from different nationalities and cultures, he notes. "Our diversity brings a richness to our corporate culture and helps us thrive," he says. "It makes our organization special. And, despite out differences, we are united by a passion for what we do. It's about breaking down barriers to ensure patients get the care they need."
Indeed, the industry as a whole has grown to include more women and underrepresented minorities, particularly as dental schools create programs designed to attract these groups, Dr. Judge points out. "It's great to see these changes taking place in a profession I've dedicated my life to," he says, particularly in light of his own background. "I am of Indian descent, I was raised in Canada and I attended dental school in New York City."
Fresh points of view
In Dr. Judge's experience, by bringing together dental professionals from a multitude of backgrounds, cultures, nationalities and ethnicities, ADMI and its affiliate practices benefit from different perspectives and fresh points of view. "This has enabled us to see things from a holistic perspective and arrive at solutions we may have overlooked if we were a more homogenous group," he says. "The impact of our diverse workforce plays out every day." This, in turn, can be helpful to the equally diverse group of patients they treat, he continues. "It can put patients at ease to see their own diversity reflected in the faces of the dentists, hygienists and team members who treat them," he says.
Furthermore, he believes a lack of diversity at ADMI's affiliate practices would be a turn-off for prospective team members. "There's a saying: 'You can't be what you can't see.' I think all of us on the ADMI leadership team, along with the dentists whose practices we support, feel a real responsibility to help candidates who are considering joining Aspen Dental understand exactly what's possible when you're committed to doing what's right for your patients and your team members. I think one of the reasons that we've been so successful with our Practice Ownership Program, for example, is because doctors can see themselves reflected in the existing group of owners, and know that the opportunity exists for them, too."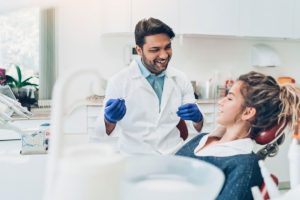 It takes a conscious effort to foster a truly diverse corporate culture, he continues. "Several times each year, ADMI holds Aspen Dental VIBE Sessions, which are designed to help graduating dental students and residents understand what life at Aspen Dental is all about, and to connect them with Aspen Dental practice owners who are hiring new doctors," he explains. "It's really special to see a student connect with a successful practice owner who might be from a similar background, and get a glimpse of what their own opportunity looks like at Aspen Dental. We're mindful of making sure that the practice owners at our VIBE sessions demonstrate the diversity that characterizes our organization.
"I think the trend toward diversity in dentistry will continue to accelerate over the next decade," says Dr. Judge. "It's incumbent on industry leaders to support this shift – not simply with words, but with actions."
Judgement-free zone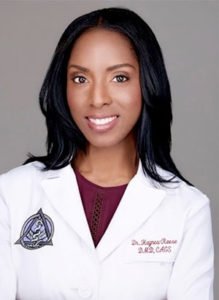 Dr. Kimberly Haynes, the owner of four Aspen Dental branded locations in Central Texas, understands that a dental office can be a scary place for some patients. So, it helps to have a diverse staff who can relate to a broad spectrum of backgrounds and perspectives, she says. "Given the unique patient population we care for in Central Texas, our offices see patients of different nationalities, ethnicities, socio-economic status and genders," she explains. "As with our patients, our staff is equally diverse." When the staff and doctors can relate to their patients, it helps put them at ease, she notes. Even more importantly, dental patients want to be accepted, not judged, she points out, and having a dental team who can relate to their patients enables the practice to provide a judgment-free zone.
"I believe it is the professional responsibility of a business owner to recognize diversity and create an office culture that promotes acceptance," Dr. Haynes continues. Dental offices incapable of providing an environment of acceptance will likely face challenges recruiting and hiring new staff, she points out. "Acceptance is a basic human desire," she says. Ultimately, staff turn-over due to an unaccepting environment can compromise the patient experience, she adds.
"I always say, to whom much is given, much is required. In my practices, we take time to embrace holidays, local festivals and hold lunch-and-learns about the unique differences that exist between our staff members and our patients." In fact, the group practice recently accepted an invitation from one of its hygienists to participate at a local Hindu Temple for Dasara Mela. Dr. Haynes brought her family as well. "We had a wonderful time.," she says. "Interestingly, when this hygienist was hired, she gifted me an outfit – a salwar kameez – from India. The expression on her face was priceless when I showed up to the festival wearing it!"
In addition, Dr. Haynes makes it a point to give her staff religious holidays off, even when they aren't recognized as national holidays. "Those of us that enjoy reading have shared books that address topics about customs to various family traditions," she says. "We also support our patients by attending local religious and community events, including an MLK March, Mouth Mobile to support our veterans and more. We are a close-knit group and we look forward to events and activities that embrace our personal and cultural differences."
A team effort
Creating a culture of diversity cannot be accomplished in a vacuum, notes Dr. Haynes. "Without my team's support, it would be difficult to obtain the results we desire," she says. "If my staff isn't equipped to embrace cultural differences or they lack exposure to diverse groups of people, it will be difficult for them to treat and help our diverse patient base."
Having the support of a culturally and ethnically diverse organization such as Aspen Dental Management Inc. is equally important, Dr. Haynes points out. "The management at ADMI is as diverse as the dental staff and patients that visit our offices," says Dr. Haynes. In fact, it's a good feeling to see how comfortable her office team members are when attending ADMI business-support or practice owner meetings, she adds. "I truly believe ADMI makes a conscious effort to ensure providers and their team members feel included," she says. "As an African American female business owner, I have been able to network and maintain relationships with individuals who come from different countries and backgrounds. ADMI has helped drive these opportunities, as well as assisted me in hiring staff who embrace a judgement-free office zone for my patients."
Dr. Haynes anticipates the dental industry will continue to reflect the growing number of female and otherwise underrepresented professionals and patients over the next decade. In addition, socioeconomic factors will continue to impact how well dentists and caregivers can treat their patients. "In recent years, I have seen greater socioeconomic similarity across various populations of patients under our care," she says. "Finances can be a barrier to patients receiving the care they need, regardless of race, gender, nationality or ethnicity."
Dental insurance often helps level the playing field for most patients, she says. Still, more and more patients depend on savings, flex-spending or alternative payment options to get themselves healthy. "In some cases, I have seen patients seeking care from doctors in other countries to help resolve urgent dental care needs due to financial constraints," she adds.
"My personal goal will be to continue to grow clinically, spiritually and personally, and to be the leader that my office staff and patients need," says Dr. Haynes. "I also embrace opportunities to educate, train and mentor dental professionals to help our industry become more rooted in that most basic human desire – acceptance."