Sponsored Content: Shofu
Deck: Beautifil Flow Plus X ensures aesthetic, comfortable, long-lasting restorations – peace of mind for clinicians and patients alike.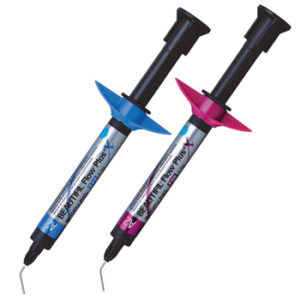 It's not every day that St. Louis, MO-based Jack Griffin, DMD, discovers a restorative material that delivers outstanding clinical benefits – and then some. "All things being equal, I'll select a composite restorative like Shofu's Beautifil Flow Plus X, which not only features great clinical properties, but also has a positive impact on the patient's oral environment," he points out.  With three dental practices, a team of 20 staff members and three doctors, and year-round teaching and lecturing commitments, he can't afford to settle for anything less.
Indicated for both anterior and posterior teeth, Beautifil Flow Plus X allows clinicians to place direct restorations with an excellent self-leveling ability and outstanding physical properties, equivalent to those of conventional hybrid composites. Its proprietary Giomer technology, now containing a patented nano S-PRG filler, benefits the adjacent tooth structure for sustainable caries prevention, while encompassing the ability to polish to a high and long-lasting luster. The trilaminar structure of the bioactive S-PRG filler particles forms a stable zone of interaction, designed to sustainably release and recharge at high concentrations. The S-PRG filler releases fluoride and other bioactive ions inhibiting plaque formation and minimizing postoperative hypersensitivity. In addition, the filler particles buffer and neutralize acids.
"Beautifil Flow Plus X Giomer technology releases ions, inhibiting plaque formation and reducing sensitivity for enhanced clinical performance," Griffin explains. "In addition, my clinicians can count on unbeatable aesthetics and polish for excellent patient results. With two different viscosities (F-03 self-leveling, and the stackability of the F-00 no-flow), Beautifil Flow Plus X gives clinicians optimal choices to meet their handling needs. For my patients, that means aesthetic, comfortable, long-lasting restorations."
Peace of mind
"The versatility of Beautifil Flow Plus X is fantastic," says Griffin. "We use it for many class 1 and 5 restorations, and as a liner to cover all dentin in larger, deeper restorations.
"My clinicians appreciate the wide variety of colors and opacities Beautifil Flow Plus X offers," he continues. "They can count on superior results, whether they are performing highly aesthetic anterior composites, masking dark roots, preps and posts, or performing posterior direct restorations. My practice has benefited from reduced inventory and lower clinical costs, and my dental team has peace of mind knowing our patients will be pleased with their restorations."
---
Beautifil Flow Plus X: Unique design, enhanced properties
Beautifil Flow Plus X is an injectable hybrid composite available in two different viscosities, F00 and F03, for restorative build-up and filling. The newly developed thin-walled needle tips facilitate application directly from the syringe, allowing clinicians to easily and smoothly dispense the right amount of material at any time for precise direct restorations. Clinicians can take advantage of several latest-generation features, including:
Improved mechanical properties.
Optimal polishability and a durable luster.
Uniquely designed needle tips that facilitate precisely shaped occlusal posterior restorations with no waste.
Nine common tooth shades, plus opaque dentin, enamel, bleach and effect shades.