Industry experts address topics critical to the growth and development of DSOs, including compliance, recruitment & retention, leadership and technology trends.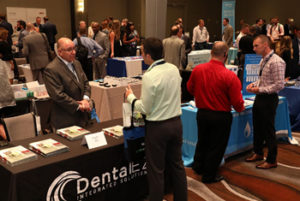 The Association of Dental Support Organizations (ADSO) members will meet March 28-30, 2019, at the Manchester Grand Hyatt San Diego, San Diego, California, for the 2019 Annual Summit featuring presentations on advocacy trends, compliance best practices and the latest developments in the DSO industry.
Following pre-conference events for industry partners in sponsorship roles and participating DSO representatives, the meeting will open with a Leadership Panel: CEO to CEO –New Horizons. Leadership Panel speakers included Steve Bilt, CEO, Smile Brands; Ken Cooper, CEO, North American Dental Group; Mitch Olan, CEO, Dental Care Alliance; and Dr. Sulman Ahmed, CEO, DECA Dental Group.
The day will conclude with a sponsored Talk Table Exhibit and networking event, followed by a reception at San Diego's Seaport Village headquarters. Guests will be invited to celebrate the opening of the ADSO 2019 Summit by exploring the 14-acre waterfront shopping hub and the dining and entertainment complex, modeled after a century-old harbor setting.
Day two will open with breakfast and a Leadership Panel: Developing a C-Suite Leadership Team. Speakers include Pat Bauer, CEO, Heartland Dental; Alistair Madle, CEO, D4C Dental Brands; Bob Fontana, president and CEO, Aspen Dental Management; and Steve Thorne, president and CEO, Pacific Dental Services.
Attendees will take advantage of a full day of presentations, featuring a range of topics and speakers:
Compliance: Victoria Harvey, SVP and chief legal officer, Smile Brands, and Dr. Andrew Matta, DMD, North American Dental Group.
DSO Models: Integrating Specialties. Merritt Drake, CEO, Rock Dental Brands.
Growth & Development: A Dentist's Story: 1-25 Locations. AJ Acierno, CEO and president, DecisionOne Dental, and Dr. Jeremy Fry, CEO & CCO, Fry Orthodontics.
Leadership: Women in the DSO Industry. Yashu Singh, owner dentist, Sing Orthodontics.
Recruitment & Retention: How to Recruit & Attract Today's Dental Students. Lisa Nguyen, program manager, UCLA School of Dentistry, Community Based Clinical Education, and Bill Piskorowski, associate dean, UCLA School of Dentistry, Community Based Clinical Education.
Technology: Foresight 20/20: Actionable Insights for Operations, Marketing & IT Success. Amol Nirgudkar, CEO, Patient Prism.
Clinical Systems: Creating a Culture of Clinical Excellence. Shalin Patel, chief clinical officer, DECA Dental Group.
Compliance: Building an Actionable & Practical Compliance Program. Andy Lyness, general counsel & chief compliance officer, D4C, and Dr. Rodney Alles, partner & chief of clinical affairs, DECA Dental.
DSO Models: One Size Does Not Fit All. Emmet Scott, CEO. Community Dental Partners.
Future Trends: Brant Herman, CEO, MouthWatch, and Dr. Rick Workman, founder & executive chairman, Heartland Dental.
Growth & Development: Structuring for Growth, Scale & Sale. The Waller Law team.
Operations: Developing an Operational Infrastructure. Scott Luene, CEO, Breakaway Practice.
Advocacy: State and Federal Regulations – Impact on Today's Dental Practices. Panel speakers.
Clinical Systems: Developing Doctor Protocols and Policy Manuals. Charlie Coulter, DDS, D4C, and Dr. Michael Acierno, president & chief medical officer, DecisionOne Dental Partners.
DSO Models: Emerging DSO Panel. Steven Jones, C-founder & chief development officer, CORDENTAL Group, and Brandon Halcott, president, Tru Family Dental.
Future Trends: The Future of Dentistry and its Impact on DSOs and Group Practices. Marko Vujicic, PhD, chief economist & vice president, American Dental Association.
Marketing Panel: Bill Neumann, CEO, Group Dentistry Now; Paul Benson, senior consultant, Apex Revenue Technologies; Stacy Medena, creative manager, DecisionOne Dental Partners; Susan Schramm, marketing coordinator, DecisionOne Dental Partners.
Recruitment and Retention: John Whitaker, vice president, talent acquisition, DecisionOne Dental Partners, and Kristine Berry Hodson, Executive Coaching Medical/Dental.
The closing reception that evening will be held at Petco Baseball Field. Guests who join the rooftop viewing party will enjoy watching the Padres play the San Francisco Giants.
The closing general session on day three will feature internationally recognized artist, TED speaker and No. 1 bestselling author Eric Wahl. Wahl looks at the use of disruption as a competitive advantage, and his takeaway message is clear: If businesses don't embrace innovation and creativity, they risk being left behind.
For more information visit https://www.theadso.org.