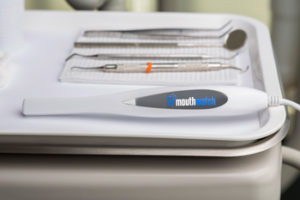 Patients trust pictures! Photographs are easy to understand, even for those without clinical expertise. MouthWatch has created an affordable intraoral camera that produces high-quality diagnostic images. Patients will have a better grasp of the treatment they require, permitting dentists and hygienists to become solution providers, rather than having to sell patients on the need for treatment.
In addition, the dental practice is guaranteed seamless integration with its imaging software. And, single-button operation makes intraoral photography efficient and easy for the entire team to use.
When a dental practice adds a MouthWatch intraoral camera, it can count on a number of benefits, including:
Crystal Clear Images. Dentists can capture clearly illuminated, diagnostic quality images with the press of a button.
Easy integration. The MouthWatch intraoral camera integrates seamlessly with all popular imaging software, including Eaglesoft, Dexis, Schick, Apteryx.
Weighing in at 31 grams and boasting an ergonomic handle, the MouthWatch intraoral camera is designed for ease of use with every patient, all day long.
Precise focus. The camera's fixed-focus lens ensures clinicians spend no time focusing it manually, and avoid the frustration often associated with the auto-focus hunting.
Ease of use. Clinicians save time with every patient interaction. One quick, lag-free click on the capture button saves intraoral photos straight to the patient's chart. No keyboard or mouse clicks are involved.
Lifetime customer support. It doesn't take an IT person to set up a MouthWatch camera. Should the dental practice encounter a problem, the MouthWatch team is available by live chat, phone or email to quickly find a solution.
Instantaneous capture. There's no such thing as having to wait for a MouthWatch intraoral camera to warm up. The clinician can capture images immediately.
Money-back guarantee. The MouthWatch one-year warranty, 30-day no-risk satisfaction guarantee and lifetime technical support ensure clinicians can depend on their intraoral camera to perform as it should.
Dentists should ask themselves the following when considering the MouthWatch intraoral camera:
How do I currently present cases to my patients?
Do I have a camera in every operatory?
Are cameras a part of my standard workflow with new patients?
Some dentists may have a few concerns, such as:
"We've had integration issues with previous cameras."

MouthWatch intraoral cameras are guaranteed to integrate with all imaging software. In addition, MouthWatch offers lifetime technical support.

"Our previous cameras have had full-face mode or auto-focus, which hasn't been easy to use."

MouthWatch intraoral cameras feature fixed-focus, which is sharp and saves time.
MouthWatch does not charge monthly fees for support or upgrades of capture software. There are no license restrictions.
Editor's Note: Sponsored by MouthWatch.