Keys to growing a dental group: Systems, people, finance
It was an amazing week of connections and sharing ideas as The DEO hosted over 400 attendees at The 2020 DEO Virtual Fall Summit. The annual event has grown into a premier event, where the best in group dentistry, budding dental-entrepreneurs, and DSO leaders gather and gain insights that help newbies and experienced businesses alike.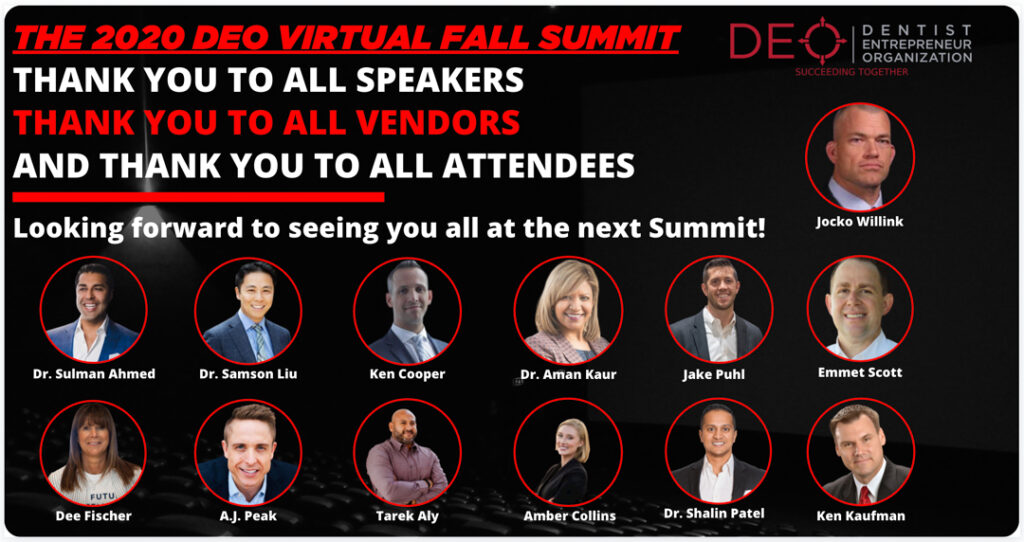 The 2020 DEO Virtual Fall Summit, Keys To Growing a Dental Group: Systems, People, Finance, November 13-14, had 3 panels; 6 ask the expert sessions; 3 peer topic discussions; 3 networking breakouts; 12 speakers including Ken Kaufman, CFO, Community Dental Partners; Dr. Aman Kaur, DSO Strategy Developer and Growth Accelerator; ​Dr. Shalin Patel, Partner and Chief Clinical Officer, DECA Dental; Tarek Aly, BDS, MBA, Co-owner, OrthoDent Management & Modern Smiles; Dee Fischer, CEO, Fischer Professional Group; Kenneth Cooper, CEO, North American Dental Group; and more!
This Summit was markedly different – online and attendees needed more guidance arguably than ever before as they were faced with trying to navigate through the COVID landscape. Despite being virtual, The Fall Summit went full steam ahead and was a resounding success. It was one of the only industry events in
the Fall.
Attendees were inspired and learned strategies to bolster the systems, people, and finance aspects of their dental group/budding DSO. Here are the top 5 takeaways attendees appreciated:
No. 1: Take "Extreme Ownership" for your leadership
Attendees had the honor of hearing the author of NYT Bestseller Extreme Ownership: How U.S. Navy SEALs Lead and Win, Jocko Willink. He's a decorated retired Navy Seal Commander and founder of Echelon Front Leadership Training. His energy and motivation were a much-needed boost to all, as attendees reflected on 2020 and planned for 2021.
Jocko shared combat leadership principles he learned in the U.S. Navy SEAL Teams and on the front line of the war on terror. Jocko got attendees to think about approaching leadership with humility and ownership. Jocko noted "Implementing 'Extreme Ownership' requires checking your ego and operating with a high degree of humility. Admitting mistakes, taking ownership, and developing a plan to overcome challenges are integral to any successful team.
No. 2: Systems, systems, systems: One of the most important levers for growth
A couple of Summit fan-favorite presentations were "Scaling Up Your DSO" by A.J. Peak, CEO, Peak Dental Services, and "Operational Systems for Scale" by Amber Collins, Peak Dental's VP of Operations. A.J. shared about starting from scratch and wearing all the hats leading Peak Dental's growth from 1 to 30+locations.
Amber recommended implementing systems early and often to manage growth and make it more predictable instead of it being all on leadership's shoulders. Components of systems can include Key Performance Indicators (KPIs), Standard Operating Procedures (SOPs), training and more – whatever methods needed to document and operationalize a DSO's systems for success.
No. 3: Have a culture-first mindset
Dr. Sulman Ahmed, CEO, and Founder of DECA Dental with 90+ locations emphasized the importance of culture. He reflected that DECA's growth has been in large part due to serving associates, leadership, and staff so they in turn can best serve patients.
Dr. Ahmed noted, "Use this formula: culture – happy staff and dentists = happy patients." Further, he said that this philosophy allows associates to lead: "I think that's really important and it's our responsibility to keep the associate dentists involved in decisions."
No. 4: Use challenges (like the pandemic) as a stress-test: Evaluate strategies, priorities, and opportunities
Dr. Samson Liu, CEO and Founder of SOHDental with 30+ locations invited attendees to view the pandemic as a "stress-test" by reassessing priorities and taking a fresh look at opportunities.
Dr. Liu discussed how SOHDental handled the challenges: "With each decision, we determined if it wasn't in the best interest of our doctors, our teams or our patients – the long-term sustainability of the practice – no matter how tough that decision was – it would be the right call."
No. 5: The Dental Organization Growth Model™ offers a roadmap for success
Jacob Puhl, CEO of The DEO, took attendees on a journey through The Dental Organization Growth Model. This proprietary model created by The DEO has helped its members – dentist entrepreneurs and leaders of emerging groups – get out of the "dark tunnel".
Having worked with hundreds of dentist entrepreneurs, The DEO has found that no matter where leaders are on their journey – adding the first location, growing from 3-5, 5-10 locations, or beyond, tough issues are inevitable – from hitting your own "leadership ceiling" – to hiring and training your team – to systems and infrastructure – to revenue cycle management – and more.
Jacob shared about how The Dental Organization Growth Model™ helps leaders determine where to spend time, where the biggest issues are, and where to level up. He noted "The DEO recommends focusing on your vision, your self, your team, and then the business of your dental group – in that order. Our members have tremendous success taking this path."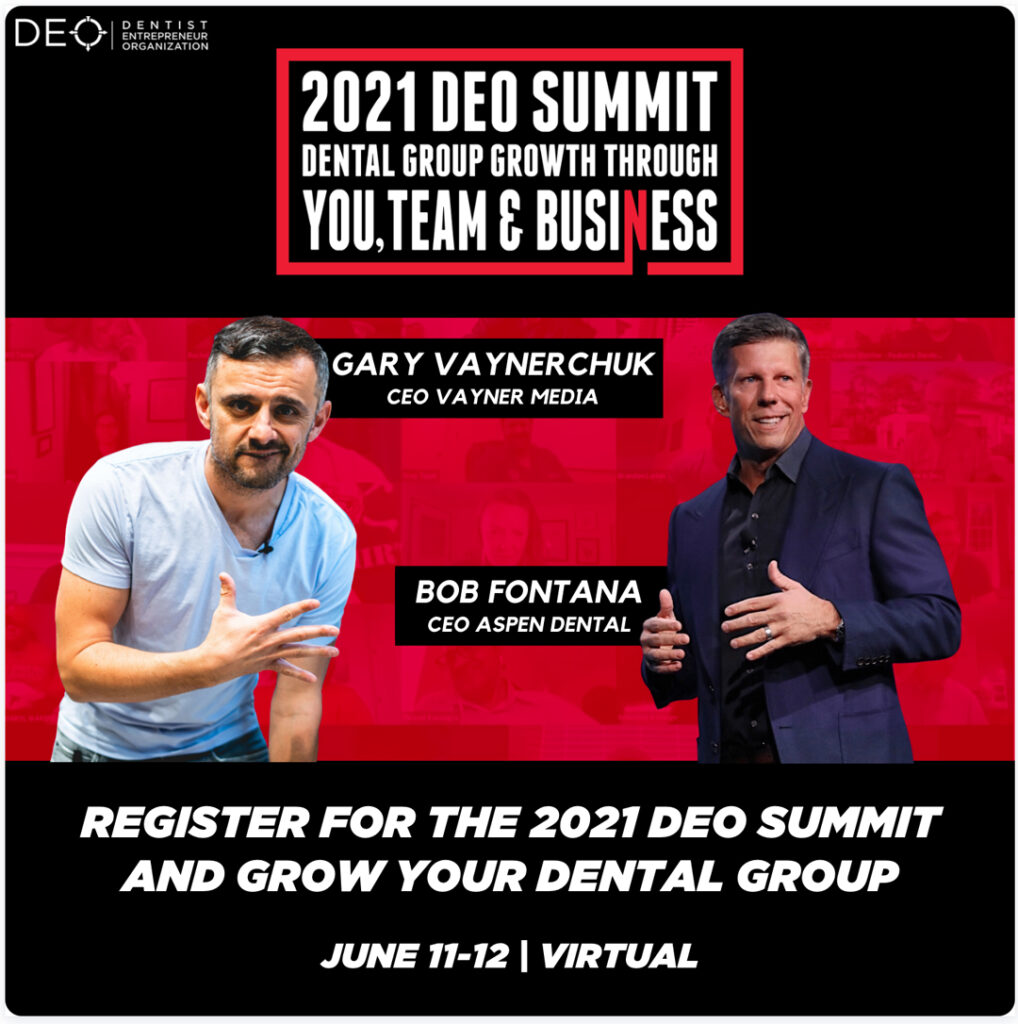 The 2021 DEO Virtual Summer Summit
The 2021 DEO Virtual Summer Summit, Dental Group Growth Through You, Team and Business is June 11-12. Topics include: how to attract and retain top talent; how to build, implement, and streamline scalable systems; how to grow revenue and profit through proper KPI tracking; how to spend less time in the dentist chair; how to reduce overhead and increase cash flow for growth through de novos and acquisitions; and much, much, more.
Speakers slated include Gary Vaynerchuk, CEO of Vayner Media, speaking specifically to dentist entrepreneurs for the first time; Bob Fontana, Chair and CEO of Aspen Dental; Joshua Gwinn, CEO, Hero Practice Services; Jodi Evans, COO at Community Dental Partners among others.
To reserve your spot, use the code EGP for $50 off registration. Plus get free replays for a limited time. See you online! Grab your ticket here.