Endodontics group practices work hard to change patients' perspectives on root canals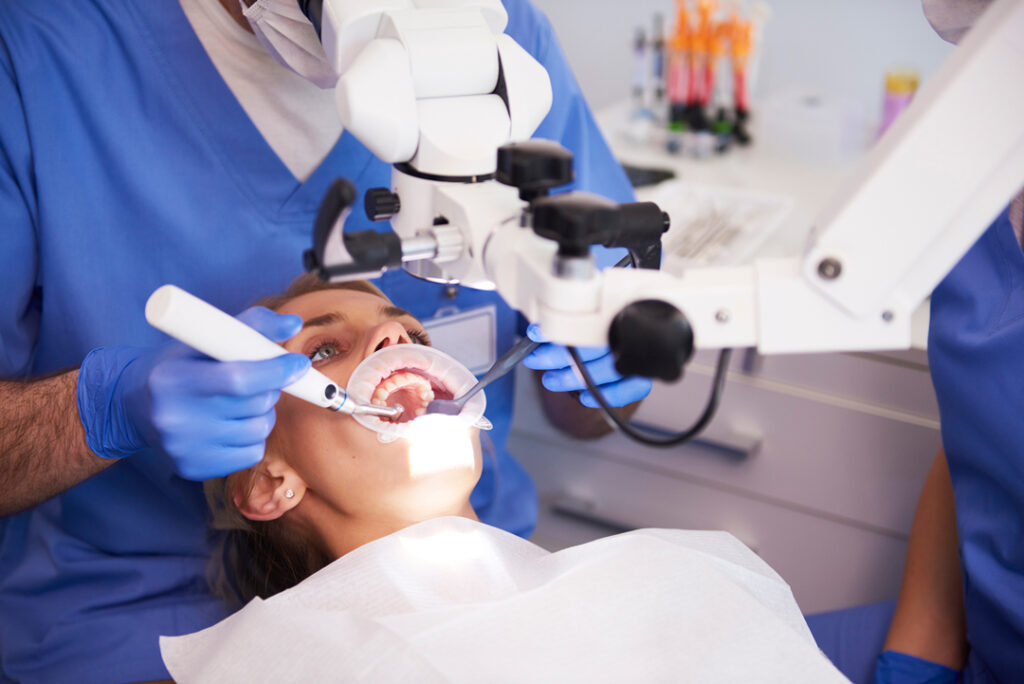 For endodontists, the patient experience is paramount. Patients who haven't had a root canal are understandably nervous about the procedure and its reputation for being an unpleasant experience. When instead they receive excellent, pain-free care, it could change the whole dynamic for future dental care.
"Our priority is the comfort of our patients," said Ronald C. Taylor DDS, MSD, RCT Endodontics. "Our reputation depends on it. In this type of business, if you have a bad reputation, you're not really going to last."
Efficiency in Group Practice spoke to endodontics about their group practice organizations, their craft, and the importance of creating positivepatient experiences. Speaking to Efficiency in Group Practice were:
Craig Hoffmann, DDS, Wichita Endodontics
Kent McBride DDS, MS – Partner, Meridian Dental Specialists and North American Dental Group
Ronald C. Taylor DDS, MSD, RCT Endodontics
Efficiency in Group Practice: Please tell us about the makeup of your organization.
Dr. Craig Hoffmann: Wichita Endodontics is a specialty dental office that serves the Wichita metropolitan community and surrounding areas. Over the past several years our team has grown from two to six doctors and currently support 39 clinical and administrative team members. We have grown to three locations in Wichita on opposing sides of town, which provides convenience to all our patients and referral base. The rapid growth has led to new challenges that were overcome out of necessity. As part of that process, we had to create our own management company, establishing a DSO structure that handled all our administrative needs (call center, billing, insurance and HR). We did all of this internally with great success. In order to keep our competitive advantage as the landscape of dentistry continues to change rapidly, we have recently completed a partnership with Endo 1 Partners. With this partnership we can continue to focus on our clinical success and growth while they provide administrative support. Endo 1 Partners was a perfect fit for our company because it was established by wet-fingered endodontists and is run by those same endodontists. They know our struggles and are able to support our needs better than any other group we evaluated.
Dr. Kent McBride: Our situation is a little unique. Our immediate group has nine endodontic and periodontic offices in West Virginia, Pennsylvania, and Maryland. We have ten endodontists, three periodontists, and roughly 60 team members.
The part that makes us unique is that we operate as a specialty division of North American Dental Group. Our team continues to organically grow our current offices, but also is working to integrate specialty services across the NADG footprint.
Our collective vision is to create a "One Dental Home" where specialists and general dentists are working in harmony to provide the absolute best care and experience possible to our patients. Logistically, this will probably look very different depending on the area, but the vision is the same. Meridian is finishing with a season of stabilization after our transition with NADG (and COVID) and is now priming for a new season of growth. We have big plans for 2021!
Dr. Ronald Taylor: I started my practice about 20 years ago. It was just me, and I shared space with two other specialists who were teaching full-time. A year after that, I opened up my second location in Maryland, and that was a de novo started from scratch. I did that for about 10 years. I had associates come and go. And then I got a partner who joined the practice. We soon decided to open other locations little by little. Now it's still the two of us who are the partners, but we formed our DSO, which is a separate management company, and we've got eight locations, with 13 endodontists and about 80 employees.
We have four brands: RCT Endodontics (Our oldest brand with five locations), Painless Root Canal Specialists, Springfield Endodontics, and Bay Endodontics. In a geographic location, we feel that as a specialist, we don't want to get too big. We don't want to do more than five locations in a geographic area with one brand. So we will max out at about five locations per brand. It gives each brand its own flavor. We call them clusters.
As far as our DSO, Trident Group, we've got a patient Access Center, which is like a patient scheduling and customer service center. All the scheduling, billing and verification is done there. It allows our front desk people at each location to have time to speak with patients. They're not running all over the place and trying to check people out and schedule people and answer the phone. They have time to focus on the patient. It's helped to provide a high level of customer service. That's been a big part of our success.
Efficiency in Group Practice: What are some unique considerations of running an endo specialty group practice that differ from general dentistry?
Dr. Taylor: An endo practice is different from a general dentist in that the customer is different. For general dentists, their customer would be the general public. For an endodontist or specialist like us, our customer isn't the general public, and it's not the patient. Our customer is the general dentist, because we get patients referred to us from general dentist.
With our type of model and business, the foundation is relationships. Sometimes, it's not instantaneous success and it takes time to build those relationships. It can be slow growth, but you want to have slow growth, because it's good growth that's going to sustain you and allow you to last throughout the years.
Endodontic practices are different from many other practices because we only see patients once or twice. General dentists talk about how they love their patients, see them over and over, watch their kids grow, etc., and we don't really get that. Usually, for us it's a root canal, so you only see the patient once or twice.
Dr. Hoffmann: There are plenty of reasons why our specialty practice differs from general dentistry, but we will highlight the more prominent ones.
First and foremost, we get to work on perfecting our craft. Without having to shift between different procedures, we have honed our root canal skills to exceptional levels. We're also able to create a consistent and highly efficient workflow with limited variance in procedural scheduling. Our field also allows us to invest in highly specialized technology, supplies, and equipment available to provide the highest standard of root canal treatment to our patients.
Another distinct difference is being completely referral based. These patients only come to see us when they have been referred here by another provider. Our patients are usually not excited about needing a root canal, and they typically show up in pain. Typically, patients that come to our practice only need to come once, which leads us to the idea of an excellent and lasting first impression. Contrary to general dentists, we do not have the privilege of building long-term relationships with everyone who walks in our door, so it is crucial that we build a meaningful and positive connection with them on the first try. We want to be remembered in the best of ways as we believe our reviews testify to.
Ultimately, we have followed a path for growth, but we developed our processes and kept management systems internal. We found the specialty to operate so significantly different from general dental practices that the typical growth model and resources available did not parallel our needs. Our practice does not have a hygiene department, does not market to the public, and relies solely on referral networking to thrive. We molded a unique framework to anchor our practice with culture implementation, optimal operations and patient experience, and healthy financial systems and strategies of our own. In doing so we have bonded strongly with our staff internally, and with our patients and referring offices externally.
Efficiency in Group Practice: Can you talk about the importance of overcoming the stigma and fear from patients with
root canals?
Dr. McBride: Extremely important, and actually not terribly challenging to do. Techniques and equipment have improved so much in the last 30 years which makes the procedure much quicker, less painful, and more successful than ever. Winning over an extremely anxious patient is one of my personal favorite things to do in practice, especially if they are in pain. We need to be very patient with them during the procedure. Their fears are real to them; we just need to be empathetic and kind.
Dr. Taylor: Our mission is simple: To save teeth painlessly.
We know root canals have a bad reputation. Everybody says, 'I'd rather get a root canal than XYZ.' But we believe that we can provide painless root canals and have patients at ease. So that's really important to us.
Our priority is the comfort of our patients. Our reputation depends on it. In this type of business, if you have a bad reputation, you're not really going to last. You really have to be a type of individual who can connect with people.
That's what leads to our success, getting good doctors and coaching up good doctors, getting them to understand that the way we treat people is very important to us. Making sure that we don't hurt anybody is very important to us. Because, like I said, it takes time to develop a relationship and build a reputation. But you could tear it down very quickly, by just having a bad experience with the patient.
One way we measure this is through emphasizing Google reviews. By getting those reviews on Google, they can be really specific. We try to see if the patient could put in the doctor's name, and also the dental assistant's name or front desk individual's name. It really makes it personalized. We try to get five star reviews for all of our doctors, and we check to see what kind of reviews they're getting. So that's a good way for us to evaluate the patient experience.
Efficiency in Group Practice: How do you prioritize the patient experience?
Dr. Hoffmann: Our patients are everything to us, and prioritizing them above all else is our greatest pleasure. One of the biggest ways we create a unique and exceptional patient experience has come from the implementation of our specialized team roles. We train our team to be overly proficient in their respective areas so they do not need to multitask or distract from the responsibility at hand.
We have narrowed the bandwidth of many of the traditional dental office roles. We offer a range of positions, including patient coordinators, scheduling coordinators, consultation assistants, treatment assistants, sterilization technicians, insurance coordinators, and many more. We have created each of these to be extremely efficient and dedicated to their craft, and most importantly, to provide each patient with individualized and undivided attention. When we all work together it creates a beautiful harmony that shows up in our patient's experience. We also focus on the small details that may go unnoticed to some such as no ringing telephones within patient earshot, never rushing through an appointment no matter what, and always addressing patients by their preferred names (just to list a few)! Allowing patients to relax also means having streamlined processes such as check-in and check-out that are easy to follow and letting us take care of the rest. All they need to do is show up and know they are in good hands.
Dr. McBride: We put the patient experience very high on our priority list. We even have a monthly "Service Excellence Series" where we bring the teams from all our offices together (virtually) to share best practices in this regard. There is probably no better marketing we can do than to provide a best-in-class experience for our patients. Our hope is that they return to their general dentist after getting specialty care and profusely thank them for referring to us because of the great experience they had.
Specifically, we aim for the no surprise, surprise appointment. No surprise means that we've communicated exactly what they can expect from the appointment: How long it will take, what their out-of-pocket expense will be, what the procedure will be like, etc. This is just doing the standard blocking and tackling of running a business with excellence.
The surprise part of it is where the fun comes in. This is where we try to find little ways to go above and beyond. We may clean off their car if it snowed during their appointment, give them a heated and scented towel when they're done, sing them happy birthday if it's their birthday, or mail them a book that they mention wanting to read.
Efficiency in Group Practice: How do you balance scheduling appointments and emergencies?
Dr. Taylor: We've got eight locations and every one of them is different based on location and demographics. Endodontists are considered emergency-based specialists. However, we've got some locations where we don't see a lot of emergency calls compared to appointments. We have other practices where, at the beginning of the day, there's not really a whole lot on the schedule, but by the end of the day, it fills up. With those practices, we leave one or two blocks in the schedule for emergencies. But to be honest, most of our locations don't get a lot of emergencies, So we have to have some flexibility and adaptability, with a certain level of consistency, throughout all of our offices.
Dr. McBride: If someone is in pain, we try to see them that day if at all possible. In many of our offices, we leave an open slot at 2:30 p.m. (tooth hurty) and it almost always gets filled. Our teams don't want to see someone in pain when we have the ability to help them, so we will adapt and do whatever it takes. Probably about 20% of our patients are for emergent or urgent treatment due to pain or swelling.
Efficiency in Group Practice: What are some keys to success for an endo specialty group practice?
Dr. Hoffmann: Emphasizing referral relations: In our practice, we are only as busy as the dental community allows us to be. Having them trust us with their patients is an honor and we do not take that responsibility lightly. We work hard to create and maintain strong relationships with our supporting businesses. As an organization we believe that one of the best ways to show our referring offices we care is through the care and consideration we give to each of their patients. We also believe in creating personal relationships with the referring community. We make time to get to know referring doctors one on one at dinners, attending community events, and every year we host a large celebration for all referring doctors and teams to socialize. We truly could not do what we do without each one of them, and we prioritize these relationships.
Offering flexibility: We never know when a dental emergency is going to arise and our services will be needed immediately, but allowing patients to be in pain is the opposite of what we accomplish here. Being able to say "yes!" to emergency patients when no one else can is something our team takes pride in. Providing a patient with relief and comfort so they can resume their daily activities pain free is the reason we are here.
Striving for excellence: Our doctors and staff all provide amazing care and real resolutions to issues that our patients present us with. Promising the highest quality of care means that our doctors will only recommend honest diagnoses, perform necessary procedures, and always give patients absolute control over their care. Everyone on our team was hand-selected because of their performance, credentials, and their parallel values.
Focusing on our values: We invest a great deal of time and resources internally because we believe that a genuinely positive and happy team will radiate the best possible attitude outward. Pushing the members of our team to become the greatest versions of themselves by encouraging education, learning, and personal growth reflects directly in the care given to others. At Wichita Endodontics, we practice our values every minute of every day. We are considerate, humble, ambitious, adaptable, and dependable in our working and personal relationships. We like to say that we are 'CHAAD'. Having a team that is excited to be here and to share their love and knowledge with others in their care is what makes our organization especially unique—it's just who we are!
Dr. Taylor: I feel like I've been fortunate where I've had a unique ability to recognize people's strengths and weaknesses. I've tried to focus on their strengths, amplify those strengths and build them up. I'm a big believer in coaching people and investing time to develop employees. It's funny, we spend a lot of money on software, or time to create systems, but a lot of leaders don't spend time investing in their employees to develop them. Making a connection with people is very important.
I tell everybody who comes into our practice, 'This is this relationship-based practice. You've got to be a people person. If you're not a people person, you're not going to last long, especially in a competitive area like we are. We call it the DMV – DC, Maryland and Virginia. If you're in the DMV, you got to be a people person because it's so competitive.
Dr. McBride: The No. 1 key (by far) is using servant leadership to operate with empathy. Sometimes this is challenging to do and easily forgotten. We are a group made up of (amazing!) people, each with their own unique challenges, struggles, strengths, and flaws. If our leadership can continually meet them where they are and serve each and every one of them well, success will follow.
Secondly, we have built something we call the "Meridian House Model" of office success. The foundation of the house is the systems and processes that our leadership creates. This is what the house is built upon. Then there are three main pillars: Team Dynamics (i.e. strong office culture), Referral Relationships, and Clinical Excellence. These are the three areas where our group of doctors regularly collaborates to share best practices and help each other improve. Lastly, the roof of the house is our Business Acumen and Strategy. This is what protects what we have built and helps us weather any storms that come our way.
The third key is to rally our incredible team around a common purpose. Ours transcends just dentistry: To find ways to radically and unexpectedly bring joy, fulfillment, and happiness to others.
If our teams can constantly look for ways to make personal connections with each other, our patients, and our referring doctors, we can then know what it takes to surprise them with an act of kindness to bring them a little bit of joy. Not only does this create a culture of fun and fulfillment, it also gives people great stories to tell about our group.