Dr. Bobbi Stanley's well-thought-out approach to her dental practice offers patients everything they need for complete oral health.
By Pete Mercer
Earning the trust of your patients might be the most critical part of dentistry. Many patients experience fear and anxiety when it comes to receiving dental care, and a good dentist will actively work to alleviate those fears and earn the trust of their patients with each visit.
Dr. Bobbi Stanley is the Co-Owner of Stanley Dentistry, and Co-Founder/Senior Instructor, CEO at the Stanley Institute for Comprehensive Dentistry. Based out of North Carolina, Dr. Stanley works to build that trust with her patients every single day through comprehensive dental services and a team that is equipped with the latest tools and innovations to provide better patient care.
What makes Stanley Dentistry unique
Stanley Dentistry is located in Cary, North Carolina, just west of Raleigh. Established in 1995, Bobbi Stanley and her husband, Robert, have built an organization that is investing in their team and providing excellent patient care. While there are plenty of dental practices for patients to choose from in the area, Stanley Dentistry offers patients a unique experience that is hard to find anywhere else.
"We are a very comprehensive office," Stanley said. "It's rare when you have to leave our office for anything, because we have four doctors in our office and we all practice what we are passionate about. We can offer everything in dentistry." Between the four practicing doctors at Stanley Dentistry, they cover all 10 dentistry disciplines.
This is a huge part of the value proposition for Stanley Dentistry. By offering everything that a patient would need, it saves the patient time and effort that would be spent setting up insurance and contact information for the patients and their families at different specialist offices. On top of all that, it gives Dr. Stanley's team an opportunity to build a relationship with patients to ensure that they feel cared for and appreciated.
After you have established that relationship of trust with your patients, it can be difficult to send them to a specialist for any of the procedures they might need. Dr. Stanley's approach to serving her patients ensures that they're able to visit her practice for all their dental needs. "Every dentist knows that if you don't do root canals in your office, and your patient needs a root canal, they are typically going to ask you to do it. Because they trust you. They want to stay where they are."
With only one location, Dr. Stanley's team can focus more on quality than quantity. At one point, they tried to open a second office in a smaller town, 25 miles away. The purpose of this office was to serve the underserved and help people who were restricted by insurance and couldn't afford dentistry. Eventually, overhead costs forced her to reconsider what she valued about her organization: offering the best customer service and best dental care possible.
The second office was closed to maintain the integrity of the dentistry and the organization. From there, Dr. Stanley expanded the original location. "We just said we are going to help the underserved by helping the underserved. If they can't pay, they can't pay. It's fine. But there are people who desperately need dentistry, and we will give it away as we have to."
Stanley Dentistry has team leaders in each department, acting as a management role for each division of the team (i.e. admin team leader, hygiene team leader, assistant team leader, call center team leader). With this structure, any team members with questions or concerns can go to their designated team leader. From there, the team leaders can go to Dr. Stanley if needed.
Dr. Stanley says that dentistry as an industry does not focus enough on the business of dentistry or leadership. "Dentists went to school to help patients and be dentists. Many dentists don't even like being a businessperson, which is why office managers are a critical piece of the organization." She has organized her practice this way because she is truly passionate about the business side of dentistry.
"I'm not against having a CEO, whether it's your office manager or someone else. There definitely needs to be a leader. But I do believe that the dentist needs to be involved in the vision," Dr. Stanley explained.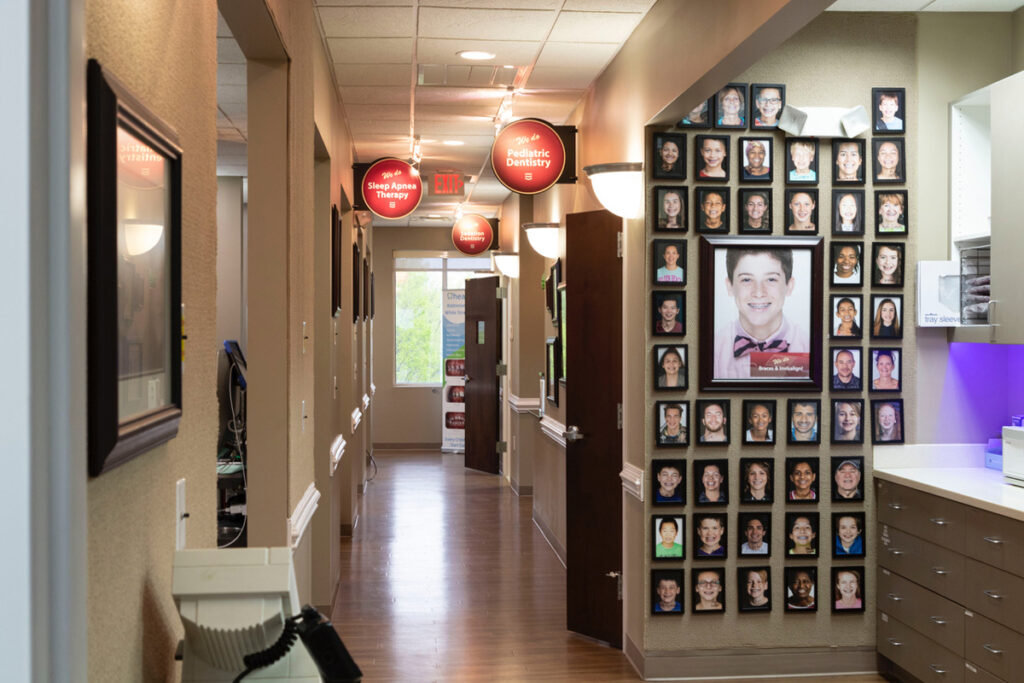 Defining the culture from the top
The company culture at Stanley Dentistry is very important to Dr. Stanley. "I believe in a culture where people love what they do, and they love doing it with people that they love doing it with." For her practice, Dr. Stanley decided to never just hire a "warm body" to fill a space. She hires people who are qualified for the role that she is looking to fill, not because they're an extra set of hands.
Even if she doesn't have an opening, she will hire the right people for her patients. Describing her hiring process, she says, "I've bumped into waitresses in a restaurant and asked them if they wanted a job just because I liked their personality and service that they were giving, and then we found a job for them."
In addition to finding the perfect fit for her organization, Dr. Stanley is looking for people who want to grow as well. "When we hire people, we fill their assets out and we will move them into the position where we feel like their assets can really grow."
Growth is a huge part of the Stanley Dentistry culture, so much so that Dr. Stanley encourages her team to pursue what they love to do. Even if that takes them away from Stanley Dentistry. "Several of my team members have gone on to create their own businesses or do things because they were passionate about it, and I believe in empowering people to do that," she said.
Breaking down her average week, Dr. Stanley makes sure to have production days, planning days, and personal days. While she makes sure that she has a personal day each week, that is the hardest one to maintain consistently. "I love what I do. Sometimes I forget that I just need to chill out and have fun, because when you're a business owner, your work is your pleasure."
While many dentists have standard hobbies like reading, running, or playing sports, Dr. Stanley chose a hobby that allows her to literally pull away from the challenges of running a business: flying planes. "When I take my plane and I go up in the sky, you can't reach me. When I'm flying, I am away from everything and it's just me. It's really nice."
Manifesting a vision
For something like Stanley Dentistry to work the way that it needs to, there needs to be a vision in place that will define and shape the direction of the organization. Dr. Stanley says, "I have a one-year plan, a three-year plan, a five-year plan, and a 10-year plan. I have it all mapped out, but I have to constantly go back and look at it to make sure we are either on track or changing to where we want to be long term. But that doesn't happen by accident. It takes a lot of planning time."
In the 'one-year plan', the focus is largely on how many patients Dr. Stanley wants to come in. Everyone is focused on the same goal, checking in on progress once a month. The 'three-year plan' focuses on smaller objectives that her team can pivot to right now. "That may be something like 'do I need another team member to get my 10-year goal, and where do I see that happening? Within the next three years, do I need to hire another associate?" Dr. Stanley explained.
The 'five-year plan' is focused on the practice as a whole. Less about human talent working in the office, and more about the space itself. Updating equipment, investing in new tools, and adding things like an ortho wing in the office. Whether they are expanding the building itself or training staff on new equipment, Dr. Stanley and her team strategize how to prioritize their finances and do extensive planning to ensure that everything goes as smoothly as possible.
Stanley reserves the '10-year plan' for her Big Hairy Audacious Goals. These are the long-term, compelling ideas for where she can maneuver Stanley Dentistry next. "How can I just do the unthinkable? Where can I take this practice that I feel like I may never reach, I'm going to reach it?"