As the two disciplines draw closer together, is the dental/medical clinic far behind?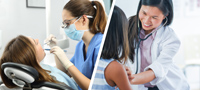 Mason visits the Kaiser Permanente Northwest Cedar Hills Dental and Medical Office in Portland, Oregon, for a routine exam. Checking his medical records, his pediatric dentist sees that he is due for some vaccinations. An onsite licensed practical nurse administers the vaccinations then and there.
Ronald, an adult patient, comes into the clinic with a tooth that is bothering him. The dentist recommends dental surgery, but after taking Ronald's blood pressure, decides the numbers are too high to proceed with the surgery. So the dental assistant takes Ronald down the hallway to see the primary care physician, who checks the patient's medical records, reviews his blood pressure history, and talks with him about how he is managing his medications. They come up with a plan to control the hypertension, which will allow them to proceed with the dental surgery once his numbers have stabilized.
Julie, another adult dental patient comes in, and the Kaiser Permanente dental team notices that a medication she is taking could affect her jaw. Her dentist knows to look for certain things during the exam based on this information.
Paths converging
After a century and a half, the pathways of medicine and oral health appear to be converging, driven by a growing awareness of the connection between oral health and overall, systemic health. The Cedar Hills Dental and Medical Office – where these real-life scenarios took place – is one example.
Whether they are physically co-located or virtually connected, this coming together of oral health and medicine is likely to have an impact on the dental industry.
"The importance of oral health as part of overall health has been in literature, research and on the minds of prominent health professionals and health executives for decades," says Steve Kess, vice president, global professional relations, Henry Schein. "For almost 20 years, Henry Schein has closely followed the growing recognition and innovative healthcare model, especially in the community health care sector, where physicians and dentists have collaborated on improving patient care and outcomes across the country.
"We have supported interprofessional education among the health professions, including the Harvard School of Dental Medicine Initiative to Integrate Oral Health and Medicine and The Santa Fe Group, which reports on the importance of good oral health – especially good periodontal health – as a way to improve health outcomes, reduce cost and improve quality of life for patients with non-communicable diseases.
"We also continue to champion the important role electronic health records will play to enhance health care professionals' awareness of patients' total health as reported by physicians to dentists and dentists to physicians," says Kess.
"We are optimistic that this increasing trend of interprofessional care – coupled with cost-saving solutions – will advance over the next few years in both the public and private sectors."
No longer a pilot
Kaiser Permanente opened its integrated dental-medical clinic as a pilot in January 2017. At the time, Kenneth R. Wright, DMD, MPH, vice president of dental services for Kaiser Foundation Health Plan of the Northwest, called it an "innovation site where we will pilot new ways to combine dental and medical care that maximize convenience for our members and ensure their visits address their total health."
One and a half years later, the clinic is well past the pilot stage.
"It's been an incredible journey, a transformation," says Wright. Since opening, the clinic has added four dental operatories and now has five general dentists, one pediatric dentist, four dental hygienists, 11 dental assistants, three front-office staff, a family practice physician, a physician assistant and three LPNs.
"Because we have integrated health records [using the Epic system], we consult the member's record in advance of the visit and identify opportunities to close the care gap," says Wright. A patient who comes in for a routine dental cleaning, for example, might need an A1c test or a well-child exam. Wright estimates that 15 percent to 35 percent of the clinic's dental patients receive some medical attention as well.
Wright believes that integrating the two disciplines "is truly the essence of care." Patients welcome it, he adds. "Once they have a chance to meet the staff, they say, 'Why haven't we done this before?'
"It's unique and a pleasant surprise," he continues. "Maybe some of the kids aren't too happy" to get treated by a doctor and a dentist during the same visit. "But it does save mom and dad time. They don't have to miss so much work, and ultimately, it's beneficial to the member and his or her family."
Precision medicine
The Columbia University College of Dental Medicine is pointing its students toward a future in integrated care. In December, the College dedicated its Center for Precision Dental Medicine, comprising 48 new dental operatories outfitted with technology to help the students learn how to deliver truly personalized care.
Electronic dental records will be tied in to medical records to enable dentists and other providers to treat patients based on comprehensive health information rather than just oral disease, according to the College. Using Epic electronic health records, dental and medical information will be shared with clinicians at Columbia University Medical Center, New York-Presbyterian and Weill Cornell Medicine.
"The College of Dental Medicine was founded 100 years ago with the disruptive idea that dentistry should be taught and practiced within the context of the whole body," Christian S. Stohler, DMD, DrMedDent, dean of the College of Dental Medicine and senior vice president for Columbia University Irving Medical Center, said at the time of the center's opening. "The Center for Precision Dental Medicine gives us the capacity to realize this founding vision in the information age."
The time is right, he believes.
Since 1990, Americans' average lifespan has increased, but quality of life – particularly in the later years – has not, he says. In fact, increased lifespan often means more years of ill health, not well-being. "If this continues, and as the numbers of the elderly keep growing, the burden of disease – particularly, chronic disease – may not be sustainable," either from a quality-of-life perspective or an economic one. Incorporating oral health and medicine may provide at least part of the solution.
That's because many of chronic diseases affecting the elderly today share an underlying physiological mechanism – inflammation, says Stohler. Dentistry is a key factor in identifying and addressing inflammation, he adds.
"In dentistry, for the past 150 years, we have focused on cutting out the 'piece' that is bad and replacing it with something that will hold for a number of years before requiring replacement," he says. It is time for dentists to do more, e.g., examining a patient for oral disease and treating its underlying cause rather than removing diseased tissue. "We can't see inside a person's intestinal system as easily we can inside his or her mouth, to determine whether an inflammatory component is present," he says. "We should take advantage of it.
"In the future, you will need to manage diabetes and periodontal disease as a package, psoriasis and dental disease as a package, rheumatoid arthritis and dental disease as a package. That's why the linkage [between oral health and medicine] is crucial.
Some barriers
The wall between oral health and systemic health is longstanding, and it will not crumble easily or quickly. The traditional, siloed manner in which insurers cover dental and medical care is one barrier to overcome.
"Many people receive dental insurance through their employer," notes Jane Barrow, MS, associate dean for global and community health, and executive director of the Initiative to Integrate Oral Health and Medicine at the Harvard School of Dental Medicine. Then, when they turn 65, they lose access to dental insurance, unless they purchase it separately. "Generally, this comes as a surprise to many people, and it happens at a time when they need more dental services than they ever did before."
The Initiative convenes academics and leaders in the healthcare community to develop innovative ideas around the integration of oral health and primary care. Activities undertaken include research, policy statements, conferences and seminars.
Electronic health records present another barrier – as well as opportunity. Connecting patients' medical and dental electronic records is a sine qua non for true integration of oral health and medicine, according to some experts.
"If a person visits his or her primary care physician, then is referred to a specialist in surgery or medicine, there's communication back and forth, often using the same EHR," says Barrow. "But if that patient is referred to a dentist, there's no communication because, generally, those information systems don't talk to each other. The Initiative is working on technology that will facilitate bidirectional communication."
Integrating oral and medical records systems will facilitate care not only in clinics where dentists and MDs are co-located, but in virtual arrangements as well, notes Stohler. Columbia's Center for Precision Medicine, for example, will share records not only with Columbia University Medical Center, but New York-Presbyterian (with which it is affiliated) and Weill Cornell Medicine. "The marching order has been given, and work groups are already working on it," he says.
"With the patient's permission, anyone who treats you will be able to access your integrated health record," he says. Patients will have access to their records as well.
"We are in an age of shared responsibility. Patients have access to what science is telling us today. We are entering an environment where the physician is their guide through the information jungle."
Human element
Technology issues – while formidable – aren't the only hurdles to oral/medical integration.
"One of the challenges is change management, that is, getting people to implement a new system," says Wright. The learning curve comes with a predictable – but temporary – drop in productivity. "We saw some of that the first year, but by the end of the year, we were operating at peak efficiency. It's like learning to drive a new car.
"It has been incredible to see the tremendous transformation that has taken place among our team this past year. When two different groups of people come together, there's some apprehension, some doubts about compatibility."
An open mind erases most of that, he says. "Even though we had never worked like this before, our team embraced the mission. They collaborated in mind and spirit. They have huddles throughout the day; they are in active discussion about improving workflow and processes. Whatever silos existed before have been completely obliterated.
"I see a great deal of passion here. They are changing the world, transforming healthcare. There's a certain amount of kinetic energy here. They realize this place is special."
Tomorrow's practitioners
Working side by side may come more naturally to tomorrow's dental health and medical professionals than it does to their older counterparts.
The Boston-based Center for Integration of Primary Care and Oral Health (CIPCOH) serves as a national resource for research on oral health integration into primary care training. Established in 2016 through a cooperative agreement with the U.S. Department of Health and Human Services Health Resources and Services Administration (HRSA), the Center places special emphasis on training enhancements that will train primary care providers to deliver high quality, cost-effective, patient-centered care that promotes oral health, addresses oral health disparities and meets the unique needs of all communities. Demonstration practice sites are up and running.
Dental students and medical students at Columbia share their first 18 months of education, says Stohler. "We have fertile ground on which to build that foundation. And if you have that foundation, you should take advantage of it.
"Our students appreciate the significance of genomics in driving personalized medicine. They know they may be practicing for 40 years. The world will change, and personalized medicine cannot be practiced without dentistry."
---
The Insurance Angle
Will we see combined Dental/medical policies?
Dental and medical professionals understand the connection between oral health and systemic health. How about insurers?
"The plan for the future is to manage risk, and that means managing the heavy costs associated with comorbid conditions," says Christian S. Stohler, DMD, DrMedDent, dean of the Columbia University College of Dental Medicine. "The only way American insurance will survive is to keep people healthy, as much as possible – managing their health appropriately, then measuring the risk. Dentistry needs to fit into that picture."
Some in the insurance industry agree.
Empowered consumers
"There's plenty of research to indicate the connection between medicine and dentistry," says Quinn Dufurrena, DDS, JD, chief dental officer, United Concordia Dental. "Bundling of medical and dental insurance makes sense, and I think we will see it."
Dufurrena has a broad perspective on the topic – as a dentist, as an advisory board member of the Harvard School of Dental Medicine Initiative to Integrate Oral Health and Medicine, and as an executive of United Concordia, a subsidiary of health insurer Highmark Inc.
Barriers to the integration of the two disciplines exist, he concedes. For example, it's difficult to quantify the impact of improved oral health on systemic health (though few would dispute that the two are closely associated). The fact that dental professionals – unlike those in medicine – seldom use diagnostic codes for recordkeeping makes such studies that much more difficult. "And one of the biggest barriers is the fact that we use different practice management systems," says Dufurrena. "It's difficult for medicine and dentistry to communicate with each other.
Such barriers will be overcome, he predicts. Empowered consumers will come to insist on the convenience of co-located dental/medical clinics, as well as the improved health outcomes co-location can bring. Combined dental and medical insurance may follow.