By Laura Thill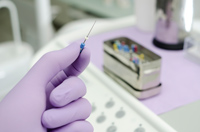 Advancements in technology have made it easier for dental professionals to deliver successful endodontic treatment. But the fact remains, endodontics is a specialty that's best handled by trained experts. "It is appropriate for a general dentist to perform endodontic treatment on a patient when he or she is properly trained to perform the said procedure, has the appropriate equipment and the treatment is within the skill set of that individual clinician," says Gary Glassman, DDS, FRCD(C) and a consultant for Kerr Endodontics. If there's any doubt the clinician can perform the procedure to the same standard of practice as an endodontic specialist, however, the case should be referred out, he points out. The American Association of Endodontists (www.aae.org) offers its Case Difficulty Assessment Form and Guidelines to help dentists with case selection, he adds.
"If a dentist has just graduated from dental school and has only performed a handful of cases, it would be silly to think that he or she is ready to perform molar endodontics," says Joe Chikvashvili, DDS, director of endodontics at Newark Beth Israel Hospital, a dental practice owner in West Orange, N.J. and a key opinion leader for Roydent Dental Products. "Molars have much more variablility in anatomy than anteriors and premolars. So, the ability to perform anterior root canals does not necessarily enable one to perform molar root canal therapy."
A higher standard of care
As dental equipment becomes increasingly sophisticated, dental professionals can – and do – deliver a higher standard of endodontic care, according to Glassman.
Dental operating microscopes enable clinicians to better visualize the anatomy of the pulp chamber. As such, the procedure is less invasive and it's easier to maintain the structural integrity of the tooth. In addition, clinicians can position themselves more ergonomically, reducing stress on their back and neck.
The ultrasonic with specially designed endodontic tips allows clinicians to uncover calcified canals, remove pulp stones, refine access preparations, remove post and cores, and it aids in the debridement of the root canal system during irrigation protocols in a controlled and predictably safe manner.
The accuracy and acuity of cone beam computerized tomography (CBCT) has facilitated safer treatment for patients. CBCT provides a road map of the tooth anatomy, enabling clinicians to visualize the tooth in three dimensions. In addition, the resolution of CBCT is higher than traditional radiography, allowing the detection of peri-radicular pathology, which otherwise may go undetected. The type, location and extent of internal/external resorption can now be definitively diagnosed, and the relationship of normal anatomic structures can be assessed with ease.
Challenges persist
Technology can be a double-edged sword, however, and Chikvashvili warns that access to more efficient equipment can give clinicians "a false security that they can attempt any root canal and treat any tooth." As with any specialty, endodontics has its share of challenges, he notes.
"Endodontists face the inherent pressure of saving teeth that others cannot, whether those started by general dentists or even other endodontists," says Chikvashvili. These cases can be inherently difficult to treat due to difficult anatomy or tooth location, patient anxiety or the patient's inability to sufficiently open his or her mouth, he notes. In addition, losing an abutment can significantly increase the cost and time needed to repair a patient's occlusion. "Most patients that come to the endodontist have already had prior bad experiences, so trust must be built between the specialist and the patient in a short time," he explains. "That's not always easy to do."
Glassman points to several challenges facing endodontists, including:
The diagnosis of endodontic versus non-endodontic issues.
Anaesthetizing endodontically treated teeth, especially those that exhibit irreversible pulpitis with or without apical periodontitis.
Preparing the access cavity while avoiding procedural accidents, such as perforations, gouging or the removal of unnecessary tooth structure.
The location of root canal orifices, particularly the MB2 canal of the maxillary molar, lingual canals of mandibular incisors and premolars. With the appropriate equipment, clinicians can better locate canals and treat teeth appropriately.
Negotiating blockages and ledges, and avoiding apical transportation and separated instruments within the canal confines.
Obturation challenges, specifically well-condensed homogeneous fills, underfills, overfills and impingement on normal anatomic structures, such as the maxillary sinus and mandibular canal.
Restorative challenges to prevent coronal leakage into a root-canal-treated tooth.
Communication a must
When it comes to challenging endodontic procedures, nothing is more important than communication among the entire dental team, as well as between the clinicians and their patients, according to Chikvashvili. "When a patient is referred by his or her dentist, everyone must be on the same page," he says. "I often call the general practitioner to discuss findings and treatment options prior to beginning any work. Because root canal pain is visceral, more than 10 percent of the time, patients themselves don't know which tooth is to blame. So, I must ensure that everyone understands what the problem is, as well as the benefits and risks of each procedure required to solve that particular problem. Excellent communication is as important as exceptional treatment."
Working in a large dental practice or dental service organization has its advantages, Chikvashvili continues. For one, clinicians may have a higher patient load, which can provide a bigger frame of reference, he points out. And, sharing ideas and questions with one's colleagues can be helpful, he notes. Additionally, clinicians can have someone take over for them when they feel they are out of their league.
When clinicians involve their patients and the dental team from the start, they can help avoid many concerns, says Chikvashvili. But, the importance of experience can't be overstated. "Knowing when it is better to retreat versus extract usually comes with time and years of experience," he says. "The sooner clinicians can learn what works and what doesn't, the better off they – and their patients – will be."
---
Endodontists: Get the facts
Endo is Greek for inside, and odont is Greek for tooth. By definition, endodontists treat the inside of the tooth.
While all endodontists are dentists, less than 3 percentof dentists are endodontists.
Endodontists typically have two or three years of additional education in an advanced specialty program in endodontics following their four years of dental school.
By limiting their practice to endodontics, endodontists focus exclusively on treatment of the dental pulp, performing an average of 25 root canal treatments each week compared to the one or two performed by general dentists.
Source: The American Association of Endodontics (https://www.aae.org).