By Laura Thill
Patients today respond to digital marketing.
Today, few households in America do not revolve around smartphones, iPads and desktop/laptop computers. Indeed, dental patients – from pediatric to the elderly – are likely spending a good amount of time accessing their world through some type of digital device. Dental practices that don't take advantage of digital marketing are missing out on an opportunity to introduce themselves to new patients and stay in touch with current ones, according to Xavier Dao, senior director of marketing, Pacific Dental Services® (PDS®).
"Over the past 20 years, more and more people have come to depend on their desktop/laptop computer, smartphone and tablet to gain access to content," says Dao. The growth in popularity of these devices has driven dental professionals to rely on digital marketing to target new and existing patients, he points out.
"Digital marketing encompasses any form of marketing that utilizes electronic devices or the Internet," Dao continues. But, while electronic devices can be narrowed down to smartphones, tablets or other types of computer devices, the array of digital marketing channels available to dental practice owners can be overwhelming, he notes. "Digital marketing channels include websites, search engines (both paid and organic), social media, email, SMS (text messages), content marketing and digital display advertising." And this is only the tip of the iceberg. "There are many other channels as well, each with additional layers," he says. "Digital marketing is not only one of the best ways to reach new and existing patients, it's also one of the most complex ways."
"Refining audience segments is an art requiring both creative and analytic processes," Dao explains. "The continual optimization process is never-ending, especially today, when new mechanisms within each channel are continually introduced."
Tools at their disposal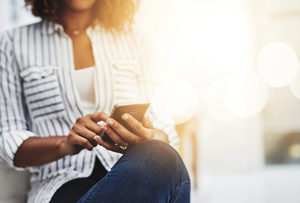 The good news for dental professionals is that more and more patients use the Internet to actively seek providers. At the same time, dental service organizations like PDS have developed tools to help their supported clinicians target specific patient groups. As long as people have access to an electronic device or are connected to the Internet, digital marketing can be very effective, notes Dao.
"At PDS, we help our supported clinicians target patient groups who have expressed an interest in oral healthcare," he says. "Patient groups can express their interest in several ways: They may conduct a Google search, visit a dental practice's website, respond to a comment on the practice's Facebook page or simply respond to emails.
"As an example, Pacific Dental Services® has refined its PRIVATE PRACTICE +® model, a supported means of autonomy that allows dental professionals to concentrate on clinical excellence and the highest levels of cost-effective comprehensive patient care, while PDS provides the support structure for the business functions. Our owner dentist model allows us to support thousands of clinicians across the country, so that they can focus on their patients while we take care of running the business. We support both local dental office brands and national brands through the industry-leading strategic development of cross-channel marketing campaigns, tools and guidance."
That said, PDS is careful to focus on the dental practice as an entity, Dao adds. Whether the dental practice owner, an office manager or the regional operations manager communicates a need for support, PDS responds quickly and efficiently. "PDS offers a subset of tools for the entire dental team," Dao says. "For instance, we may help them update their website and make it more usable. Or, the dental practice may reach out to help them make better use of Facebook. Our DSO model is as follows: to act as a support system for the whole dental practice. Our goal is to help them take full advantage of the tools they have at their disposal."
Dao is confident that digital marketing will continue to evolve as people spend more time engaging with electronic devices. "Moving forward, dental practices will take advantage of mobile payments to facilitate the payment process," he points out. "Voice products will help them reach and interact with patients." And the growth of artificial intelligence will make it easier and more efficient to target patient populations, he adds. "As digital marketing continues to evolve, the dental industry will have to embrace new technology and new channels to deliver the services patients will come to expect."