Sponsored Content: Solmetex
Protocols and procedures for the proper handling of dental amalgam waste.
As of July 2020, the EPA "Dental Rule" went into effect, establishing specific protocols and procedures for the handling of dental amalgam waste.
There are four (4) main components of the Dental Rule that offices need to maintain to be in compliance:
ISO 11143 certified Amalgam Separator.
Use of a vacuum line cleaner with a neutral pH between 6 and 8.
Clearly marked amalgam bucket for recycling of anything that touches amalgam (chairside traps, teeth with amalgam, spent amalgam capsules, vacuum filters etc.)
Certificates of Compliance/Recycling
In response to the EPA Dental Rule, and most importantly from input received from DSOs, individual physicians and practice managers who are uniquely tasked with addressing the requirements of the regulation, Solmetex is excited to introduce its proprietary Solmetex Maintenance Program.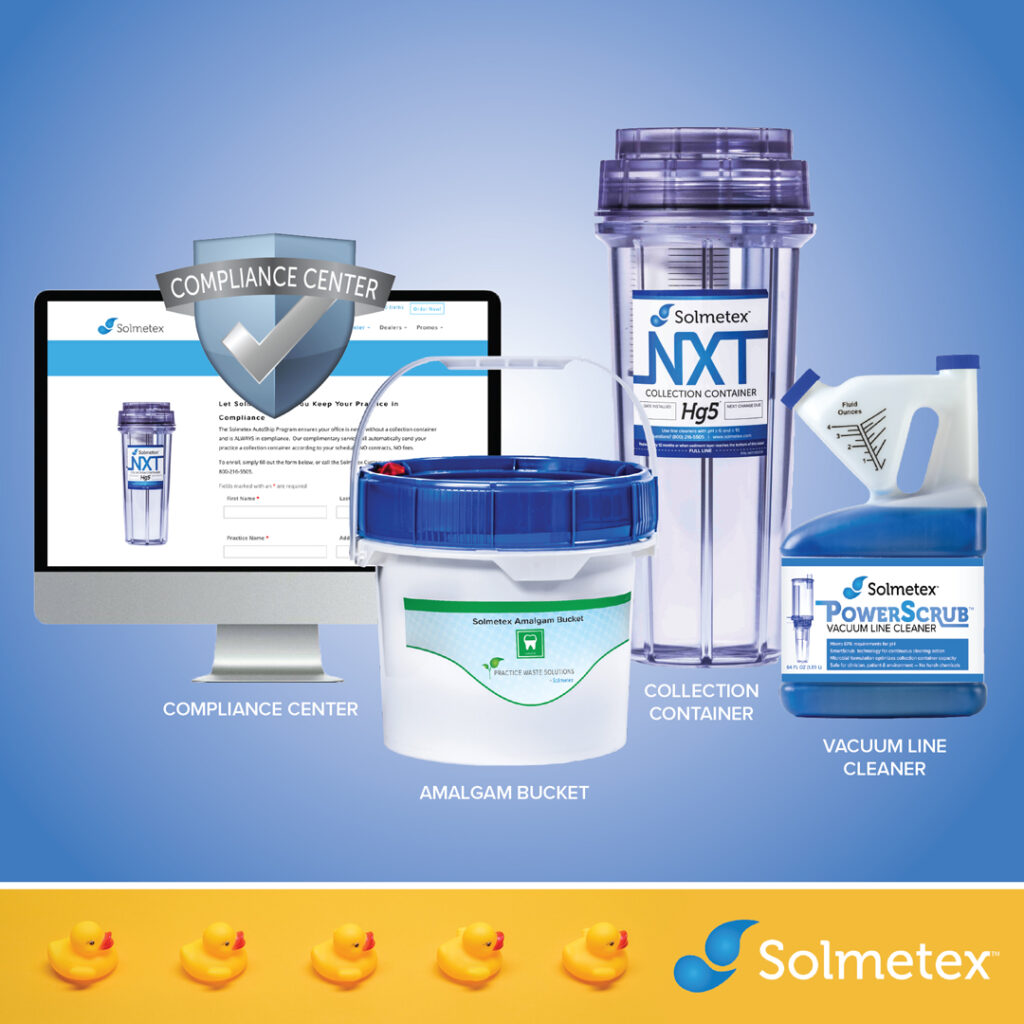 The Solmetex Maintenance Program is designed to alleviate the guesswork associated with the Dental Rule and ensures that all practices are in constant compliance.
The basis of this turnkey program is the Solmetex Compliance Center, a 24/7/365 online solution that enables real-time access to all of the practice's documentation and recycling activity, specifically their Certificates of Installation & Warranty and Certificates of Recycling, documents that a local inspector may request at any time.
Participation in the Solmetex Maintenance Program is accompanied by a non-contractual, automatic fulfillment program for all the products and technologies necessary to ensure compliance with the EPA's regulation on the proper handling of amalgam waste within the dental practice.
Solmetex NXT Hg5™ Collection Container with Recycle Kit

The only collection container approved for use with the NXT Hg5 Amalgam Separator
Clear by design for easy visual inspection
Simple change-out process when solids reach the full line or at 12 months, whichever occurs first.
Packaging and shipping approved by the US DOT.
Certificates of Recycling housed and available 24/7 in the Solmetex Compliance Center
Solmetex PowerScrub™ Vacuum Line Cleaner

Per EPA regulation requirements, formulation consists of a neutral pH level between 6 and 8.
Case kit includes four 64oz bottles.
Recommended for use with the NXT Hg5 Amalgam Separator
Use of PowerScrub maximizes capacity of the NXT Hg5 collection container.
Compatible with all competing amalgam separators
Compatible with all dry/wet vacuums
Works at all water temperatures
Use of PowerScrub extends warranty on the NXT Hg5 Amalgam Separator to 5 years
Solmetex Practice Waste Solutions

Designed to address the "dry waste" requirements of the EPA Dental Rule
Per EPA regulation requirements, clearly labeled for amalgam waste.
Available in four (4) sizes
Cost of PWS amalgam bucket includes cost of shipping and recycling.
Certificates of recycling housed and available 24/7 in the Solmetex Compliance