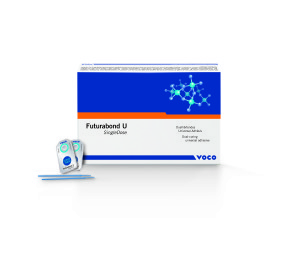 VOCO has introduced several advancements on the Restorative side of dentistry that are of great benefit to multi-practitioner offices and group practices. These products increase clinical efficiency and profitability. VOCO's Futurabond line of adhesives has a long history of success through innovation. Today their universal adhesive Futurabond U is a product whose wide range of indications, high bond strengths, and SingleDose packaging has more and more group practices turning to it.
Futurabond U (a "Best Product award winner from Dental Product Shopper") is the first true universal dual-cure adhesive in a patented SingleDose delivery system that does not require an additional activator or primer. It's indications include all direct and indirect restorations and can be used with all restorative materials (metal, zirconia, aluminum oxide, silicate ceramic, etc.) as well as non-conventional indications that include desensitizing, sealing of restorative GI's and ceramic repairs. The extensive list of indications along with the SingleDose packaging offers solutions that speak to the unique challenges that group practices face whether it is cross-contamination in high volume situations or elevated product inventory costs to meet the demands of various doctors' preferences within multi-practitioner offices.
Because Futurabond U has the chemistry and efficacy to meet most practitioners' needs on a daily basis it is a great solution for streamlining inventory and contributing to a profitable bottom line. Futurabond U is indicated for self-, total-, and selective-etch techniques and bonds to all light-, dual-, and self-cured resin materials. Registering 30 MPa of adhesion to dentin and enamel with light-cured composites and strong bond strengths to dual-cured and self-cured composites, Futurabond U has virtually no post-operative sensitivity. It's fast and easy application in the light-cured mode allows the doctor to apply, dry and cure in 35 seconds.
VOCO is dedicated to the group practice arena with a devoted Special Markets Team of professionals ready to customize a product offering for any group practice situation. This team of professionals is also available to customize a CE program directed to your entire staff whether it is the doctors, hygienists, assistants or front office with programs that can run for one hour to a full day. These CE programs have become a great tool for group practices to assist in making their staffs comfortable with the implementation of new products/ technologies so their integration into the everyday workflow seems effortless.
Futurabond U with its many features and benefits enables group practice offices to run with efficiency and increases their bottom lines. Its patented SingleDose delivery system has many benefits that include the elimination of solvent evaporation problems experienced with many of the bottle systems on the market today. Futurabond U's indicated use in all technique modes with all types of restorative materials, streamlines inventories for the busy practice. With the help of VOCO's Special Markets Team, Futurabond U can be integrated into any practice with ease, efficacy and efficiency. To learn more about Futurabond U and the entire VOCO product line visit www.vocoamerica.com.
Editor's note: Sponsored by VOCO