Swish Dental Founder Dr. Viraj Desai is reimaging what it means to deliver a first-class experience for patients, and the dentists who care for them.
By Graham Garrison
When Dr. Viraj Desai, DMD, first started practicing dentistry, she was a little surprised with how the style of everyday offices closely resembled that of an emergency room. There was an emphasis on optimization, quick clinical diagnosis – but not an environment that catered towards personalization.
"While most patients were familiar with medical doctor visits, I found that a number of patients had rarely been to a dentist, and were anxious about the unknown," she said. "Along with getting a quick diagnosis, they were looking for a personal connection to help guide them through their concerns."
Dr. Desai personally faced uncertainty while navigating her own career journey. Who could she ask for advice for turning a solo practice into a group practice while cultivating a workplace culture that fostered growth and opportunity, especially for women in dentistry?
"I think in this case, both the patients/doctors wanted the same thing; an environment that was supportive to all needs."
This led Dr. Desai to create her own dental group practice in 2017, Swish Dental, by reimagining the experience for both patient, and provider.
New and fresh spaces
For Dr. Desai, the first big step for Swish involved creating spaces within the locations that were new and fresh, but didn't scream to patients that "we need to get you in and out." Her vision focused on studios that were friendly, welcoming, and familiar places for people to receive care. To reflect that vision, the offices embody the unique characteristics of the Austin neighborhoods they are a part of. "Most people, when they come to Swish, it's not just because of the dentist; they're looking forward to being in the presence of familiar faces, and a familiar place."
Creating a vibrant group dynamic amongst Swish dentists was just as important as the patient experience. Indeed, dentists who feel good about where they work will in turn give patients access to better types of care. "Culture is incredibly important in creating a warm environment, but also one with guidelines," Dr. Desai said. "We obviously strive to make the patient experience as great as it can be, but that's only accomplished if the organization believes in the values and systems/processes that are put in place."
Dr. Desai said she strongly believes in empowering her staff. Training, especially in regard to personal project management, is critical. "We want to give our employees as much autonomy as possible, and that starts with making sure their personal lives are prioritized."
Swish offers hands-on support and mentorship during an individual's employment. Team members can get both feedback and hands-on help or assistance if needed. "The empowerment of the staff and culture around that has been greatly beneficial for us," Dr. Desai said. "While we hope that every employee stays with us for a lifetime, I'm incredibly proud to know that if they do leave, they can look back at the company and acknowledge that what they learned at Swish only helped them propel their career."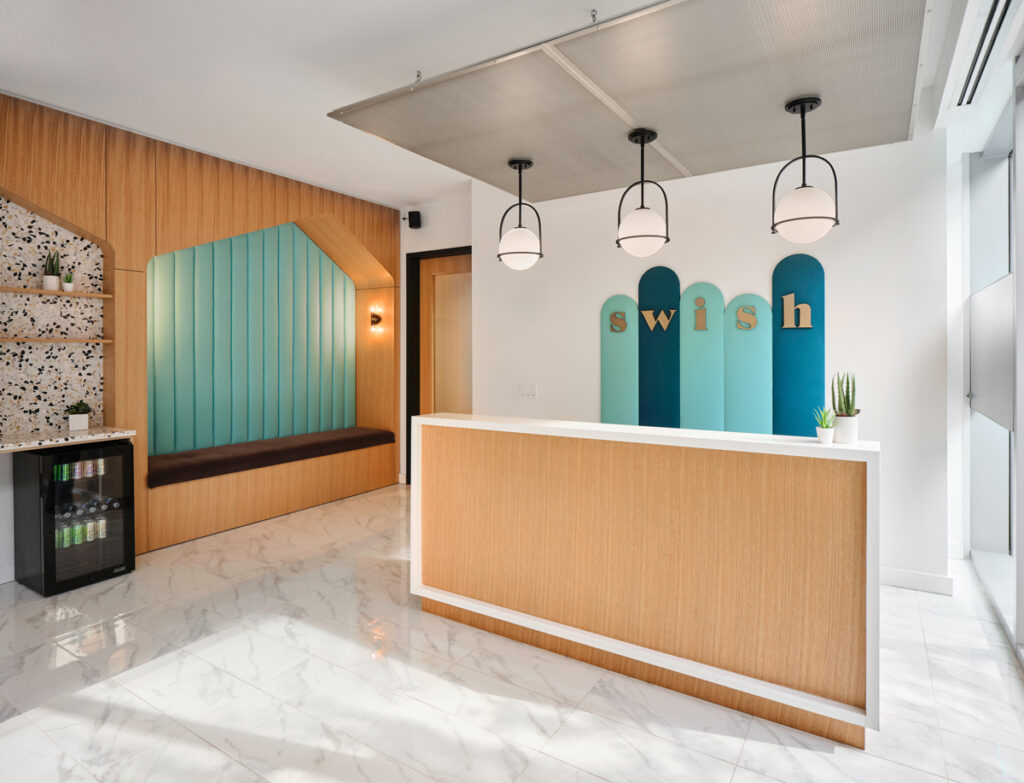 Here to serve
While employee retention for any business has been tough over the last two years, Dr. Desai said Swish leaders have found that going back to their culture, mission statement and values has helped the organization navigate workforce challenges. "As far as retaining our employees, providing a purposeful place for them where they feel that they support the company, and the company supports them, has been truly beneficial."
To date, Swish has 150 employees, 12 locations, and 16 dentists. Dr. Desai said that they're looking to build out their infrastructure in 2022 and possibly add some locations.
As a result of the pandemic, consumers are wanting more on-demand service, including with healthcare. "Overall, patients want the best of the best, and they are willing to pay for it," she said. "So the level of expectations, and asks, have increased tremendously."
Dental group practices that want to successfully navigate those changing expectations must find the right balance of evolving to meet marketplace changes, while staying true to one's mission statement. For Swish, it all comes back to the patient experience. "We've had a ton of great innovation these past few years," Dr. Desai said, "but at the end of the day we're in a service business and need to be cognizant about that."