Equipment Guide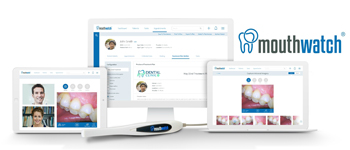 MouthWatch recently introduced TeleDent 2.0, a feature-rich upgrade to its field-proven all-in-one teledentistry platform. TeleDent 2.0 provides dentists with telehealth functionality comparable to that which currently enables hospitals and medical groups to efficiently practice connected care.
True healthcare for dentistry, TeleDent 2.0 takes the digital workflows seen in business and other healthcare systems and applies it to improving dental care delivery. As with other telehealth platforms, TeleDent 2.0 can facilitate and enhance remote communication between providers and patients, while also allowing real-time clinical video consultations between patients and providers or members of a care team. The end result is more efficient clinical operations and improved patient outcomes.
Clinicians can determine whether TeleDent 2.0 is right for their dental practice by considering the following:
Am I looking to generate additional revenue streams?
Would I like to expand hygiene department hours without needing a dentist in the office?
Can I use a more efficient referral system or a better way to manage rotating specialists?
Would I like to collaborate with allied healthcare providers, particularly in the case of medically-compromised patients?
Would I like the ability to exchange information directly with my patients?
Would you like to expand my community outreach programs?
TeleDent 2.0 will enable you to transform these challenges into business opportunities.
Some dentists may question whether it's practical to purchase the MouthWatch TeleDent 2.0.
"My IT department is already overworked and doesn't need another integration project."

TeleDent 2.0 is cloud-based software that comes with superior customer support and training. It also integrates seamlessly with most practice management and imaging software on the market.

"My team won't use it."

Our experience has been that dental teams learn how to use TeleDent fairly quickly and enjoy the improved workflow and the ability to collaborate with their peers. They also enjoy the positive patient feedback.
"It's too expensive."

TeleDent is surprisingly affordable and can be easily expanded as you grow your team or add locations.

"New, improved technology is constantly available. Perhaps I should keep my options open."

TeleDent is virtually future-proof. We constantly improve the technology, and when we do, our current customers are upgraded free-of-charge.
TeleDent 2.0 may be the only technology investment dentists can make that can simultaneously improve access to both care and new revenue streams. For more information, click here.
Editor's note: Sponsored by MouthWatch.