How a playbook can create simplicity – and success – for you and your team.
By Josey Sewell, Partner, DEO
Tracking the numerous components of a successful business can be difficult without a guide to help your team understand what exactly they should be working on. Creating a company playbook is a great way to help your organization focus on priorities and achieve business goals on a weekly, monthly, quarterly, and yearly basis.
A company playbook contains all the pieces and parts that make up your company's go-to approach for getting things done. It might include things like process workflows, standard operating procedures, and cultural value that shape a consistent response.
For leaders in the dental industry that are attracted to the idea of a self-managing team, a company playbook is a critical tool. As long as we have managers helping hold people accountable and a great culture, we can have a self-managing team. However, before that happens, they must have clarity. Many of us are likely convinced that we have provided that clarity, but your idea of clarity could look very different than your team's idea of clarity. A company playbook can help you to be very clear with your expectations.
As leaders, I have found that we have a tendency to overcomplicate things, so the company playbook is about simplicity and clarity. It has your vision, accountability, core processes, a scoreboard, cadence for team meetings, and an ops playset. With these simple pieces, you can track and manage key performance indicators (KPIs) that will lead your practice to success again and again.
My experience growing and managing the scalability of operations in a dental group and the work I do within the DEO with my personal clients and our members have given me the unique experience of seeing various operating models and the challenges companies face in standardizing best practices across multiple locations.
For groups with an acquisition model, it can be daunting, intimidating, and downright frustrating to try to change habits and processes inside practices that already have their way of operating.
In groups that grow by de novo, the challenge becomes duplicating the performance and culture of the original or flagship offices to the new offices as you build. While it is impossible to have every single office be a carbon copy of the best practice in the group, it is possible to standardize what matters and share best practices in a way that allows the office and the team to maintain their identity and elevate their performance.
When the idea for the playbook came to me, I was running a single-branded, seven-location, de novo-focused dental group doing about 40 million in annual revenue. Our rule of thumb was that we desired the practices to operate 80% similarly and 20% based on their office "personality" which was often shaped by the Practice Manager and Lead Dentist in the location. If you have practices with various brands that you have acquired, you may decide to have the practices 60% standardized in their processes and 40% on their own "personality," or you may flip flop what I did and have it be 20/80.
Before you build a playbook, imagine a scale from 0 to 10 with 10 being highly standardized across practices and 0 being not standard at all. Where does it make sense for the group to live in that spectrum? If you are a 5, pick a handful of best practices that you expect all practices to integrate and make it clear what they can expect from you and what you can expect from them. There aren't any wrong answers, it's just the direction you choose; there will always be challenges to overcome in every type of model. The only wrong choice would be to leave it up to chance and not give teams and offices clear direction and expectations.
---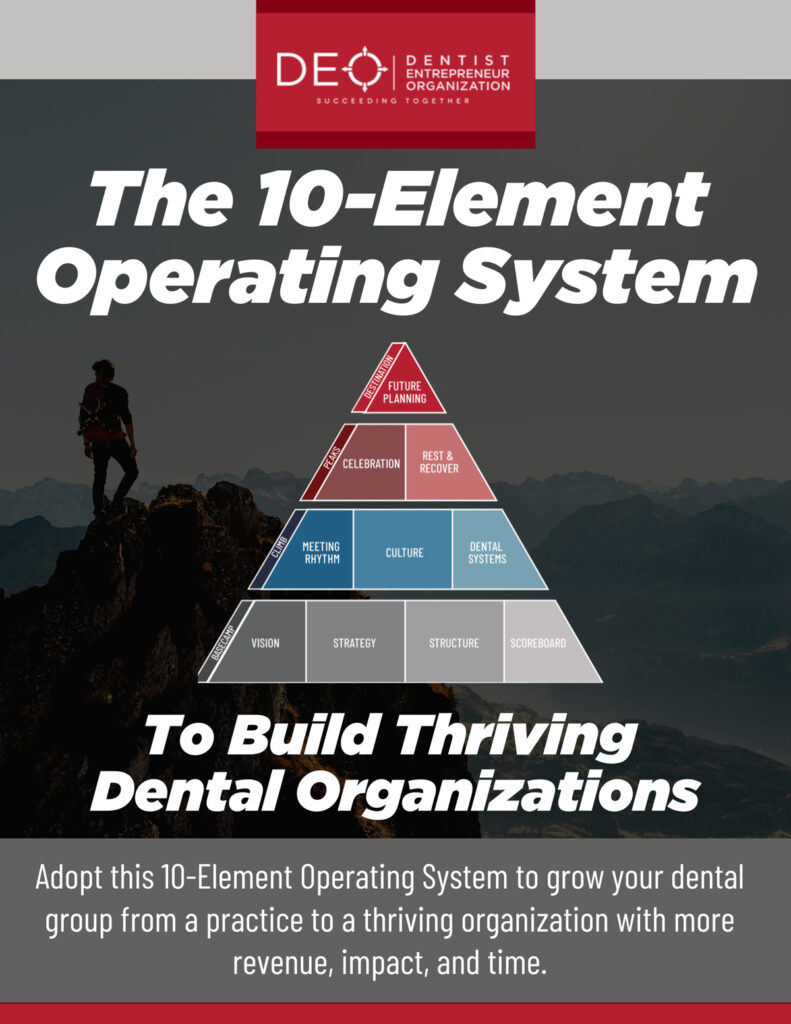 Ascend to new heights with DEO's MAP
The DEO has created a resource to help dental entrepreneurs grow their dental group from a practice to a thriving organization with more revenue, impact, and time. Called the DEO MAP (Measure, Align, Perform), it's the first curriculum of its kind, created specifically for dental entrepreneurs of growing dental companies. DEO MAP contains 10 foundational elements dental leaders must get right to build a self-managing, growing, entrepreneurial dental company.

Using the journey of successfully climbing a mountain as its metaphor, DEO MAP guides dental leaders through four symbolic phases of every dental entrepreneur's journey:
• Basecamp
• Climb
• Peaks
• Destination

The goals of each DEO MAP's phases and elements are supported with in-person trainings; coaching calls; a collection of carefully curated tools to reach goals including Scorecards, Templates, Examples, Infographics, Roadmaps, Checklists; and much more.

Click Here to Learn More
---
Building the playbook
To build the playbook, you must first outline the top 4-5 outcomes you highly desire that can become your "north stars". Examples from my playbook include: team engagement, dentist engagement, patient satisfaction, same store sales growth, and profitability. I wanted to reverse engineer what it would take to have healthy, happy teams, dentists, and patients. I wanted to see continual growth in the practice, and I wanted us to be profitable. If each of my locations were to accomplish these things, we would be fulfilling our vision and on track with our goals.
For each of the KPIs under the pillars, I broke it down into multiple steps:
What are the metrics?
What is the goal?
Why do we measure it?
How do we measure it?
What should we do if it's off?
Who is responsible for it?
It took some time, but I found that I was eventually able to break each of these down into manageable parts that were easy to understand. There shouldn't be any ambiguity for something like this.
For example, if we wanted our call conversion at 70%, we learned that we needed to spend time on marketing. When patients call, we needed to be able to provide an amazing booking experience; creating an appointment that resulted in strong marketing ROI in practice growth. From there, we could define what and who needed more training in these areas. Managers should be coaching and watching metrics, making adjustments along the way.
There are plenty of things inside a dental office that you can worry about. Once we started using the DSO playbook to simplify and focus on those most important things, then everything else would fall into place. Indeed, a playbook will take the guesswork out of what you prioritize and provide the type of clarity both leaders and team members need to succeed individually and as a company.
---
Josey Sewell is a dentistry expert in applying an operating system in dental groups to help them clarify their vision, focus on what matters, and achieve improved team health. She has unique expertise and the ability to weave together sound business systems and team development strategies. Her development programs have empowered leaders and executives to find more joy in their work and control of their business.