EGP New Products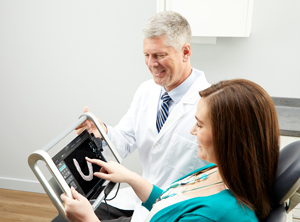 When it comes to taking impressions, a high-quality outcome is essential. Dental professionals and labs rely on accurate impressions to produce restorations that fit in the mouth the way they are intended with minimal adjustments. As such, they require a digital scanning system that provides a high level of accuracy and precision to ensure consistent measurements, time after time.
Laser scanners use complicated optics with moving parts to create digital impressions. Because these optics are specialized, they cannot leverage the cost-effectiveness of mass production. As a result, the cost of laser scanners has been prohibitive for many dental practices. The moving parts of these complicated optics also require a bulkier scanner and make the wand more sensitive to damage. With the introduction of the Midmark Mobile True Definition™ Scanner, clinicians now have a highly reliable and financially viable option with a much smaller wand.
The Midmark True Definition Scanner is a video scanner that uses a number of off-the-shelf components found in today's more advanced consumer electronics, such as cameras and mobile devices. Because these components are widely available, the price of this system is one of the lowest on the market. And since video scanning eliminates the need for moving optics, it allows for a smaller, more durable scanning wand. In addition, the dental team can benefit from:
Excellent patient engagement. A mobile system that looks like the rechargeable tablets your patients see and use in their daily lives can improve not only patient comfort but also the overall patient experience. When a clinician places the familiar-looking mobile unit directly into the hands of a patient and shows them a 3D image of their oral anatomy, it can facilitate a more informed discussion about the patient's oral health and help them both engage with the information and better understand the proposed treatments.
Improved user experience. Imagine the ease of an ergonomically-designed, tablet-based system that allows clinicians to move freely between operatories, without power cords or carts. That's what the dental team can expect with this scanner. The flexible mounting options can also help minimize workspace clutter and free up more space for clinicians and assistants to maneuver in small areas.
More clinical options. Some digital scanners are designed to connect with mills and other systems. This flexibility means that dentists can work with their existing labs to prescribe the best material solutions for the desired outcomes. Clinicians who appreciate flexibility and an open and secure cloud-based platform that lets them easily share files and connect with laboratories and other partners, such as Invisalign®, should consider the Midmark True Definition Scanner for their practice.
Editor's note: Sponsored by Midmark Corporation.