EGP New Products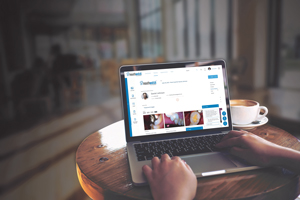 TeleDent™, by MouthWatch, is the complete teledentistry platform that enables the sharing of patient data, clinical information, intraoral images and videos in real-time or via store and forward technology.
When used for clinician/patient communication, TeleDent can conveniently utilize video conferencing, visual care plans and messaging to inform patients about needed treatment.
What's more, TeleDent's secure, HIPAA-compliant cloud-based software enhances referrals, oral health screenings and collaboration between rotating specialists, multiple group practice locations and hygienists working under remote supervision when allowed by state regulations.
Whether used in group practice offices or in the group's community outreach programs, TeleDent is the only dental software that can integrate the principles of telehealth into either workflow and also deliver the following advantages:
Save valuable time: Complex cases require significant communication between the dental practice and other specialists. TeleDent allows dentists to share dental case presentations with their peers and colleagues without ever leaving the office. This frees up more time for treatment and boosts the bottom line for the practice.
Serve patients with limitations: Due to age, illness or health conditions, some patients cannot easily leave their house for dental appointments. TeleDent helps dentists provide care for those with limited mobility.
Enhance access to dentistry: Between dental insurance reimbursement woes and busy lifestyles, patients are finding more and more obstacles preventing oral healthcare visits. With TeleDent, patients are more likely to make and keep their appointments.
Thanks to the advantages listed above, TeleDent provides group practices with an unparalleled ability to educate and treat more patients every day.
Dentists should ask themselves the following when considering TeleDent:
"Would I like to communicate directly and conveniently with my patients, as well as increase case acceptance?"
"Would I like to expand our hygiene department hours without requiring a dentist in the office?"
"Do I want to improve the referral and collaboration process with specialists and allied healthcare providers?"
"Am I looking to implement additional revenue streams?"
"Would I like to expand our community outreach program?"
"Would I like to improve the supervision and training of new dentists in their case presentation and treatment planning from any location?"
Some dentists may have a few concerns:
Is TeleDent expensive?

Dentists will be pleasantly surprised to learn that TeleDent's user license model is very affordable, with additional discounts available for larger deployments.

It will require a lot of time for my IT department to install and integrate.

TeleDent's cloud-based software requires no installation, integrates with select practice management systems and is updated automatically, with no additional fees.

Our associates hate when we introduce new technology and avoid using it.

The software is easy to install, use and maintain. MouthWatch provides dedicated onboarding, training and superior customer support. Your associates will enjoy the streamlined workflow, ease of peer-to-peer collaboration and perhaps most of all, the positive patient feedback.
TeleDent was designed to be a dentist-driven, patient-friendly platform for enhanced communications. Through easy chairside or offsite clinical data collection, messaging and video conferencing, providers can create visual patient care plans that help patients easily and willingly accept recommended treatment.
In short, TeleDent helps turn a case presentation into a highlight of the patient's experience. Multiply this by every dentist in every location and it's clear that TeleDent creates a direct path to increased group practice revenue.
Editor's note: Sponsored by MouthWatch.