Sponsored Content
Best possible outcomes depend on the right mix of products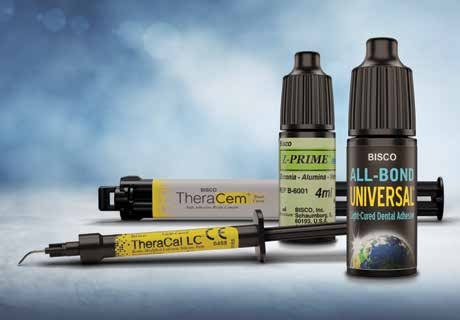 Dental clinicians are united in their desire to achieve predictable results – which is why so many rely on BISCO for the solutions they need. The company is committed to solving clinical challenges through extensive research and product chemistry, ensuring dental teams have the restorative products they require that not only work well, but perform well together.
Key players
From cements and adhesives to etchants and core buildups, dental materials are evolving quickly. As a result, clinicians have more choices available than ever before. But, many products aren't compatible with each other, even when they're made by the same company, according to Dr. Liang Chen, BISCO's director of R&D and chief scientist. BISCO has addressed this challenge by creating products that are less technique-sensitive, he adds. Key players include:
All-Bond Universal. A first-of-its-kind one-bottle adhesive, All-Bond Universal combines 30 years of adhesion research and chemistry into the ultimate bonding agent, featuring exceptional strength, long-term stability and versatility. All-Bond Universal can be used with all etch techniques and for all direct and indirect restorations.
TheraCal LC. The product of clinical advances in resin and filler technology, TheraCal LC makes direct and indirect pulp capping simple. A hydrophilic resin matrix allows for ion exchange between the pulpal complex and dentin structure, releasing calcium to the tooth to stimulate hydroxyapatite and secondary dentin bridge formation. (1,2) It has an alkaline pH that encourages healing and apatite formation (1, 3) and can be used as a pulpal protective liner/base under composites and amalgam.
TheraCem releases calcium and fluoride (4) ions to the tooth, and has an alkaline pH after 30 minutes of polymerization. (5) In addition to bonding to dentin, enamel, zirconia, metal and composite, TheraCem contains the adhesion-promoting monomer MDP, which creates a strong bond without etching or priming.
Z-Prime Plus. Z-Prime Plus enhances bond strengths to zirconia, along with alumina and metal substrates. It's compatible with light- and dual-cured resin luting cements and contains both MDP, a phosphate monomer, and BPDM, a carboxylate monomer. This unique combination gives the primer a synergistic effect that contributes to significantly higher bond strengths.*
Other leading BISCO solutions include:
E-Cement. Designed to simplify the placement of lithium disilicate restorations, eCement contains both light-cure and dual-cure resin cement, ensuring that all lithium disilicate restorations will have exceptional retention and esthetics. In addition, the system includes Porcelain Primer, All-Bond Universal, 4 percent Porcelain Etchant and Select HV Etch with BAC. The versatile cement can be used for veneers, inlays, onlays, crowns, 3-unit bridges, CAD/CAM blocks and pressable ingots made of lithium disilicate.
Duo-Link Universal. Specially formulated for cementation of all indirect restorations, Duo-Link Universal is intended for use with adhesives designed for compatibility with all ** dental materials, including all BISCO adhesives. Its optimal use is derived when coupled with BISCO's All-Bond Universal light-cured adhesive, Z-Prime Plus and Porcelain Primer.
Core-Flo DC. Dispensed with an auto-mix dual-syringe dispenser, the dual-cured, fluoride-containing core material is ideal for core buildup, post cementation and as a dentin-replacement material. Core-Flo DC's compressive and flexural strength offers clinicians reliability and durability when fabricating direct restorations. The material provides a void-free flow when cementing the post, and the core provides a homogenous bond to substrates. In a simplified technique, clinicians can cement the post and build up the core with a single application. Core-Flo DC is radiopaque and available in two esthetic shades: natural/A1 and opaque white, designed to meet all direct and indirect restorative requirements.
Core-Flo DC Lite. A dual-cured, fluoride-containing core material dispensed with an auto-mix dual-syringe, Core-Flo DC Lite's optimal self-leveling viscosity allows for excellent adaption, resulting in gap-free margins when replacing natural dentition with a direct core build-up. Additionally, the clinician can cement the post and build up the core. Core-Flo DC Lite is available in natural/A1 and opaque white shades.
Whether dental clinicians are looking for the optimal primer, adhesive, liner or cement, BISCO products are designed to guide them through any clinical curveball with fewer steps and more confidence.
* Data on file.  BISCO, Inc.
** It is recommended to use CHOICE™ 2 for veneer cementation.
References
Glossary of dental clinical and administrative terms. American Dental Association. https:/www.ada.org/ en/publications/cdt/glossary-of-dental-clinical-and- administrative-ter#d.
Gandolfi MG, Siboni F., Taddei P., Modena E., Prati C. Apatite-forming ability of TheraCal pulp-capping material [abstract 2520]. J Dent Res. 2011;90(Spec Issue A).
Okabe T., Sakamoto M., Takeuchi H., Matsushime K. Effects of pH on mineralization ability of human dental pulp cells. J Endo. 2006;32(3):198-201.
Gleave CM., Chen L., Suh BL. Calcium & fluoride recharge of resin cements. Dent Mater. 2016;32(1):e26.
Chen L., Gleave C., Suh B. New self-adhesive resin cement with alkaline pH [abstract 286]. J Dent Res. 2017;96(A).
For more information visit https://www.bisco.com.