How one group practice owner's desire to provide opportunity has empowered young women in her community
By Graham Garrison
Ever since she was a young child, Dr. Beatriz De La Roche wanted to become a dentist. The reason? Fear. "I'm the biggest chicken at the dentist," she said. "I'm not a good patient."
Dr. De La Roche was so terrified that she actually hit her childhood dentist during one visit. Rather than stay afraid, however, the experience motivated Dr. De La Roche. "My mother made me apologize. So my apology was this: When I grow up, I'm going to be a dentist for kids, so they don't have to go through this."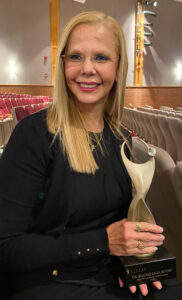 Dr. De La Roche has more than fulfilled that promise. Not only has she built a successful business, Tender Care Pediatric Dentistry, but she was recently honored by her community with the "Athena Leadership Award" for the empowering and mentoring of women in business.
Dr. De La Roche is changing how children experience dentistry with a state-of-the-art facility in Western Pennsylvania. Child-friendly diversions like 3D murals and the latest video games help kids look forward to dental visits. Even the dental rooms provide a different atmosphere such as being in a rainforest or an African savanna, or being among pandas or dinosaurs. The result is a positive environment that makes each visit fun.
Opening doors
Dr. De La Roche started her practice from scratch. "At the time, I actually qualified for food stamps." But she has a passion for dentistry and making a difference in her community. She was able to slowly build a loyal patient base among an underserved community. There were lots of young mothers and single mothers among the community who would come to Tender Care for their children's oral health.
It soon grew into something more. Eventually Dr. De La Roche was able to add one of her clients as a staff member. One became two, two became three, and three became more and more. Today, Dr. De La Roche's staff includes 23 women – many of them former patients.
"It doesn't matter who comes through our doors," she said. "Serving the community with these opportunities and taking care of kids are the best parts of the job."
As Dr. De La Roche grows her practice, she wants to provide even more opportunities for women and young moms that may not otherwise have a chance to start a career. "If we can, we want to help them and train them to become independent. If we can provide them a job in our practice, it could open new doors for better lives in our community."