EGP New Products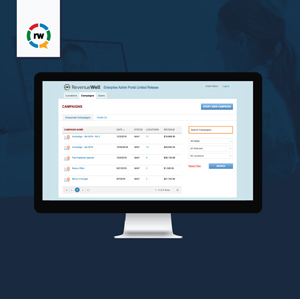 RevenueWell Enterprise is the only marketing and communications software developed exclusively for group dental practices. With RevenueWell Enterprise, group practices can streamline all their operations from a single dashboard. As such, groups are able to better manage their branding, communicate more efficiently, protect patient data, and mitigate risk through sophisticated user access controls.
Group practices can depend on RevenueWell to help lower costs, increase production and overall efficiency, and enhance patient satisfaction through:
Automatic recall and reactivation. RevenueWell reads outstanding insurance and dental codes to ensure patients follow up on proposed treatment.
Online reviews. Automatically request patient reviews after appointments; push reviews to Google, Facebook and Yelp; store reviews on a personalized, SEO-friendly website.
Centralized management. Manage marketing campaigns for multiple practices from a single portal and tag locations for easier grouping/organization.
Custom communications. Two-way texting, customizable marketing campaigns, family messaging and online appointment requests.
Digital forms. Make life easy on patients by giving them a link to fill out forms ahead of their scheduled appointment. Any outstanding forms can be completed via a tablet in-office.
Unlimited support. Every RevenueWell Enterprise customer receives a dedicated success manager and unlimited support.
Group practices should ask themselves the following when considering RevenueWell Enterprise marketing and communications software:
"What goals are we looking to accomplish when it comes to our patients?" (i.e., patient retention, increase case acceptance, reach more patients via email/text, centralization/consolidation, etc.)
"What would we like to accomplish with a patient relationship management tool?"
Do we have a HIPAA-compliant, centralized portal for marketing to patients?"
"How do we currently send out promotions/marketing efforts to our patients?"
"How do we currently reach out to patients that have not scheduled their proposed treatment?"
Group practices may have a few concerns:
We already have a patient communication tool in place.

If this is the case, they very likely are using a system tailored to the solo practitioner, not a DSO/multi-group practice solution. Our solution is tailored to dental groups first.

I'm worried we won't see a substantial return on this investment.

The average RevenueWell practice sees a return of 18x. On average, every individual practice adds more than 900 appointments in the first year. For a 35-location group practice, that results in roughly $2.6 million of added revenue.
RevenueWell Enterprise provides an easy way to streamline multi-practice operations and patient communications under a single umbrella.
Editor's note: Sponsored by RevenueWell.