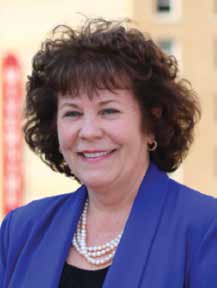 By Katherine Schrubbe, RDH, BS, M.Ed, PhD
A review of OSHA's Hazard Communication Standard
In today's world, all dental settings have a myriad of requirements that must be complied with, including OSHA, HIPAA, state laws, best practices, professional standards of care and more. Large group practices have a higher visibility in the community they reside. Along with higher visibility comes a higher risk and the need to manage that risk for the practice. Compliance and safety for patients and staff are the pinnacle for the practice. Manuals full of protocols, procedures and checklists are utilized to ensure compliance to set standards.
One of the more challenging areas for compliance is hazard communication. Most oral healthcare professionals would not cite the risk of injury due to chemical exposure as one of their main workplace concerns. While dental offices typically do not store large amounts of chemicals, inherent risks still remain. Chemical exposure to items such as disinfectants and acrylic materials in the clinical setting can result in serious health consequences. These problems can range from short-term issues to life-threatening conditions, including damage to the heart, kidneys, liver, and lungs.1 This article will provide a brief overview of the current Hazard Communication standard and its requirements for dental practices.
To help minimize the threat of chemical exposure in the workplace, the United States Occupational Safety and Health Administration (OSHA) revised its Hazard Communication Standard (HCS) on March 26, 2012. This was a three-year phase-in standard to be fully implemented in 2016.
Table 1. Phase-in dates under the revised Hazard Communication Standard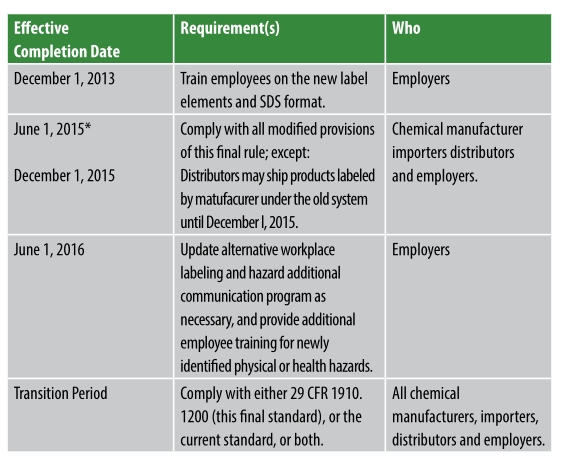 The changes brought the United States into alignment with the United Nations Globally Harmonized System of Classification and Labeling of Chemicals, further improving the health and safety protections for American workers. The revised standard is expected to prevent an estimated 500 injuries and illnesses and 43 fatalities annually.2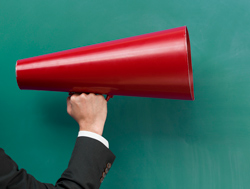 Designed to ensure that information about chemical threats and associated protective measures are broadly disseminated, the HCS requires chemical manufacturers and importers to evaluate the hazards of the chemicals they produce or import. They must then provide information on the labeling of their shipping containers, as well as more specific details via safety data sheets (SDSs) to the end users. Employers such as dental practices, with hazardous chemicals in their workplaces must prepare and implement a written hazard communication program, ensuring that all containers are properly labeled, employees have access to SDSs and workers are effectively trained to respond to chemical exposure.3
Dental practice settings are required to comply with the directives outlined in the HCS, as there is a high risk of exposure to the chemicals used in the delivery of oral care, as well as during the cleaning and disinfection of the clinical setting and instruments.
Classification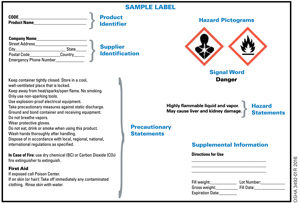 The first change to the HCS is related to hazard classification. Today, definitions of hazards must provide specific criteria for classification of health and physical risks, as well as chemical mixtures.4,5 These criteria are intended to ensure that evaluations of hazardous chemical effects are consistent among all manufacturers, improving the accuracy of labels and SDSs. The U.S. Environmental Protection Agency designates which chemicals are hazardous.6 But the initial identification, evaluation and notification of chemical hazards is the manufacturer's responsibility. This information is then disseminated to those parties who have purchased the chemical.4
Labeling
The second modification to the HCS is labeling. Manufacturers and importers are now required to provide labels that will list the product identifier; include a hazard statement or a short phrase that describes the nature of the hazard; use a harmonized signal word, such as "danger," to alert users of the severity of the hazard; include a precautionary statement that explains how to handle, store and dispose of the hazard; and include a new pictogram that represents a specific message about the chemical.4,5
By June 1, 2015, all labels were to appear like the example in Figure 1.6 Today, labels must contain a pictogram, consisting of a symbol on a white background framed within a red border, representing a distinct hazard(s).7 The pictogram on the label is determined by the chemical
Figure 1. Sample chemical label.
hazard classification, as seen in Figure 2.4,7 This change will indirectly affect the dental health team and office staff, as employers now are responsible for maintaining easy-to-read labels on containers. According to OSHA, employers have the option to create their own workplace labels with the required information per the current HCS.8
Figure 2. HCS pictograms
Safety Data Sheets
Another major change to the HCS requires manufacturers, importers and distributors to provide end-users with an SDS for each chemical. These updated information sheets appear in a new 16-point uniform format.4,9 Employers must obtain a specific SDS for each chemical present in the dental practice, and it cannot be generic. For instance, if an office uses three different types of amalgam, three specific SDSs must be kept on file.4 Employers must ensure that SDSs are kept either as hard copies in a binder or in an electronic format that is consistently backed up and readily accessible to all employees.9 The new SDS format helps clinicians keep up to date with the sections that are necessary for follow-up in case of patient or provider exposure.9
Training
Training is essential in the dental practice in order to increase staff knowledge on an area of importance. Hence, the last major change to the HCS is related to training. A written hazard communication program is required in all workplaces where employees are exposed to hazardous chemicals, including dental settings. This plan describes how the HCS will be implemented. Employers must provide training to employees at initial hire and/or when a new hazard is introduced in the workplace. As such, annual HCS training is recommended.4
Conclusion
The revised HCS is intended to reduce confusion about chemical hazards in the workplace, facilitate safety training and improve understanding of chemical use and its inherent risks.8 Although dental team members may minimize the danger of chemicals in their day-to-day practice of dentistry, risk does exist. Since 1970, OSHA's mission has been to protect all American workers from hazards encountered in the workplace.10 The current HCS is another example of this, and it is critically important that all dental team members recognize, understand and mitigate the risk of chemical exposure in their workplace. Large group practices can be the role model and can continue to set high standards for required compliance.
References
Kehe K, Reichl FX, Durner J, Walther U, Hickel R, Forth W. Cytotoxicity of dental composite components and mercury compounds in pulmonary cells. Biomaterials. 2001;22:317–22.
United States Environmental Protection Agency. Globally Harmonized System for Classification and Labelling of Chemicals. Available at: https://www.osha.gov/dsg/hazcom/HCSFactsheet.html. Accessed March19,2017.
US Department of Labor. What Is Hazard Communication? Available at: www.osha.gov/dsg/hazcom/whatishazcom.html. Accessed March 19, 2017.
Miller CH, Palenik CJ. Infection Control and Management of Hazardous Materials for the Dental Team. 5th ed. St. Louis: Mosby Elsevier; 2013;246–263.
US Department of Labor. Hazard Communication. Available at: www.osha.gov/dsg/hazcom/index.html. Accessed March 19, 2017.
US Department of Labor. Hazard Communication Standard Labels. Available at: https://www.osha.gov/Publications/OSHA3492QuickCardLabel.pdf. Accessed March 19, 2017.
US Department of Labor. Hazard Communication Standard Pictogram. Available at: https://www.osha.gov/Publications/HazComm_QuickCard_Pictogram.html. Accessed March 19, 2017.
US Department of Labor. Frequently Asked Questions: Hazard Communication (HAZCOM). Available at: https://www.osha.gov/Publications/OSHA3636.pdf. Accessed March 19, 2017.
US Department of Labor. Hazard Communication Safety Data Sheets. Available at: https://www.osha.gov/Publications/OSHA3514.html. Accessed March 19, 2017.
US Department of Labor. About OSHA. Available at: https://www.osha.gov/about.html. Accessed March 19, 2017.
Editor's Note: Katherine Schrubbe, RDH, BS, M.Ed, PhD, is director of quality assurance at Milwaukee, Wisc.-based Dental Associates.