By Laura Thill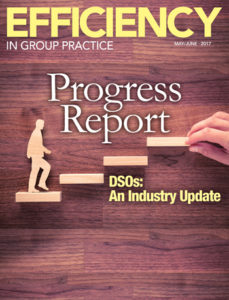 DSOs: An Industry Update
Editor's note: Progress comes in many shapes and forms. Advances in technology and an evolving focus on the patient experience have raised the bar for clinicians, as they hustle to stay at the forefront of an industry marked by lightning-speed growth.
---
Determined to be a leader, the dental industry has taken significant steps these past 10 years to ensure it offers more and better services to patients. With that has come the growth of dental service organizations. In fact, for many dental professionals, DSOs have made it possible to stay focused on patient care rather than getting swept up by the demands of their business.
Efficiency in Group Practice reached out to several industry experts to discuss the evolution of the dental service organization: the factors that have impacted their growth, the challenges they have faced and the changes that lie ahead.
---
Benevis Practice Services
Efficiency in Group Practice: How have dental service organizations, including your own, grown over the past 10 years?
Andrew Oreffice, senior vice president of compliance & government relations: DSOs have grown in size, influence and sophistication throughout the past decade as more dentists have opted for a practice model that allows them to focus on what they went to school to do – practice dentistry. Nearly 7 percent of dentists in the United States are now affiliated with a DSO, according to the latest data from the ADA Health Policy Institute, and that percentage almost doubles for dentists under the age of 35. Today there are hundreds of DSOs that range in scope and size. At Benevis, we've grown from 14 affiliate dental practices in 2006 when I joined the organization to more than 150 affiliate practices in 2017. Part of this growth is due to the increasing popularity of DSOs among new dentists. We've also invested in award-winning technology and industry-leading compliance programs that make our practice support services especially attractive to established dentists and group practices.
EGP: What factors – economic, legislative, social, etc. – have impacted this growth?
Oreffice: Increased regulation and administrative bureaucracy, technology changes and economic factors have made it more difficult for dentists to run financially viable private practices. Increasingly, established dentists and group practices are partnering with DSOs to manage the non-clinical aspects of running a busy practice. They do this to alleviate themselves of the hassles of things like HR, payroll and marketing, and also to tap into the DSO's buying power and economies of scale for equipment and technology purchases. Younger dentists – often saddled with student loan debt and seeking professional growth opportunities – are attracted to DSO-affiliated practices because they offer competitive wages and benefits, clinical training, professional development and a modern, sophisticated practice setting that does not require a large startup investment or additional loans to build.
EGP: What have been some of the greatest challenges facing DSOs, and what strategies have proved successful for addressing them?
Oreffice: As is the case with any innovative and disruptive industry model, there has been some skepticism about – and resistance to – DSOs from the dental establishment, state and federal regulators, lawmakers and payors. This is changing as more stakeholders become educated about the DSO model and see the benefits – particularly a better quality of life for dentists, improved dental health outcomes for patients and lower costs for payors. It is hard to dispute data, which is one of the reasons Benevis has invested in electronic health records and comprehensive quality and compliance programs. Our own internal data, as well as publicly available government data, consistently shows that our affiliate providers like Kool Smiles are leading the way in providing conservative care, improving patient health outcomes and lowering costs for government payors like Medicaid. We also do a lot of outreach to stakeholders to educate them about the DSO model, share our success stories and best practices, and give voice to the growing number of dentists who have found their clinical home with a DSO-affiliated provider.
EGP: In your experience, is it easier or more difficult for DSOs to do business today compared to past years?
Oreffice: In some ways it is easier for DSOs to do business today due to changing perceptions about the DSO model and its growing popularity. Of course, these positive trends also mean that the DSO sector is more competitive than it was 10 years ago. Like the rest of the dental industry, DSOs will need to continue innovating and evolving to stay competitive in the years ahead.
EGP: What is the biggest change we can expect to see in dental healthcare in the next several years, and what will this mean for DSOs?
Oreffice: The biggest change we can expect to see in dental healthcare is the shift from fee-for-service to pay-for-performance models, both among public and private payors. Rather than paying providers for volume, pay-for-performance models will reward preventive care, cost-effective management practices and improved oral health outcomes. With their industry-leading EHRs and quality and compliance systems, DSOs like Benevis are uniquely positioned to help dentists demonstrate value and outcomes, so we expect that even more dentists and group practices will enlist the expertise and resources of DSOs as they navigate this new payment paradigm in the years to come.
---
Great Expressions Dental Centers
Efficiency in Group Practice: How have dental service organizations, including your own, grown over the past 10 years?
Greg Nodland, COO: Through the years, we have seen an increased awareness, understanding and acceptance of the DSO model. Today we see greater coordination among specialists, leading to better clinical outcomes, as well as a more rewarding clinical environment for our doctors. For instance, at GEDC we created a Doctor Career Path – a way for doctors to have a long-term career with growth vs. going to individual practice and doing associate work then moving to the next practice. We want our doctors to know that their career can flourish and grow at GEDC and there is a path to help them reach the heights they want to achieve. An increased level of sophistication has driven efficiencies in claims administration and adjudication. In addition, an increasingly coordinated approach to dental healthcare has ensured the highest level of safety and compliance with laws across all offices, exceeding the industry norm. DSOs overall are focusing on the measurement of the patient experience, which goes beyond great clinical care and patient service. Many are trying to figure out how to enhance the patient experience.
EGP: What factors – economic, legislative, social, etc. – have impacted this growth?
Nodland: For one, complexities in insurance plans and shrinking benefits have made it imperative for dental organizations of all sizes to work efficiently to manage their business. Cutting clinical corners is not an option. Also, the economics for dentists relative to debt out of dental school continues to create challenges for them in their practice or within a DSO.
Legislatively, with the growth of the DSOs, to a degree there is an unknown as to how they operate and their place within organized dentistry. With that there has been a lot of activity and discussion within various states. DSOs in particular have organized via ADSO to fill this knowledge vacuum, working directly with legislative members to address concerns. And as the COO, I meet with anyone at the political/legislative level who wants to learn about the DSO model and how it is helping patients from all walks of life get the care they need for them and their family.
Socially, as with all medical verticals, dentistry is going through some consolidation. We've seen it in pharmacies, hospitals, dermatology, etc. As this change progresses, both doctors and patients have become more familiar with the DSO model. Whereas a patient may not have gone to a DSO-affiliated office 10 years ago, this mindset is changing quickly. People are busy, and they are looking for a dentist who can accommodate their schedule, is affordable and offers quality care. That's something organizations like GEDC bring to current and future generations of patients.
EGP: What have been some of the greatest challenges facing DSOs, and what strategies have proved successful for addressing them?
Nodland: Some of the biggest challenges have included educating the public about the role and purpose of a DSO within the dental industry; developing efficient business models as dental groups expand geographically and in size; and educating the public that seeing the dentist before a problem occurs is best for one's health.
ADSO has been instrumental in educating the dental community, state and local governments and the public. Likewise, through GEDC's continued involvement in professional organizations, such as the ADA, AAO and state societies, people can learn about GEDC and we can better understand their concerns and thoughts. In addition, GEDC has become increasingly involved with dental schools to meet with the deans, faculty and students. We are committed to hiring experienced managers to help with growth; developing robust training and development programs; investing in information technology to ensure patient flow is efficient in the office and allowing the clinical and business management team to see all data points; and investing in our doctors and office team members with leadership training and continuing education.
EGP: In your experience, is it easier or more difficult for DSOs to do business today compared to past years?
Nodland: It has become easier, particularly as the role of the DSO is better understood and financial and political challenges have continued to hit the industry. Dental professionals are much more open to joining a DSO, as they appreciate and understand how DSOs can provide a great work/life balance and a great clinical environment in which to provide care to their patients.
EGP: What is the biggest change we can expect to see in dental healthcare in the next several years, and what will this mean for DSOs?
Nodland: Besides the expanded role of DSOs as a percent of the industry, the biggest changes will include the ever-changing insurance environment, increasing coordination between dental and traditional medical care and improving clinical technology and methods allowing general practitioners to expand their range of services. In addition, we will see more DSOs appear and earn a larger share of the market. I believe we also will see more transparency in healthcare overall, including dental, as people become more involved with their insurance and, by default, understand it better. We have seen innovation in the dental industry, with products like Invisalign, and moving forward I think we will see even more, further enhancing the patient experience.
---
ADSO
Efficiency in Group Practice: How have dental service organizations grown over the past 10 years?
Michael Bileca, ADSO President: The number of practices supported by DSOs has grown considerably over the past 10 years. Along with that growth, DSOs have implemented strategies and systems to further refine how they perform non-clinical back-office support services. For example, over the past 10 years, many practices supported by DSOs have benefited from investments made by DSOs in technology, non-clinical staff training, the latest clinical equipment and other areas. As part of this growth, DSOs have been able to further lower costs of supplies, equipment and other items used in dental practices due to the increased purchasing power they have to benefit the practices they support. The increase in growth has also increased the retention rate of non-clinical professionals and specialists who, in turn, have increased the level and quality of services provided to supported practices.
EGP: What factors – economic, legislative, social, etc. – have impacted this growth?
Bileca: There are a number of factors that have impacted this growth, from the increased awareness of the impact of oral healthcare on other areas of the body, to the debt that many dentists incur by the time they graduate from dental school. Increased awareness of the connection between a person's oral health and his or her overall health has driven legislators and policy makers to consider their constituents' access to quality dental care. Since DSOs address the non-clinical aspects of dental practices for dentists (which can account for as high as 30 – 40 percent of a dentist's time in a traditional practice), those dentists are able to spend more time with their patients, increasing access to oral healthcare. In addition, the cost savings realized by practices supported by DSOs on their non-clinical activities permits those dentists to pass along the savings to their patients in the form of lower costs, which also increases access.
At the provider level, the huge economic costs incurred by dentists in dental school, which is often financed by student debt, leaves many graduating dentists without the credit capacity to start their own practice. A typical dental practice can cost between $500,000 – $750,000 or more to start. Those graduating dentists are left with few professional options other than practicing as another dentist's associate. Associate dentists often earn far less than dentists who own their practice, making it difficult or impossible to open their own practice after payment of the ongoing debt obligations from their education. However, dentists who choose to hire a DSO to help with the non-clinical aspects of their practice are provided the capital necessary to own their own office. This provides dentists who otherwise could not afford to open their own practice with a path to ownership. Those additional practices, in turn, help increase access to dental care by increasing the number of clinical hours available for patients, increasing competition and passing along savings that the supported dentists achieve on their non-clinical costs in the form of lower patient fees.
EGP: What have been some of the greatest challenges facing DSOs, and what strategies have proved successful for addressing them?
Bileca: While the number of dental practices supported by DSOs over the past 10 years has grown substantially, they still account for less than 20 percent of the total number of practicing dentists, leaving them a substantial minority compared to the number of dentists who have chosen to practice in a traditional or other way. (Traditional practitioners – along with local, state and national dental associations – are commonly referred to as organized dentistry.) Dentists supported by DSOs often provide care to patients who, for one reason or another, are not receiving care from traditional practitioners. For example, the Federal Trade Commission has noted that due to the cost savings that supported practices of DSOs realize, they are often able to accept the lower fees offered by state Medicaid programs and profitably provide care to those otherwise forgotten patients.
Organized dentistry is very powerful. In some states, the political action committees of state dental associations are in the top 5 of political action committees in their respective states. Some members in organized dentistry have attempted to pursue anti-competitive legislative agendas aimed at eliminating the ability of DSOs to conduct business or reducing the ability of dentists to hire DSOs. Earlier this year, the American Legislative Exchange Council (ALEC) released a study entitled, "Overregulation Threatens Market-Driven Solutions in Dentistry," which highlighted the concerns around the anti-competitive, anti-consumer nature of over-regulation in the healthcare industry. To date, none of those of those efforts have been successful. Once legislators learn how DSOs function and become aware of increased access to quality dental care to their constituents from DSO-supported dentists, they often back down from supporting anti-competitive legislation supported by organized dentistry.
The DSO business model is one where the more often things are done the right way, the more successful the practice owner's business is. DSOs provide efficiencies to their supported dentists, which are passed along to patients in the form of lower fees and increased access. Since supported dentists do not have to trade their valuable clinical time to run the business side of their practices, they are able to provide quality dental care to more people, compared with dentists who choose to practice in a traditional setting.
Educating legislators and other opinion-leaders about the many benefits of DSO-supported dental practices has helped overturn adverse legislation and increase awareness of why it's important to allow dentist to choose what works best for them. This year, Arkansas became the first state to pass affirmative legislation protecting the rights of dentist to hire DSOs, as well as for DSOs to provide their services to dentists. The DSO industry remains hopeful that this signifies movement towards greater acceptance in organized dentistry of the benefits provided by DSOs.
EGP: In your experience, is it easier or more difficult for DSOs to do business today compared to past years?
Bileca: Both. Years ago, when DSOs and the dentists they supported were small in number, they were able to operate without issues relating to organized dentistry. As time went on, dentists and their patients better understood the benefits offered by DSOs, and more dentists chose to hire DSOs to support their practices. This made some in organized dentistry uneasy, and opposition to DSOs became more organized, coalescing into anti-competitive legislative activity in a few states.
However, over the same period of time, both dentists and patients became increasingly familiar with the benefits provided by DSOs. As such, more and more dentists have taken a hard look at how they have set up the business-side of their practices, and many of those dentists are seeking out DSOs for the benefits they provide. Even though DSO-supported dentists account for less than 20 percent of all dentists nationwide, in many ways DSOs have come to offer a mainstream approach to addressing a practice's business needs compared to the traditional practice structure.
EGP: What is the biggest change we can expect to see in dental healthcare in the next several years, and what will this mean for DSOs?
Bileca: Dentistry is one of the few areas of healthcare where insurance is less prevalent than in medicine. It is reasonable to expect that the number of practitioners who accept dental insurance will likely increase over the next several years, although reimbursement rates to practitioners may continue to be flat. This increased acceptance of insurance will drive dentistry to become more efficient in the way care is provided to patients. Since DSOs are a driving force in increasing the efficiency of a practice's non-clinical activities, we believe that more dentists who practice in a traditional structure will seek out the efficiencies offered by DSOs, making it possible for them to accept the lower insurance reimbursement rates and still remain profitable. DSOs have been leading the change towards increased efficiency in dentistry, and market forces that place a premium on efficiency will result in a significant growth in dentists hiring DSOs to achieve those efficiencies.
Dentistry is the last major area of healthcare to fully modernize its non-clinical support services. Healthcare, optometry and pharmacy all have similar administrative support structures provided by organizations similar to DSOs. Dentistry is 15 to 20 years behind the rest of healthcare in terms of operating in a modern business climate. Is there a physician in this country who does his or her own billing or office leasing? Despite the myriad benefits of DSOs, more battles are likely to ensue. However, the inevitability of progress and the ultimate benefits to patients provided by DSO-supported dentists will win out.