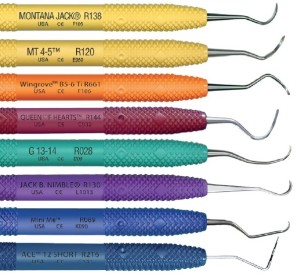 Scaling can be hard on your hands. Relieve your hand fatigue with our winning pair of Jacks: Montana Jack® for posteriors and Jack B. Nimble® Slim for anteriors. Breeze through your day with long-lasting edges and thin, anatomically designed blades. Studies show that between 40 to 70 percent of dental professionals suffer from hand and wrist pain. It is important to take steps to prevent this pain, which can affect career longevity and productivity, as well as quality of life. Major studies state that instruments that are 10mm in diameter, reduce muscle contraction and that a good knurl pattern on a handle can help you reduce the pinch force necessary to grip an instrument. The most beneficial instruments should weigh less than 15 gm, since weight is residual in your tendons and ligaments. PDT instruments address all of these issues with their passionate, purpose-driven design to reduce your risk of Carpal Tunnel Syndrome. Keep your staff healthy and reduce your workers comp by using PDT's Montana Jack and Jack B. Nimble for scaling. This great pair of Jacks should also be on your restorative trays for successful and comfortable cement removal.
Special group practice pricing is available and on top of that, the time savings and patient comfort added due to long lasting edge retention is what truly brings savings to your practice. PDT instruments hold their edge two to four times longer than other instruments and, yes, you can easily re-sharpen them rather than throw them away. Bring speed and consistency to your sharpening procedures by using the Ultimate Edge™ Transformation Sharpening Kit on all of your instruments. As easy as 1, 2, 3. Please watch our sharpening video at pdtdental.com.
Please integrate PDT products into your practices to see how we can streamline your operations and create a more comfortable and efficient working environment in your offices. Care for your staff and keep them happy and comfortable with innovative designs that reduce their hand fatigue, and you will notice a difference in moral, as well as in production.
Editor's note: Sponsored by PDT Dental