Efficiency In Group Practice is a publication dedicated to bringing large group practices, regional multi-location practices, effectively the entire spectrum of corporate dentistry,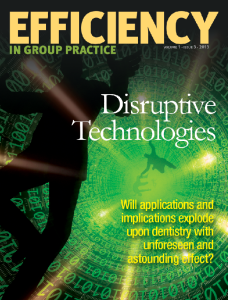 timely and useful information that is pertinent for the entire team. From the clinician to the procurement manager, we're focused on helping you grow and thrive in your group practice.
Our goal with Efficiency In Group Practice is to give you specific information that will enable the group practice to perform at its very best. We include columns and articles which keep the entire team engaged, up to date, motivated and of course, efficient.
We'll keep you informed on the newest trends, technologies, educational opportunities and concepts to build your most efficient and profitable group practice. We understand the unique challenges you face as a group practice and in each edition we bring you the most current and progressive ideas from today's most respected experts in business and dentistry.
Efficiency In Group Practice shows you new ways to capitalize on your distinct strengths and differences to reach new heights of efficiency and our sponsors are dedicated to providing value and helping practices like yours to be efficient and profitable