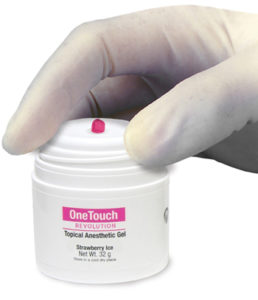 The One Touch Revolution is a topical anesthetic gel that offers practical benefits for both the clinician and the patient. The 20-percent benzocaine formula provides fast and temporary relief, and the unique pump-action jar dispenser delivers the exact amount of gel needed with every application. Clinicians waste less and save money. As an added benefit, only a single pump is needed to treat a quadrant, and the pump seals off the dispensed material from the remaining contents, helping reduce the risk of cross-contamination.
Even better, patients will appreciate the comfort provided by the fast onset, as well as the two pleasant flavors of strawberry ice and cool mint.
Dentists should ask themselves the following when considering the One Touch Revolution:
How is my topical anesthetic currently dispensed?
Am I finding it difficult to prevent more anesthetic than I need from coming out of the dispenser?
Some dentists may be concerned that One Touch Revolution costs more than their current brand of anesthetic. However, One Touch Revolution ensures a lower cost per use, since the efficient dispensing method yields more applications. Dentists can count on greater convenience, improved efficiency and better patient results.
Editor's Note: Sponsored by Hager Worldwide.