How the DEO Map: Culture helped to empower team members at Frandsen Dental.
By Daniel Beaird
Frandsen Dental, with three locations in the Salt Lake City area, experienced its largest yearly growth ever in 2021.
"It was great, but it was also chaotic," said Tiffany Fleisch, director of operations for Frandsen Dental, which has locations in Orem, West Jordan and Grantsville, Utah.
"We lived in the fire," she said. "We were firefighters. Something would pop up and we'd all jump in and put out the fire, but I don't think that helped anyone grow."
Fleisch implemented DEO Map: Culture and its tools this year to help Frandsen Dental embrace its growth. Now, its teams are welcome to openly challenge the system in place at Frandsen Dental.
"Before using the DEO tools, our teams wouldn't have voiced their concerns about anything. They just wouldn't have followed our system even if they had concerns about it. But now, I tell them to rip it apart and they do," Fleisch explained. "It's my system. Tell me how to do it better."
It's been such a success that Fleisch's leadership team and office managers want to implement the DEO tools even faster at Frandsen Dental.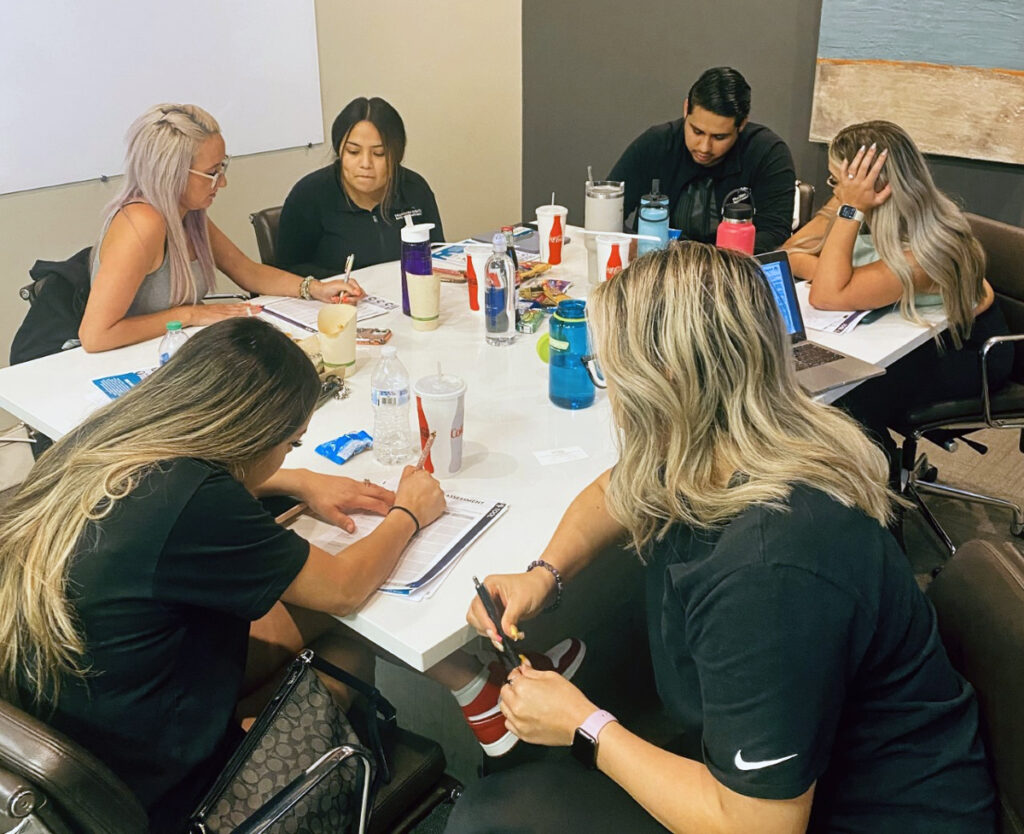 DEO Map: Culture
The DPR approach is a people management solution for the modern era. The system is built on principles to help group dentistry effectively and consistently engage its team members, hire the right people for the right seats, make a great first impression during the onboarding process, and grow the team each step of the way.
Old systems for managing people can create an "us versus them" mentality. The DEO Map aims to maximize the enjoyment of what people do and who they do it with. Relationships drive people throughout their lives and DEO wants to move from an "us versus them" mentality to a "we" mentality. The approach includes:
Engaging with people focused on connecting with the team, measuring its performance and coaching the team to its highest potential.
Hiring people using core values to identify candidates who best fit the company vision.
Onboarding people while focused on the first 90 days of a new hire's experience, making a first impression and setting up a new hire for success in the role.
Growing and effectively training people while creating a career development pathway for each position in the company, making it exciting for the team to learn and develop its skills.
Frandsen Dental has shifted its focus to a team-oriented model. "Our teams see that and they're more open and honest about how they're feeling and what's going on if something isn't working well," Fleisch explained.
"We changed our core values this year because my leadership team knew our teams were ready for it," Fleisch said. "The day we rolled them out at our locations, some team members cried for joy because they felt like they had lost why they get up and do this every day. It was a reminder, and it was so helpful for our teams."
The DEO Map aims to build and cultivate relationships with intention through direct person-to-person contact. It sets long-term and short-term goals through this relationship building.
SMART goals
DEO's SMART goals stand for Specific, Measurable, Attainable, Relevant and Time-Bound.
The goals state specifically what is going to be changed or accomplished, the amount of change needed and the quality of the results. The results are measured by making the achievement of success clear and unambiguous. The best goals are challenging but achievable through planning and persistence, stretching the team and forcing it to grow and improve.
The importance of goals should be known and how successes will enrich the lives of others. There should be a specific start date, due date and milestones to help track progress, allow celebrations or make larger projects more manageable.
"Somebody holding me accountable has been huge," Fleisch said. "Knowing that we're meeting with our implementer every 90 days makes me accomplish these things with my team. We struggled at first. We weren't successful in our first quarter of the program. Halfway through our second quarter, we realized what we told our implementer we were going to do, and we had to derail because we didn't stay on top of it. We were finally successful in our third quarter as a leadership team."
Fleisch compares it to losing weight. "If you say 'I want to lose weight' but you're the only one holding yourself accountable, you might lose weight. However, if you fall off the wagon, who cares? By meeting with our implementer every 90 days, it holds us accountable. It also holds me accountable to using the great tools our implementer brings us."
Gap and Gain
One of those tools Fleisch mentioned for team growth is called Gap and Gain.
"People tend to live in a gap if they're upset or sad," she said. "They're frustrated because they didn't accomplish things. But instead of looking at that gap, we look at all of the things we accomplished, and we can do this on a monthly basis."
These tools have helped Frandsen Dental celebrate team successes and have made 2022 Fleisch's favorite year in dentistry.
"I've been with Frandsen Dental for 15 years and in dentistry for more than 20 years and this was my favorite year by far because we know what we have to finish in a quarter," she said. "Before this year, we never stopped. It was one project after another. But now once my quarterly projects are done, I don't feel like I have to keep going. That's been very helpful."
Fleisch says last year's growth at Frandsen Dental was like drinking water out of a fire hydrant. But this year, they are mastering a few things and building on those.
"The DEO Map helps us focus on the most important things and not 40 other projects," she said. "It helps eliminate the noise."