How Dr. Jonathan Fu has built and expanded a business amid tumultuous market conditions.
By Pete Mercer
In the early days of the pandemic, it was hard to imagine starting anything other than a new TV show, a puzzle, or a loaf of sourdough. It was a period of time where everything simply came to a halt, whether we wanted it to or not. While many used that time for rest and reflection, endodontist Jonathan Fu used that time build a business.
Dr. Fu started his first self-owned dental practice in December of 2020, after working for eight years in Oahu, Hawaii. While the timing meant that there were more challenges than usual, Dr. Fu was excited and ready to start the Coastal Endodontic Studio in San Luis Obispo, California.
With the Coastal Endodontic Studio, Dr. Fu and his team are working to provide the highest quality care, using the state-of-the-art tools and technology to take care of their patients. "The cornerstone of our practice is about providing quality patient care. As an endodontist, a lot of my patients come in with a significant amount of pain. We try to take care of the emergency patients as soon as possible," Dr. Fu said.
Starting a practice in a pandemic
It was hard enough for some businesses to keep the lights on in 2020, which makes the prospect of starting a business from scratch all the more daunting. While Dr. Fu and his team were confronted with new challenges every day, he understood that there was an overall need for dentistry, especially endodontics.
Speaking of those challenges, Dr. Fu said, "Supplies and equipment were always backordered. All the restrictions made operations more challenging, but because there's always a public need for dentistry, we got busy fairly quickly."
Even that growth presented challenges for the Coastal Endodontic Studio. Staffing shortages were a significant hurdle for the industry during that period, especially in a remote area like San Luis Obispo. Nestled midway between San Francisco and Los Angeles, San Luis Obispo has about the half the population of Oahu. Pairing the remote location against the waves of people leaving the dental industry made staffing this new venture much more difficult.
Despite these challenges, Dr. Fu's practice grew and flourished. In 2022, Coastal Endodontic Studio almost doubled its annual revenue from the year before, with Dr. Fu and his team of associates each seeing about 80 patients a month. Additionally, the move from Oahu to San Luis Obispo has brought him closer to family.
"I grew up in Southern California and my wife grew up close to where we are at as well, so we just decided we wanted to be close to family," Dr. Fu said. "I think, like a lot of other people, the pandemic triggered those emotions and self-reflections on what's important in life."
While being closer to family was certainly a huge trigger for moving to California, the other piece of that equation was seizing an opportunity. "I was a partner in a group in Oahu, and we had a thriving practice. It was great. But I wanted to take the opportunity to go out on my own and figure it out."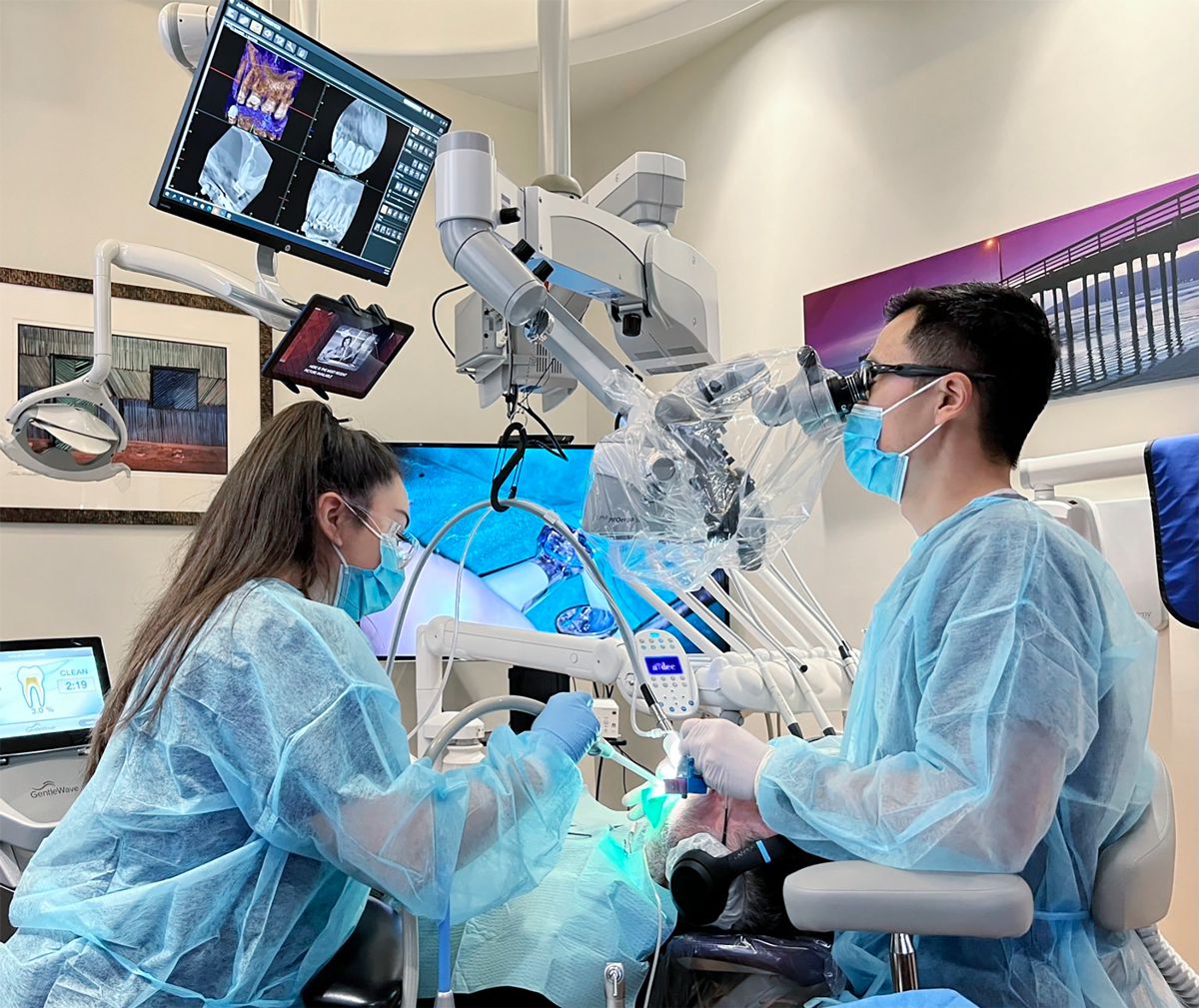 Laying the framework for a successful business
Not only has the Coastal Endodontic Studio grown its revenue and patient size, but Dr. Fu and his team have acquired two more locations – one of which was set to open in January. They recently closed escrow on the newest location, marking an exciting move forward for the growth of his practice. That growth points to an element of success that Dr. Fu is grateful for. "We have been really thankful to be so well received in the community. It's not something that happens every day."
Any new business has to establish itself in the community as a trusted operation that people will want to do business with, regardless of the industry. Dental practices can have an uphill battle attracting a new patient base, especially if there's a trusted and established practice in the area already. Fortunately, Dr. Fu and his team have partnered with several general dentists in the area for patient referrals.
About 90% of Coastal Endodontic Studio's business is from referring dentists in the community, with the other 10% coming to them organically. Because Dr. Fu is a specialty dentist, he still operates in the chair five days a week. He said, "Patients get comfortable seeing the doctor they want to see. That's been a bit of a challenge in trying to figure out how to balance managing the practice versus seeing patients. But I have aspirations to go down to three to four days eventually."
Defining the culture
A significant part of running a new business is establishing a healthy company culture. For the Coastal Endodontic Studio, the mission is to provide better care for the patients. As long as the patients and referring dentists are happy, Dr. Fu considers his practice a success.
At first, he and his team focused on providing that high quality, concierge service to the patients. As the practice grew, Dr. Fu said that he was just trying to live out what the culture should look like. "We are going to provide the best service, so I'm going to spend time with patients and we're going to explain everything. We're going to make sure that our patients are comfortable and continue to check in on them after the operation. A lot of things that patients don't expect, we try to deliver."
As the team has gotten larger, it became more difficult to maintain that culture. Not everyone had face-to-face time with Dr. Fu, so it became a challenge for him to convey what they were trying to do. He credits the DEO's resources on company culture as a helpful tool to build a solid culture foundation for the Coastal Endodontic Studio.
"It's still an ongoing process. Obviously, some people fall off that train and they aren't interested in what we are trying to do. We've lost a couple of people like that, which is OK. We want the right people in the right seats."
Regarding the future, Dr. Fu doesn't necessarily have any grand plans for how large he wants his business to be. As far as he's concerned, the growth they've experienced in the last couple of years has been a result of the hard work of his team and their being well received in the community.
The only thing he is focused on is treating his patients. "I just have a passion to help people," he said. That's enough for right now.