EGP New Products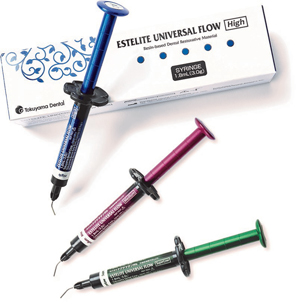 Traditional flowable composites do not have the strength required for a wide range of indications. As a result, their use is limited to cavity lining and minor restorations. Estelite Universal Flow by Tokuyama is a supra-nano filled universal flowable that combines the cavity adaption and handling of flowables with the strength and versatility of universals. Estelite Universal Flow is currently the only product in three well-designed flows – Super Low, Medium, and High – for a wide range of indications, including direct anterior and posterior restorations. Major product benefits are:
High compressive and flexural strength.
High wear resistance.
Low shrinkage.
Outstanding shade blendability.
High gloss retention.
Easy handling.
Exceptional polishability.
To achieve optimal restoration outcomes, dentists often combine flowable composites and universal composites to treat a cavity. A flowable base layer reduces the risk of voids with great cavity adaption, while a capping layer of universal composite contributes strength, esthetics and durability. Traditionally, this approach has required additional steps, increased chair time when placing the restoration, and required dentists to stock additional composite materials in their practice. With a composite that combines the benefits of flowable and universal composites, this is no longer necessary. Clinicians can achieve beautiful, long-lasting restorations with just one composite and in fewer steps.
Dentists who are considering Estelite Universal Flow should question whether their current flowable is:
Strong enough to be used in direct restorations, beyond cavity lining and minor restorations.
Offering the right level of compressive and flexural strength to handle both posterior and anterior restorations.
Esthetically pleasing for use in anterior restorations without a capping layer.
Available in different viscosities for increased ease of handling, depending on the case and indication.
Estelite Universal Flow is versatile, dependable and easy to work with. At press time, Tokuyama Dental America was offering new buyers the opportunity to purchase one Estelite Universal Flow and get the second Estelite Universal Flow of equal or lesser value free of charge. The new users can redeem this promotion up to three times.
Editor's note: Sponsored by Tokuyama Dental America.