By Graham Garrison
Elliot Zibel could see that his childhood friend Dr. Jonathan Mason had a good thing going. The fee-for-service practice Dr. Mason had bought in Manchester, Vermont in 2015 had more than doubled in growth in a couple of years. Intrigued, Zibel wanted to better understand how Dr. Mason drove growth. The answer, he found, was in Dr. Mason's patient-centric approach. "Growth was driven by more comprehensive patient care and improved patient experience," Zibel said.
The duo was confident they could recreate that success on a larger scale, so in 2018 they started Select Dental Management, a Dental Partnership Organization, in the Northeast. They initially partnered with four practices and grew them organically 60% the first year they were in operation. Today, Select has over 120 doctors and 39 practices in eight states. "Building SDM has been an enormous challenge and our success has not been linear," said Zibel. "We have made a ton of mistakes on this journey, but we learned from each one. Every obstacle we faced has truly represented an opportunity for individual and organizational improvement."
Perhaps the biggest lesson learned from researching the industry was weak organic growth experienced in practices post affiliation with DSOs broadly. "We asked ourselves, "Why weren't these groups able to drive growth in line with, or above, the market?" The answer came down to doctor retention. The groups able to retain a higher percentage of their doctors almost always performed better than those that didn't. So, Select started with a focus on being doctor-centric and built out its organization from there. "A true doctor partnership model was the best way for us to create alignment and drive doctor retention," Zibel said.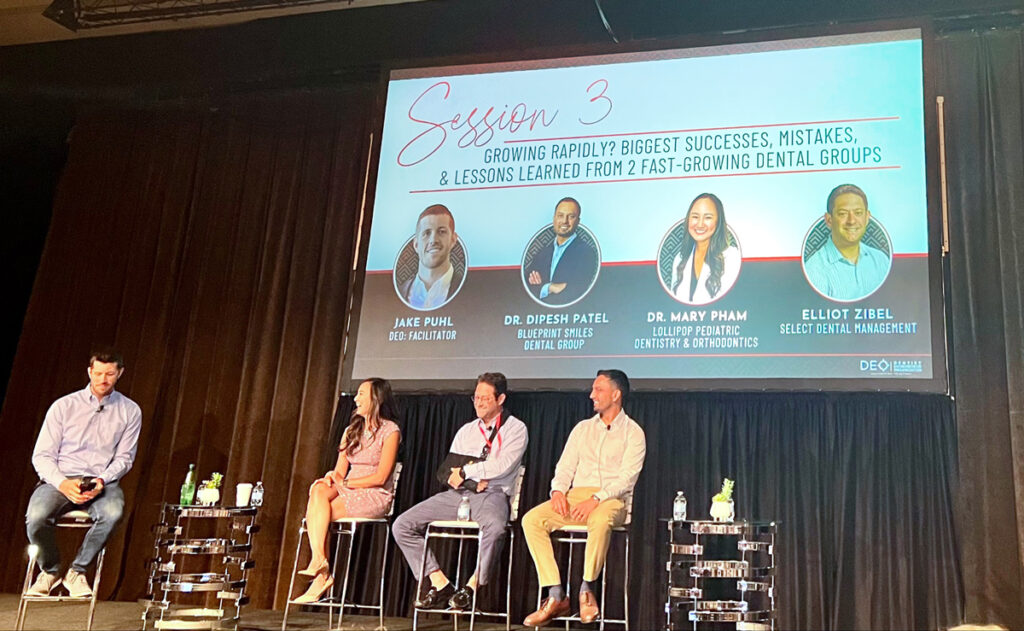 At Select, not only do doctors retain ownership, but they're treated like true partners. It's a very collaborative relationship. "We're focused on preserving the identity of what they have and what they've built, which has gotten them to be in the top 1% of dental practices," Zibel said. "We work with our doctors on how we can grow their practice in a patient-centric way, together. We support the development of strategic plans and the execution of those plans, but it's not a cookie cutter approach. It's much more decentralized. What we focus on to improve one practice might be totally different than a practice two miles down the road."
Doctors have substantial clinical autonomy for anything that impacts patient care and patient outcomes, including material and lab selection. Select invests heavily on development, continuing education and training for its clinicians. Six regional clinical leaders help with everything from doctor recruitment, onboarding, to development. "We are a clinician-led organization."
The doctor-centric partnership model has paid off for Select which boasts doctor retention and patient retention rates greater than 90%. The dental practices Select has affiliated with for over a year have grown more than 15% post affiliation on average. "We want to demonstrate an ability to consistently improve and grow the practices we affiliate with. Growth is driven by improved patient care and that is what really excites and motivates our leadership team and partners."
Patient retention
"The patient comes first in our model and patient satisfaction is one of the core metrics we use to evaluate our success," said Zibel. Select has identified 25 steps in the patient journey, starting with how the phone is answered and how the patient is greeted in the practice. "Each step is an opportunity to exceed expectations and create a 'WOW' patient experience." Select practices have over 7,000 reviews – 98% of them 5 stars – with an average Google score of 4.9.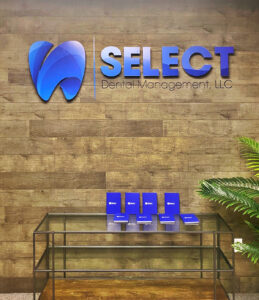 Patient satisfaction is one of the organization's four pillars, along with employee engagement, practice growth and practice efficiency. Specifically, Select is focused on driving growth in active patients, which represents the number of unique patients that have been in the practice in the past 18 months, consistently across all practices. The biggest driver of active patient growth is not attracting new patients, its retaining existing patients.
To illustrate the importance of retention as it relates to driving active patient and practice growth, Zibel uses an example of two practices, each with 100 active patients. One of the practices gets 20 new patients a year, the other 50. "Which one do you want to work for?" Zibel asks. "Most people usually say the practice that gets 50 new patients a year. But then I show them that the practice that has 20 new patients is only losing 3 patients a year, so they're adding 17 patients every year. The practice that has 50 new patients is losing 60 a year, so they're losing 10 patients every year."
The point, Zibel said, is that it's hard to fill a bucket with a hole in the bottom. "Our people understand not only how many new patients we're getting, but also how many are we losing, how many are we re-activating and how many are becoming inactive. We help our practices improve patient retention and quality of patient care by establishing systems, processes, visibility and accountability around key metrics. Ensuring patients are in regular re-care is one of the most important ways to improve the oral and systemic health of our patients, as well as the health of our practices."
Mining the data
As a self-described "numbers guy," Zibel is always looking for ways to improve patient and practice health with visibility into key metrics. That's why Zibel is excited about the upcoming launch of an enterprise-wide data warehouse. "It doesn't matter if you have one PMS system or several like we do. Getting important information that drives your business is extremely hard with most dental practice management systems."
Indeed, it can be difficult for a growing organization to get data real time in a consistent way. By having this data warehouse, which combines not only the practice management system data, but also data from payroll providers, Google analytics, net promoter scores and all sorts of other things, Select can take their analysis and management support of the business to another level.
"I think it's going to make it a lot easier for us to identify opportunities to improve patient care and to automate workflows which we expect to drive improve patient satisfaction and practice growth going forward," Zibel said.