The story of Blueprint Smiles
By Pete Mercer
Success in any industry doesn't typically happen without some help along the way. Collaboration is a huge part of success, and finding a supporting partner is a crucial step in any journey. For the dental industry, support can come in a number of different ways. For Dr. Dipesh Patel, it came in the form of Blueprint Smiles, a DSO he started to help practices grow.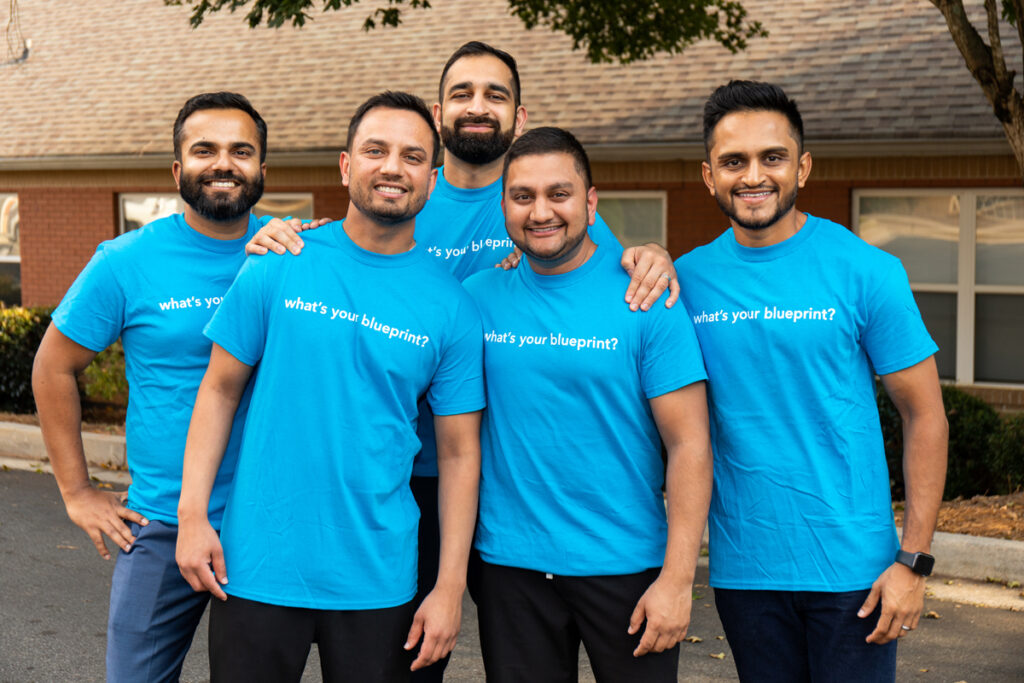 Blueprint Smiles started about 8 years ago. Dipesh had just finished dental school and purchased a practice, but he had very little experience and no knowledge of what to do next. He reached out to some friends from his years as an undergrad to build a website to help his business grow. Dipesh said, "I put a team together and said, 'Hey, I'll pay you guys based on profit that we have. Help me create this.' I knew I couldn't be the only one that was going to be in this boat, buying a practice and paying student loans." Dipesh used the services that Blueprint Smiles offers to help grow his original practice.
Dr. Ravi Patel, who serves as the Chief Operating Officer and Clinical Director for Blueprint, was Dipesh's roommate in dental school, and was in a similar situation with his experience. Dipesh convinced Ravi to buy a practice as well, promising to help him get started. "I told him, 'Well, I've already messed up about a year. I will make sure you don't mess up for at least that same time period.' So, he technically became our first client." After growing his practice, Ravi joined the team at Blueprint. Dipesh pushed his team to move into acquisitions. With an IT specialist, a lawyer, and an operations specialist, Dipesh and Ravi started growing Blueprint Smiles by purchasing three more practices.
Ravi described the motivation for growing Blueprint Smiles, saying, "These practices that we grew, they were grown with the intent to make our own lives easier. We built these organizations to serve us and give us a quality of life that we could enjoy, which embodies our motto 'Work, Life, Thrive'. Once we got these organizations to where we felt like they were successful, we knew that we weren't the only ones that could go through this process of practice growth. If two guys that probably aren't the smartest guys in the room can do it, there have to be other folks out there we can help support."
Ravi and Dipesh wanted to replicate their success for other dentists, partnering with them in order to give them the same quality of life and success they had both experienced. This approach is what makes Ravi and Dipesh unique in the industry. They developed a formula that not only works for who they are and what they do, but they have proven that it works within their own practices.
The pursuit of personal and professional growth
With five practices across the metro-Atlanta area, Blueprint Smiles consists of five founders (two of which are dentists). Dipesh likens the organization to five friends who have created a fun project together. Every dentist that partners with Blueprint has the opportunity to hit certain benchmarks, which will trigger a clause that allows them to buy their practice within a few years. "We offer true ownership at the practice level, as far as equity goes," he said. "We want our practices to feel like they are individual private practices. They aren't even branded as Blueprint Smiles, they are labeled Marietta Dental Professionals, Buford Family Dental, Riverwood Dental, DentalCare Acworth, and Elegant Smiles."
Blueprint's model is intended to facilitate a thriving personal and professional life. They have created a professional and fun environment for the team so that work doesn't feel like work, so in turn, dentistry doesn't feel like dentistry. Dipesh said, "We don't believe in work-life balance. We hate the word balance. We believe that both elements should thrive, without making sacrifices on either side."
Dipesh said Blueprint Smiles is dedicated to being a PSO (People Support Organization), "where we support our people who indirectly support our patients. It ties into the personal and professional growth and core values," he said. "We may do things that DSOs do on the management side, but our true philosophy is supporting our people."
A focus on employee engagement and creating a culture that will encourage retention and productivity has paid off for Blueprint's success. "Our premise was to create an organization around that idea where people would feel enriched in both areas of their life, which ultimately leads to happier individuals that are more productive personally, professionally, and more active in their community."
A practice run by core values
Blueprint Smiles has a foundational set of seven core values that guide patient interactions and business decisions. Dipesh explained how Blueprint Smiles has implemented their core values to improve the work culture and better develop their team.
1. Respect time – Time is a fleeting and finite resource, making it invaluable to every one of us. Blueprint's team understands the value of time and what it can mean for the organization, the patient, and the individual team members.
2. Me to we – Blueprint runs their operations with a "we" mindset. Because they operate as a team, they work to facilitate an environment with no ego involved. Dipesh said, "We're better together."
3. Perpetual growth – Growth is essential to fostering employee engagement. Blueprint wants their team members to grow professionally and personally. Dipesh explained, "We want everyone to remember that it's very important to grow in both aspects, personally and professionally. Whether it's time management, sleep, or their relationships with their kids. All of it matters."
4. Do the right thing – Working with integrity and honesty is another essential part of working with Blueprint Smiles. "Everyone goes chasing things they don't even know they're chasing, but they're not really doing it for the right reasons. They think it's going to lead to growth. So they chase the bigger practice, the bigger number, the fancier car. All to see if it's going to make them happy, but in the process, they might not be doing the right thing. We want our team to do the right thing right that's going to make you happy and give you joy."
5. Be grateful – "We practice gratitude through and through. We are in a blessed country with blessed circumstances. Whether things are going well or not, we still have a roof over our heads, and a job with teammates that care about us. So be grateful for the little things."
6. Cultivate happiness for you and others – Happiness is a choice. Making that choice for you and your patients is a great way to improve patient care and your connection with your team. Dipesh said, "Make sure you're doing things to make yourself and others happy."
7. Become leaders – Finally, Blueprint is working to develop leaders. "Become leaders at home, at work, and in your community. Make sure you're growing as a person. You don't have to be the CEO to be a leader."