How Dr. Ali Mehio has built a successful practice through technology-based treatments and company culture.
By Jenna Hughes
Many dentists know that their calling is dentistry at a very young age, and others find the passion for dental work through experience in the industry. For Dr. Ali Mehio, it was his experience in dental residency that provided him with the confidence and expertise to manage his own practice.
Dr. Mehio began the first five years of his dental career in Montreal building his first practice after graduating from McGill University Faculty of Dentistry in 2002. After university, he enrolled in a one-year program in Advanced Education in General Dentistry Residency (AEGD) at the University of Michigan.
Dr. Mehio's current practice, Aria Dental Studio, was opened in 2009 in British Columbia, Canada. After getting married to his wife, he relocated to British Columbia from Montreal and opened the practice in the heart of downtown Vancouver. The boutique family dental office consists of eight staff, including receptionists, dental hygienists, and CPAs. They treat a wide range of patients from young children to retired people.
"I see my patients like family. It is important to me to provide my patients with the best treatment that I can provide. I'm always training and mentoring staff to make the practice more predictable and to improve their diagnostic entry skills," Dr. Mehio said.
A large part of running a trusted business is maintaining a healthy company culture. At Aria Dental Studio, staff strive to treat patients with evidence-based methods while using the latest technological advances, and they treat patients as they would want their own dentist to treat them.
Managing a practice in a pandemic
Similar to many other companies within the dental industry, the team at Aria Dental Studio has faced the challenge of labor shortages. To motivate staff, Dr. Mehio implemented wage increases and staff bonuses in addition to the introduction of work from home capabilities for staff. These staff benefits encourage the team to perform at their best and also helps them to respond with resiliency in the face of workplace challenges.
During the COVID-19 pandemic, Dr. Mehio anticipated the challenges that would lie ahead, and his practice acted quicky. "We acted really early in the COVID-19 pandemic, even before official guidelines had been set. Our practice purchased filtration units, N-95 masks for all staff, and medical gowns. We were only closed for a short time during the COVID lockdowns in early 2020. Within two months, Aria Dental Studio was up and operating."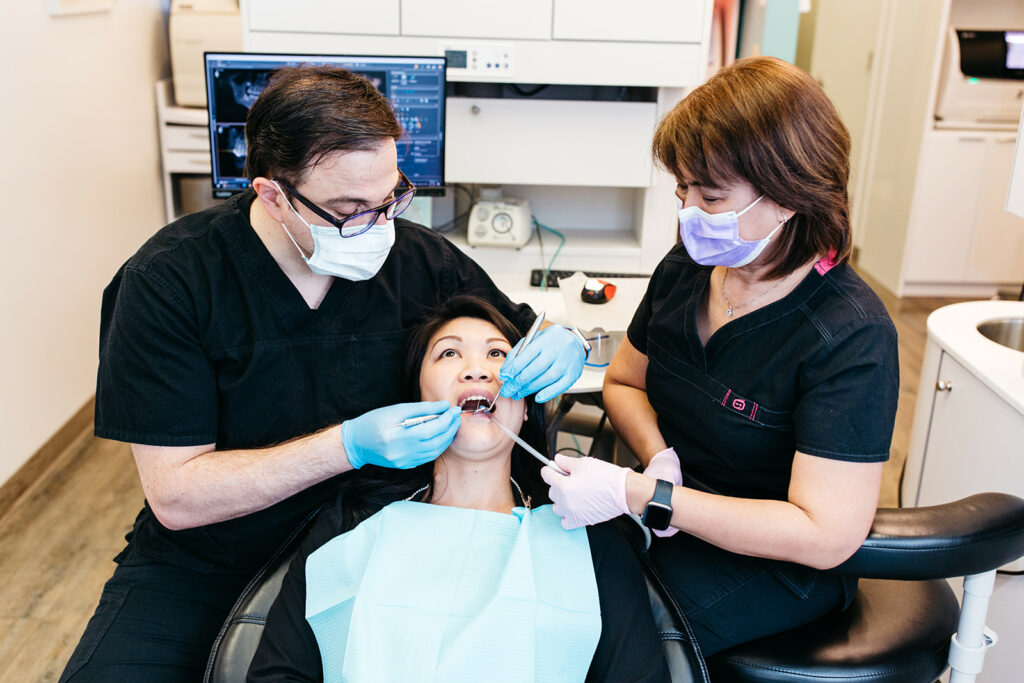 Technology sets a practice apart
Dr. Mehio began his career with an initial interest in engineering. Following in his parent's healthcare footsteps (his mother is a pathologist and his father a surgeon), he double majored in computer engineering and health sciences. He then went on to dental school, but it wasn't until later in his career that he found a passion that combined both of his interests within the dental field.
"When I went to Michigan to do my residency, I was introduced to the CAD/CAM software system and concepts like 3D milling and printing. That's where dentistry became interesting to me. In my current office, I have two scanners, a milling machine, two printers and a designing software that I use every day and they make everything about running a dental practice more predictable. I solve the problem virtually first and then am able to develop a predictable outcome," said Dr. Mehio.
These automated systems provide the needed support for Aria Dental Studio to treat patients with the most current, technology-based treatments.
Advice to aspiring practitioners
Going forward, Dr. Mehio hopes to expand the practice to the space next door, hire another practitioner, and increase patient volume.
"I enjoy practicing dentistry and going to work every day. My goal is to have someone that I can mentor that will take over the practice eventually," said Dr. Mehio.
Dr. Mehio said the success of his practice lies in showing up every day prepared to do your best work. "A dental practice's reputation is everything. If you have consistent results and strive to improve, people are going to keep coming back. If you are committed to excellence, patients will notice," he said. He attributes his practice's continued growth to consistency and the commitment to strive for the best results in all aspects of the business.
"Sometimes I lose money doing certain procedures, but I just want to do the right thing and have the best possible outcome. To me, the outcome and a patient's satisfaction are more important than financial gain. What comes first is giving the patients what they paid for and more," said Dr. Mehio.