Equipment Guide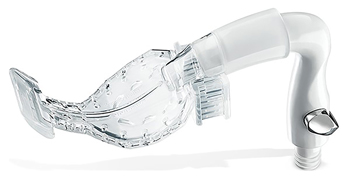 DryShield – the all-in-one modern isolation system, now with autoclavable and all-new single-use mouthpieces – combines the tasks of a high-suction evacuator, saliva ejector, bite block, tongue shield and oral pathway protector in one sleek easy-to-use device.
Designed by a dentist for dentists, the DryShield mouthpiece is engineered in two options ​– autoclavable and now single-use ​–​ to meet dentists' needs for maximum affordability and convenience. It's an intelligent breakthrough in isolation, bringing ease and comfort to doctors and patients alike. In a study of DryShield users, 95 percent of dentists reported that DryShield made it easier to perform restorative procedures while improving procedure quality. Procedure times were dramatically reduced by 20 to 30 percent per procedure, allowing more procedures per appointment, more patients scheduled per day and more consistent on-time schedules. Eight-five percent also indicated that DryShield improved their patients' experience by increasing comfort, as well as reducing chair time.
With a vision of making modern isolation accessible for all dentists,​ ​DryShield is the first all-in-one isolation system to offer a full slate of autoclavable and single-use mouthpiece options. Both options work interchangeably with the flagship DryShield isolation system. ​Although DryShield autoclavable mouthpieces continue to be the most economical option for many offices, for certain practices a single-use mouthpiece option may be preferred. ​In particular, the single-use mouthpieces target the needs of certain hospitals, government organizations and practices that want the added convenience.
DryShield can be used on almost every dental procedure. The system is easy to use, installs in seconds and immediately improves patient experience and safety. The mouthpieces are soft and flexible, yet provide increased visibility and cheek retraction to aid the doctor in performing dental procedures.
Dentists can determine whether DryShield is right for their dental practice by considering a few points:
For modern isolation users: How much are they spending today on mouthpieces? For them, DryShield represents savings, ease of use and portability.
For dentists using traditional methods: Switching to DryShield means a significant reduction in chair time, increased autonomy for both the dentist and assistant, 2-quadrant dentistry and the ability to fit DryShield into their practice's workflow.
By increasing office productivity and efficiency, DryShield lets dentists focus on what they do best: provide quality dentistry and an ideal patient experience at a very reasonable price point. The DryShield system represents our company's commitment to enabling dentists to grow their practices and rediscover their love of dentistry. DryShield is a winning solution for the entire dental office and their patients.
Editor' s note: S​ponsored by DryShield.