By Andrew Smith
It's a pivotal moment for the dental industry, and the integration of healthcare presents an immense opportunity to prioritize holistic care and support the patient's journey. Dental support organizations (DSOs) are leaders in this evolved, patient-centered, healthcare and have been partnering with other healthcare providers to adapt care and extend resources to best meet each patient's broader needs.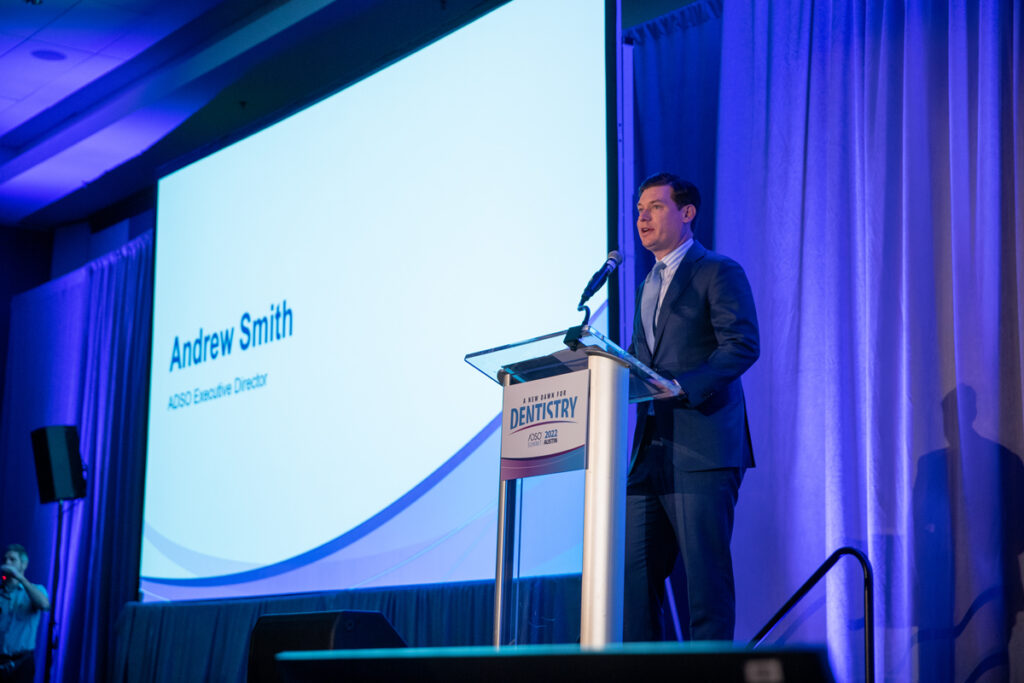 Those of us at the Association of Dental Support Organizations (ADSO) see this holistic approach as the next frontier in dental care, which is why our strategic, programmatic, and organizational pillars include elevating dentistry in the broader healthcare arena, promoting increased access to care, especially for underserved communities, and advancing dental-medical integration. One of the primary functions of the ADSO is to be a forum for information-sharing and advocacy, bringing DSO members and industry leaders together to collaborate and respond to the rapid growth and needs facing the industry.
As part of that work, the ADSO hosted its annual 2022 Summit in Austin, Texas, in March. During our week together, I sat down with industry leaders to discuss dental-medical integration and the value DSOs and the ADSO bring to the changing landscape. The direction is clear: the ADSO and its members must continue to leverage our core capabilities and learnings to advance dentistry's contribution to the overall healthcare sector.
While at our event, DSO leaders from across the county shared many ideas on how we can collectively elevate dentistry and promote dental-medical integration – here are strategies from three of our members.
First, optimal integration requires an understanding of the Mouth-Body Connection. Chronic diseases including diabetes, cardiovascular disease, and early-onset dementia can be detected earlier with proper oral healthcare, which can lead to a patient being treated more effectively. When asked about dental-medical integration, Stephen E. Thorne IV, founder and CEO of Pacific Dental Services, said, "Oral health means better health. Your mouth is the gateway to the rest of your body, and it plays a critical role in improving and maintaining whole-body health. This is especially true when it comes to chronic disease management, which represents roughly 80% of annual healthcare costs in the United States." The opportunities for dental staff to engage in the broader healthcare system are crucial, and ultimately improve community health and the patient experience.
At Westwind Integrated Health, CEO and Co-Founder Maryam Beyramian believes in starting with the idea that her DSO will serve the community that serves them by advocating for preventative healthcare. "Systemic health contributes heavily to your oral health, and our organization focuses on the links between oral and systemic diseases," said Dr. Beyramian at the ADSO Summit this year. "As a practicing dentist, you can never get your patients to a high level of health unless you address their systemic clinical problems first." By partnering with schools and churches in the area, this Arizona-based multi-specialty practice prioritizes its patients' needs and takes a community approach to treatment.
Another path to dental-medical integration came from TAG – The Aspen Group. Their approach focuses on partnering with organizations that believe in the patient journey. Bob Fontana, chairman and CEO of TAG, recognizes the drivers for the growth of dental-medical integration in healthcare, as he explained that patients seek alignment between care, costs, and convenience. Practices can effectively build their brand and values by remembering patients are consumers too. When a DSO recognizes the needs of providers and patients, it creates a care-centric, synergistic, and efficient system that attracts both groups to the practice.
As for what comes next, professionalism and integrity continue to be at the core of our work together, as Bob Fontana summarized, "All we need to do is what's right, and what's right for the patient. If we can have a practice that does great things for the providers by improving the health of the communities that we're in, what an important business to be in."
The ADSO looks forward to working with its members to chart the course ahead by creating better environments for dental staff, addressing the specific needs of the communities in which they operate, and implementing innovative strategies that enhance access to care and better health outcomes for patients.